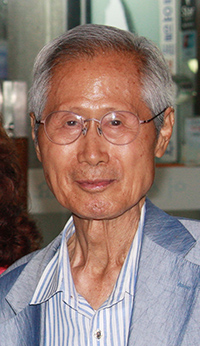 Late Kim Young-Hie
Kim Young-Hie, one of the most respected senior journalists in South Korea, has died of old age at his home in Apgujeong-dong in southern part of Seoul. He was at 84. The seasoned newspaperman was also one of the most influential journalists in South Korea.Kim was serving as a honorary senior journalist of JoongAng Ilbo, a vernacular Korean-language mass circulation daily of South Korea's largest news media group. He has been with JoongAng Ilbo since 1965.
Kim was born in Geochang, South Gyeongsang Province in Korea in 1936. He first entered journalism field in 1958. In the year Kim became a journalist at Hankook Ilbo, one of the four major dailies of South Korea. He was a high school graduate at the time.
In 1965 Kim moved to JoongAng Ilbo as it was created by Samsung Business Group, the nation's largest business group.At JoongAng Ilbo, he climbed the ladder of journalistic success. He served as the editor of the international news desk, Washington correspondent, managing editor, editorial writer, chief editorial writer.It was in 1995 that he was appointed as the senior writer for international issues, an honor position admired by all journalists.In 2000 he was promoted to an executive director. And in the following year Kim became the vice president of the newspaper company.In his final years Kim had never ceased writing his articles and columns on international issues including inter-Korean affairs.Kim became recipient of a number of journalism-related awards and citations. He authored numerous books.