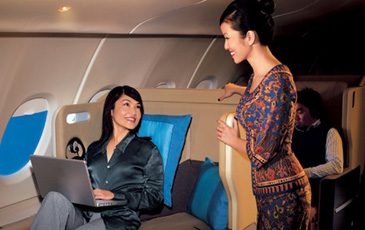 Singapore Airlines' inflight service
Singapore Airlines offers great value fares to selected points in Australia for customers booking through its Website to 14 December 2010.Singapore Airlines offers round-trip economy class tickets to Adelaide, Brisbane, Melbourne, Perth and Sydney at KRW 1,108,500 per person for passengers traveling between 10 February 2011 and 28 February and at KRW 1,028,500 for passengers traveling between 1 March 2011 and 31 March 2011.The value fares for the round-trip to Australia, however, are only applicable to customers booking through Singapore Airlines' website until 14 December 2010 and flying to Singapore with SQ609 and returning SQ608/SQ602.
Destination:
Fares (Based on departure date, Per person)Australia: Adelaide, Brisbane, Melbourne, Perth, SydneyFeb. 10~Feb. 28, 2011: 750,000~ (All-in fare 1,108,500~)March 1~31, 2011: 670,000~ (All-in fare 1,028,500~)
Booking Period
Nov. 23, 2010~Dec. 14, 2010
Singapore Airlines
All-in fare includes fuel surcharge, relevant taxes and insurance. Terms and conditions apply. The above fares are subject to change based on exchange rates.
For more details, please contact 02-755-1226
or visit our website, singaporeair.com/kr