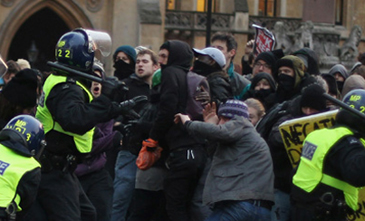 English students and police confront each other in the violent protest against the coalition government's proposals to increase university tuition fees in London on Dec. 9, 2010.
London, Dec. 9, 2010 — Student protests against the coalition government's plans turned violent today as hundreds went on the rampage in response to a law being passed to increase university fees from £3000 per year to anywhere between £6000 and £9000. While the vast majority of the thousands of students who descended on the capitol behaved in a peaceful and lawful manner, a small minority seemed intent on causing trouble.Violence flared as these troublemakers attacked police with missiles, paint and even fencing, injuring more than 20. Graffiti was daubed on buildings and statues in and around Parliament Square, windows were broken at the Treasury and the Supreme Court, and even a car carrying Prince Charles and his wife, Camilla, was attacked.The trouble started brewing when Crafty Cameron and his lapdog Nick Clegg announced that they were going to ensure that no more oiks were given the opportunity to have ideas above their station or try to move in their exclusive upper-class circles and taint their inbred gene pool. To achieve this, they were going to triple university fees, making it prohibitively expensive for many less privileged students to get a higher education. Thus, with one master-stroke they were able to ensure the continuation of the class divide in the UK and score points with their Eton chums and silver-spoon sponsors.This announcement was a direct violation of a pledge made and signed by Liberal Democrat candidates in the run up to the general election. They made this pledge to secure the student vote in their election push, and Nick Clegg was famously photographed holding a placard detailing the promise and displaying his signature at the bottom.The controversial proposition, which was rushed through Parliament, has divided both the Liberal Democrat and Conservative factions of the coalition, with a number of ministers choosing to either abstain or vote against it. However, it was still passed by a majority of 21 votes.Clegg's support of the bill is regarded by students as a direct betrayal, and they have expressed their anger at this, condemning him as a liar and making a pledge of their own – to never trust the Liberal Democrats again. Clegg has spoken out, trying to defend his decision to break his promise, trying to reason why he did it, and trying to convince people that it is the best decision. Unfortunately for he and his upper-class master, the population of the UK are not as stupid as they so disrespectfully think.So, more than 10,000 student protestors descended on London to express their anger and disappointment at the proposal. They gathered in Parliament Square, outside the Palace of Westminster, while inside, MPs debated for five hours on the proposals. Finally, a vote was held, and the bill was passed through Parliament – albeit by a small margin.It was shortly after this expected result that things really kicked off in the capitol. Police and students clashed violently, forcing police to employ controversial "kettling" techniques, in which they herd protestors into an area and hold them there until calm is restored.
Nick Clegg with his false promise
The problem with this technique is that people can be held there for hours – even if they are not part of the protest. It's also a confrontational technique that puts police and protestors in a face to face situation, provoking clashes and angry exchanges. However, it's difficult to imagine a reasonable alternative.What happened in Westminster today was a micro civil war. Good, decent British people fought other good, decent British people. Each blamed the other for provoking the violence, each said the other committed the first aggressive act, and all the while, the people really responsible for all of this sat in a nice, warm room, safely watching from a distance.There was blood shed on the streets of London today. People stood together to tell those in power that they will not be trod under foot, and – ironically – the birthplace of modern democracy became a battlefield where people in this free society were oppressed and taught a frightening lesson: Britain has become a dictatorship in which a public schoolboy overlord with a hidden agenda is systematically bringing this country to its knees to maximise the power of an elite few.While I would never condone the violence that took place today – I was particularly disgusted to hear about protestors urinating on the statue of Winston Churchill – It has to be made clear to Crafty Cameron that he cannot just run this country like his own little empire. If he actually lived in the real world rather than the rosy luxury of the privileged, he would know that if you stamp on the British people too much, they will eventually take your foot off.I would say one thing, though: I am furious about the attack on Prince Charles's car. That man is the heir to the throne and one of the few good things we've got left over here. The attack on his car was inexcusable, and I hope those who carried it out are brought to justice. Not only was it an act of treason, but also it was an act of utter stupidity. It gave Cameron the perfect get out of jail free card. It gave him something to deflect attention towards, so that rather than focussing on his utter contempt for British citizens, he could point to the attack and have everyone pointing the finger at that.There's a long, hard winter ahead of the people of Britain, and I'm not just talking about the weather. We have a spoilt brat running the country, doing just whatever he wants, and us peasants are already revolting. Today was just the beginning of a dark period for Britain. Before you go to bed tonight, please say a little prayer for us.