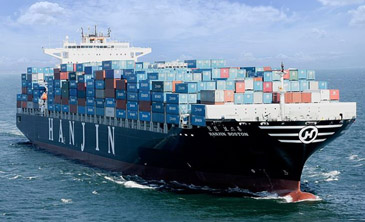 S. Korea becomes world's 7th biggest exporter in 2010.
South Korea racked up record-high outbound shipments last year to become the seventh largest world exporter last year. With the record-high figures, Asia's fourth-largest economy is now estimated to have nudged past Italy and Belgium, according to a report released by the Ministry of Knowledge Economy on Jan. 2, 2011.
The nation's exports rose 28.6 percent from a year earlier to US$467.4 billion in 2010, replacing the previous record of $422 billion set in 2008 while imports saw a year on year growth rate of 32 percent to bring the yearly total to $425.7 billion.
As a result, Korea's trade surplus hit a new record high of $41.7 billion, exceeding the previous year's $40.4 billion, the ministry said...
Semiconductor and car industries led the way when South Korea became the world's seventh biggest exporter last year, up two notches from 2009. Exports of semiconductor chips rose 63.3 percent on-year to $50.7 billion. The auto parts industry also burgeoned 62.6 percent, the car industry 39.3 percent, and petrochemicals 34.9 percent.
By contrast, exports of mobile communication devices contracted by 11.6 percent from a year ago due to the poor performance of smart phones in the first half of last year.
Korea's exports are forecast to grow more slowly this year after the record-setting performance in 2010, the ministry said. Exports are expected to grow by 9.8 percent from last year to $513 billion, and imports by 14.6 percent to $488 billion, a ministry official said. With expected growth in imports due to rising prices of raw materials including crude oil, the trade surplus is projected to fall by over $16 billion to around $25 billion.