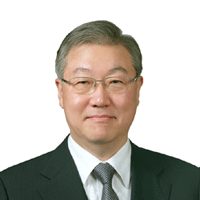 Foreign Minister Kim arrived in Abu Dhabi for talks with his UAE counterpart Sheikh Abdullah on Feb. 5. Courtesy WAM
Kim Sung-hwan, South Korean Foreign Minister said his country's relations with the United Arab Emirates have achieved great success in recent times in all the available areas for cooperation. In an exclusive interview with Emirates News Agency(WAM), he expressed hope to discuss with His Highness Sheikh Abdullah bin Zayed Al Nahyan, Minister of Foreign Affairs, on Feb. 6 many of the issues aimed at developing bilateral relations in political, economic, cultural, social and judicial branches. He described the UAE as the biggest economic partner for South Korea in the Middle East and North Africa. He stressed that the existing cooperation between the UAE and South Korea which cover various fields such as nuclear energy, human resource development, renewable energy, shipbuilding, semiconductors and telecommunications, information technology and communications. The following is gist of the interview.Question: What are the objectives of your official visit to UAE?Answer: First of all, it is a pleasure for me to visit the United Arab Emirates again. The last time I visited the UAE was in December 2009, accompanying my President; I was the Senior Secretary for Foreign Affairs and National Security to the President at the time.
I am here to hold an official bilateral meeting with His Highness Sheikh Abdullah bin Zayed Al Nahyan, Minister of Foreign Affairs of UAE, to evaluate our current situations and to discuss ways to further enhance the relations between our two countries. Q:How do you describe the UAE-South Korean relations and its future? And what are the main issues you wish to discuss with the UAE high ranking officials during the visit?A:When President Lee Myung-bak visited UAE in December 2009, Korea and UAE decided to develop our relations to that of "Strategic Partnership" Since then our bilateral relations have sky-rocketed, from just economic and commercial cooperation to a comprehensive one in almost every field including politics, military, culture, health, education and so forth. There have been several occasions to witness such developments; First, His Highness Sheikh Mohammad bin Zayed Al Nahyan, the Crown Prince visited Korea in May last year. Then in November when North Korea attacked our territory, UAE was one of the first countries to condemn North Korea for its atrocious action. In December, Etihad Airlines launched daily flights between Abu Dhabi and Seoul. And just last month, the Korean government sent 130 troops to Al Ain to train UAE's Special Forces and conduct joint military drills. It is evident that the relations between our two countries have expanded immensely in just over a year and I have no doubt that it will continue to grow even further in the near future. There are many areas of cooperation that will improve our relations even further ranging from political and economic fields to cultural, social, and judicial areas. It is all of these issues that I hope to discuss with His Highness Sheikh Abdullah.Q:Have you any ambitions of reaching strategic economic partnership with the UAE that might open new horizons of economic and trade cooperation?A:Korea and UAE have already developed very close ties in term of economic and trade cooperation. Between the related ministries and agencies of our two governments, we have signed numerous MOUs since December 2009 in various areas including nuclear energy, development of human resources, renewable energy, shipbuilding, semiconductors and ICT (information and communication technology).Nevertheless, I have to say there are a lot more potential to be explored between the two countries. UAE is Korea's largest export market in the Middle East and the second largest supplier of crude oil. Korea's experience of accomplishing unprecedented economic growth in a span of two decades is valuable to UAE's acceleration towards an advanced and complex economy. Therefore, when UAE's strength in its desire for development, its rich capital and resources are combined with Korea's advanced technology, experience and global network, the outcome will be explosive. Q:How do you evaluate GCC-Korean relations, and can we say that the two sides are capable of reaching a free trade agreement to boost investments and trade between them?A:Korea's relations with all GCC member countries are strong. In particular, the economic relations between the Gulf region and Korea are exceptionally vibrant. Trade volume between Korea and GCC is over $60 billion and is the fourth largest for Korea after China, Japan and the US. Compared to NAFTA, ASEAN, EU and other regions, Korea imports the most from the Gulf region; imports from GCC countries have tripled in the last eight years. Therefore, FTA between Korea and GCC would be beneficial to both sides. When negotiations began in July 2008, both sides agreed that there is an urgent need for such an agreement and that the target date should be no later than the end of 2009. There were three rounds of talks and it has been stalled ever since. It is in the best interest on both sides to resume negotiations again and reach an agreement as soon as possible. Q:How is the relations between South and North Korea, how can you evaluate the current situation?A:Last year North Korea attacked South Korea on two occasions; a torpedo attack on the Naval Ship Cheonan in March, and the artillery attack on Yeonpyeong Island in November. From the beginning of this year, North Korea, without any recognition of its provocative acts, has taken charm offensives only for economic benefits. In response, South Korea has proposed to North Korea to hold inter-Korean dialogue on the issue of (i) taking responsible measures for the sinking of the Cheonan and the shelling of Yeonpyeong Island and making commitments to cease any further provocative acts and (ii) ascertaining Pyongyang's sincerity toward denuclearization. North Korea counter-proposed to hold high-level military talks on all military pending issues, including issues related to the Naval Ship Cheonan and Yeonpyeong Island. As a result, a preliminary working level meeting to prepare for the high-level military talks has been scheduled to be held on February 8. South Korea will continue to keep its doors open for sincere and constructive dialogue and we expect North Korea to show sincerity in the upcoming talks.