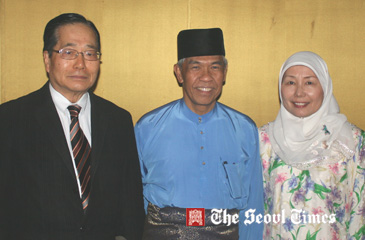 Brunei Ambassador to Korea Dato Haji Harun Ismail (center) poses with his Mrs. Datin Siti Aishah Abdullah, and with Chairman Yun Ik-Han of The Seoul Times.
Brunei Ambassador to Korea Dato Haji Harun Ismail
and his wife Mrs. Datin Siti Aishah Abdullah hosted a reception at Grand Hyatt Hotel in downtown Seoul
on Feb. 23, 2011 to celebrate the country's 27th anniversary of its national day "Brunei Darussalam."The dinner reception drew hundreds of high-profile local and international guests including scores of top foreign envoys serving in Seoul. Brunei's 27th anniversary of National Day celebrates
the 27 years of achievements since independence
from the Great Britain on Jan. 1, 1984.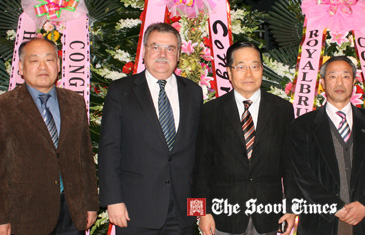 Chairman Yun Ik-Han (2nd from right) of The Seoul Times poses with Ukraine Ambassador to Seoul Volodymyr Belashov (2nd from left).
"Brunei Darussalam," officially the State of Brunei,
is a country located on the north coast of the island of Borneo, in Southeast Asia. Apart from its coastline with the South China Sea it is completely surrounded by the state of Sarawak, Malaysia, and in fact it is separated into two parts by Limbang, which is part of Sarawak.Brunei, the remnant of a very powerful sultanate,
regained its independence from the United Kingdom on January 1st, 1984.Sultan Hassanal Bolkiah of Brunei, whose title has passed within the same dynasty since the fifteenth century, is the head of state and head of government in Brunei.The Sultan is advised by several councils and a cabinet of ministers although he is effectively the supreme ruler. The media is extremely pro-government and the Royal family retains a venerated status within the country.Brunei is an absolute monarchy and the sultan has absolute power. There is no elected legislative body. In September 2004, the Sultan convened an appointed Parliament which had not met since independence in 1984, although it lacks any capacity beyond advising the monarch.For details or inquiries please contact the Brunei Embassy in Seoul at 02-790-1078.