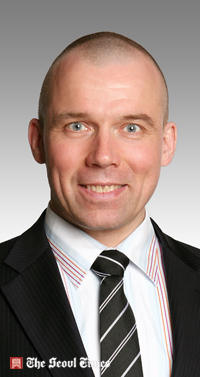 Mr. Jan Skutnabb,
new Finnair Korea director

Finnair, the fastest European airline connecting Asia and Europe together (www.finnair.co.kr), announced that the representative director of Finnair Korea, Jani Peuhkurinen, is being replaced by Jan Skutnabb, who was Corporate Sales Manager, Global Corporate sales, Finnair Head Office (HO). Skutnabb will be officially appointed as the new Finnair Korea director.
Jan Skutnabb successfully filled various positions including the Country Sales Manager and Sales Director in Norway and Shanghai as well as Corporate Sales Manager of Global Corporate Sales Finnair HO, Finland.Particularly, his profound understanding in the Asian market gained through the 4 years of experience in Shanghai was highly acknowledged leading him to the new position as the head of Finnair Korea.
Finnair explained, "he is the best qualified to further increase the brand awareness towards our customers after Jani Peuhkurinen who succeed in landing Finnair into the Korean market as soon as the first operation of Korean routes in 2008."
Skutnabb's strategy is to expand the points of contact with the customers through various marketing promotion plans and strengthen Finnair's market position that will mark the company's three year anniversary with the Korean branch.
Jani Peuhkurinen, who has been leading Finnair Korea with success since last 2008, will now take his position as the Vice President of Global Corporate Sales at Finnair Head Office, Finland.
Jan Skutnabb, Finnair Korea sales director
Year of birth and place: Dec. 27, 1967 Helsinki, Finland
Education: 1993-1998 BBA, Helsinki Business Polytechnic, Finland
2009-present: MBA studies, HAMK University of Applied Sciences Work experience:
1998-2002: Client Manager, Sales in Finland, Finnair, Helsinki, Finland
2002-2005: Country Sales Manager Norway, Finnair, Oslo, Norway 2005-2009: Sales Director, Eastern China, Finnair, Shanghai, China 2009-2011: Corporate Sales Manager, Global Corporate sales, Finnair, Finland
2011-present: Sales Director Korea Finnair, South-Korea
For details or inquiries:
Vivian KIM Communication Consultant
Email: vivian@prain.com
Tel: 82-2-3210-9757 (757)
Fax: 82-2-722-2683