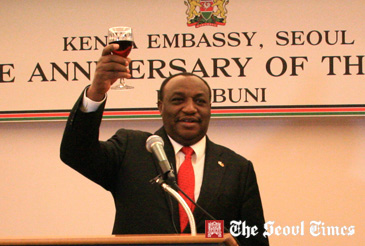 Kenya Ambassador to Seoul Ngovi Kitau at its 47th "Jamhuri Day" celebration in Seoul on Dec. 15, 2010.
"In Kenya, just like in Korea, it (Harambee) is a traditional principle which existed in every traditional society and has been the bedrock of development."
In this second edition of KCK quarterly newsletter to be published in July 2011, I would like to focus on Harambee and further encourage KCK members to continue with the spirit of Harambee which means 'pulling resources together.'Harambee, which is synonymous with Korea's Semaul Udong Movement, is an excellent tool, and philosophy for development.In Kenya, just like in Korea, it is a traditional principle which existed in every traditional society and has been the bedrock of development. Each one of Kenya's 42 linguistic communities had self-help or co-operative work groups by which groups of women on the one hand, and men on the other organized common work parties.The security and prosperity of the group was therefore dependent upon members being mindful of each other's welfare. Different names were given to this term in different communities: Kikuyu-Ngwataniro; Luo - Konyri; Luhya — Obwasio; Kamba - Mwethia; Maasai - Ematonyok etc. This is the same concept that led to the formation of KCK as echoed in the declaration in 1963: HARAMBEE. Let us all work harder together for our country Kenya. Harambee is not all about fund raising; it is about the contribution of materials and labor, time and ideas to various projects for the benefit of our community. That is why the name: Kenya Community in Korea is appropriate.KCK members should embrace 'Harambee'based on three principles. One, bottom up development strategy. This means that all KCK members, as a community, must actively participate in the planning and implementation of all their development projects. Two, participation in all KCK activities should be guided by the principles of collective good and not personal gain. The end product of involvement in KCK activities should therefore benefit the Kenya community in Korea and those back at home, rather than just an individual. Finally, other KCK initiatives should be geared at helping needy and deserving KCK members. Examples include: wedding/bereavement fund raisers, hospital bills, further education locally and abroad, and humanitarian projects both in Korea and Kenya. I call upon all Kenyans in Korea and especially KCK members to embrace this rallying call: 'Harambee', and apply it to all their endeavors for greater success.Lastly, I would like to thank all KCK members who participated in the successful Kenya Cultural Day held in Seoul during the month of May, 2011. This event, I am sure, was the start to hosting a Kenya Cultural Week next time round.I wish you a great and productive summer vacation.
Kenya year book 2009/10 to promote motherland
The Kenya Yearbook, is a 1,150 page publication, and an official source of the country's information covering a wide range of subjects including the country's history, governance, culture, economy, trade, justice system, tourism, cooperative management, sports, health, education and infrastructure development among others.It is assembled and edited by some of Kenya's leading journalists, researchers and Government technocrats and puts together an enticing story that was creatively designed and printed.Kenya's Vice-President Kalonzo Musyoka launched the first ever 2009/10 edition of Kenya year book in Nairobi recently.The authoritative and authentic book apart from acting as a record of events; is very useful to international investors who are seeking investment opportunities in the country.It is a yearly record of what the government has accomplished, as it touches on its policies and plans as reflected in the work of ministries, agencies, departments, state corporations, as well as the private sector and individuals in the development agenda of the country. In the tourism sector, for instance, the book profiles top hotels, game parks, the Nairobi nightlife and the status of Kenya's major towns.The book also celebrates Kenya's eminent researchers, educationists, sportsmen and women and musicians.I encourage KCK members to acquire a copy and update themselves so that they can promote our motherland Kenya, especially now that the Daegu city 2011 IAAF World Athletics Championships are around the corner. There will be, no doubt, a lot of interest in Kenya and Kenyans!
Kenya Embassy, KCK animates Seoul in cultural event
The Kenyan Embassy in Seoul organized an impressive Kenya Cultural Day event held on May 21 at Seoul Forest Park attracting a big number of guests from different nationalities. This is the first time the embassy has showcased Kenyan Culture by setting up a day specifically for culture display. At the venue were exhibitions of Kenyan food (chapati, sukuma wiki, mandazi, coffee and tea), artifacts, clothes, beer and musical instruments.KCK dance team from Busan went on stage after a speech by H.E. Ambassador Ngovi Kitau and the day's guest of honor Hon. Philip Sika, the Permanent Secretary in Ministry of Nairobi Metropolitan Development. In his opening remarks, Hon. Sika re-echoed the purpose of the gathering and encouraged all in attendance to promote Kenya's culture while here in Korea.KCK Busan team first sung a Kenyan classic welcoming song Jambo Kenya before exciting the crowd with a revised East African fusion of Taunet nelel (a new dawn). In between the song and dance, the group did a skit fashioned out of the song Malaika, a popular classic love song.At the background, almost at all times, was Kenyan music inspiring the hearts of those in attendance. The afternoon session was dominated my "dance floor" activities as Kenyans danced to their familiar tunes particularly from zilizopendwa selections.The Kenyan ambassador led his embassy staff to join in twirling the Kenyan jigs. "I am very impressed, I hope to visit Kenya again someday," said Ms. Su Kim, Korean student who has been to Kenya. It was indeed a Kenyan day. Patrick Njoroge from Busan hailed the event as an achievement for Kenya-Korea relations.Many guests congratulated the Embassy and the Kenya Community in Korea for making the day a great success.H.E. Ambassador Ngovi Kitau said the day's accomplishment was "an encouragement for further Kenyan activities in Korea". Others in attendance were ambassadors of the Republic of South Africa, Rwanda among others.