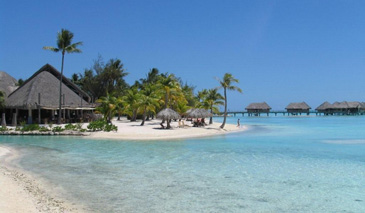 Bali is an Indonesian island located in the westernmost end of the Lesser Sunda Islands, lying between Java to the west and Lombok to the east. The "tourist haven" is one of the country's 33 provinces with the provincial capital at Denpasar towards the south of the island.
Bangkok, July 7 — Bangkok has retained the No. 1 spot as Worlds Best City in Travel + Leisure's magazine's 16th annual World's Best Awards readers' poll for the second year. Elsewhere, Bali is No. 1 island in Asia, and the second favorite in the world. Meanwhile, hotels in the region that placed on the list of Top 100 Hotels Overall include the Mandarin Oriental Dhara Devi in Chiang Mai, La Résidence Phou Vou in Luang Prabang, Laos, and The Peninsula Bangkok (ranked Nos. 7, 16 and 40, respectively), among others. The Best International Airline as voted by readers across the globe is Singapore Airlines, with Thai Airways International coming in at No. 9. Australia and New Zealand also performed well, with the Lodge at Kauri Cliffs in New Zealand bagging 11th place on the list of Top 100 Hotels Overall. Meanwhile, Discovery Shores in the Philippines was named best spa in Asia. Recognized as the industry's most coveted awards, ratings from readers of Travel + Leisure's international editions—Travel + Leisure Southeast Asia, Travel + Leisure Turkey, Travel + Leisure China, Travel + Leisure South Asia and Travel + Leisure Mexico—were counted in the results, which will be published in Travel + Leisure Southeast Asia in the August issue out August 1. Bangkok scored the top city spot in 2008 as well as 2010, while Bali has moved up a notch since 2010 when it was placed as readers' fourth favorite island in the world. Singapore Airlines remains the world's favorite international airline—it has been ranked the World's Best International Airline for each of the 16 years of the survey. In Asia, the Mandarin Oriental Dhara Devi was voted as the region's second-favorite resort; in the city hotels category, the Mandarin Oriental Bangkok bagged the top spot among properties in Asia, while The Peninsula Bangkok was placed at No. 4. "This year is another triumph for our region," said Matt Leppard, editor-in-chief of Travel + Leisure Southeast Asia. "Not only has Bangkok bagged the coveted top spot again, Bali also remains hugely popular, moving up in the overall ranking in 2011, and almost all of our world-class hotels and resorts are among global traveler's favorites. Overall, Asia has, again, proven itself to be the world's favorite place to stay." "Meanwhile, our airlines reflect the region's emphasis on service and have earned their rankings with consistency, reliability and quality," he added. "It's clear that remote and exotic destinations — places that convey a sense of authenticity and adventure — are ruling the day once again in Travel + Leisure's World's Best Awards," said Nancy Novogrod, editor-in-chief of Travel + Leisure in the U.S. TRAVEL + LEISURE WORLD'S BEST AWARD WINNERS 2011, SOUTHEAST ASIAWORLD'S BEST CITY
BangkokTOP CITY HOTEL IN ASIA
Mandarin Oriental Bangkok, ThailandTOP ISLAND IN ASIA
Bali The full results will be posted on www.TravelandLeisureasiaAsia.com
as well as Tweeted for followers.For more details, contact:
Robert Fernhout (publisher): +66 2-204-2370; rj@mediatransasia.com
Matt Leppard (editor-in-chief): +66 2-204-2370; matt@mediatransasia.com
Travel + Leisure World's Best Awards 2011 Survey Methodology
A questionnaire developed by the editors of Travel + Leisure, in association with ROI Research Inc., was made available to Travel + Leisure readers worldwide at TLWorldsBest.com from December 1, 2010, to March 31, 2011. Readers were invited to participate through Travel + Leisure's stable of international and online at TravelandLeisure.com. To protect the integrity of the data, after March 31, 2011, Travel + Leisure screened respondents and responses from any identified travel-industry professionals who completed the survey were eliminated from the final tally. The survey website, TLWorldsBest.com, was maintained, monitored, and kept secure by ROI Research Inc., which collected and tabulated the responses and kept them confidential. The scores are indexed averages of responses concerning applicable characteristics. Respondents were asked to rate hotels, islands, destination spas, and rental-car agencies on five characteristics; cities, cruise lines, and tour operators and safari outfitters on six characteristics; and airlines and hotel spas on four characteristics (see below). In the hotel, cruise line, tour operators and safari outfitters, and airline categories, respondents could also rate additional optional characteristics; these ratings were not included in the final score. For each characteristic, respondents were asked to rate a candidate on a scale of 1 to 5, where "1" means poor and "5" means excellent. Required component ratings were then averaged, creating an overall score. A minimum number of responses was necessary for a candidate to be eligible for inclusion in the World's Best Awards listings. These were the categories and characteristics: Hotels Rooms/facilities, location, service, restaurants/food, value. Cities Sights, culture/arts, restaurants/food, people, shopping, value. Islands Natural attractions, activities/sights, restaurants/food, people, value. Tour operators and safari outfitters Staff/guides, itineraries/destinations, activities, accommodations, food, value. Airlines Cabin comfort, in-flight service, customer service, value. Destination spas Accommodations/ambience, treatments, service, food, value. Hotel spas Ambience, treatments, service, value. Throughout the Travel + Leisure World's Best Awards, scores shown have been rounded to the nearest hundredth of a point; in the event of a true tie, properties, companies, or destinations share the same ranking.