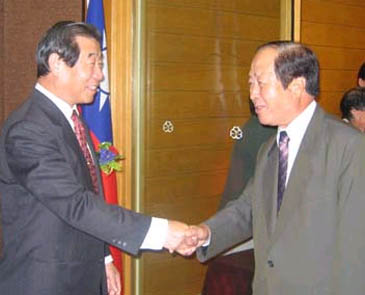 Amb. Li Tsai-fang (left) shakes hands with Park Ki-Byong, president of Gangwon Television Broadcasting(GTB) and former president of the Journalilsts Association of Korea (JAK) during the reception.
To commemorate "Double-Ten" or the 93rd National Day of the Republic of China, Representative of the Taipei Mission in Korea Dr. Li Tsai-fang hosted a reception was at Hotel Shilla in downtown Seoul on Oct. 8, 2004."Double-Ten" refers to the 10th day of the 10th month, and commemorates. It is by far the most important national holiday in Taiwan.Over 450 guests, including former National Assembly Speaker Park Kwan-Yong, Rep. Park Hi-Tae of the Grand National Party, members of foreign diplomatic corps in Korea including Amb. Jose M. Nunez of Dominican Republic, Park Ki-Byong, former president of Journalists Association of Korea and president of GTB Television attended the reception marking the overthrow of the Manchu Qing dynasty, China's last, by revolutionaries on Oct. 10, 1911.Present at the reception also included former Minister of National Defense Kim Dong-Shin, Cho Woong-Kyu, former member of the National Assembly, Charlie Cho, honorary vice president of the Korean Air and Lee Jeong-Woo, chairman of the Seoul Times and former president-publisher of the Korea Herald.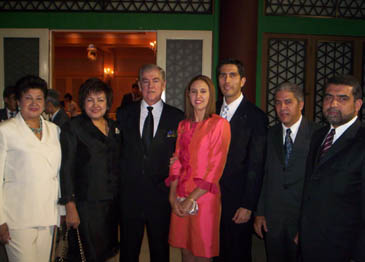 Honduras Amb. Rene Francisco Umana Chinchilla and Paraguay Amb. Federico Alberto Gonzalez Franco pose with other top diplomats. Photo by Kim Sun-Young
Members of the Korea Chapter of DPU including Hwang Jae-Ho, Ph.D. Assistant Research Fellow, Center for Security and Strategy, Korea Institute for Defense Analysis and Sohn Yong-Woo, Former Policy Advisor to representative Choo, Mi Ae in the National Assembly also attended the function.
Related Photos of 93rd Taipei's Double-Ten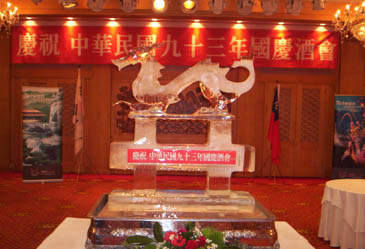 93rd Taipei's Double-Ten Celebration at Shilla Hotel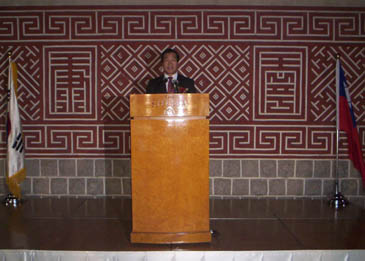 Amb. Li Tsai-fang of Taipei Mission at Hotel Shilla's Guest House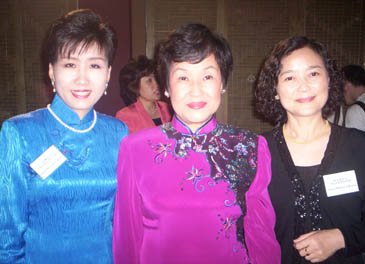 Wives of diplomatic staff of Taipei Mission in Seoul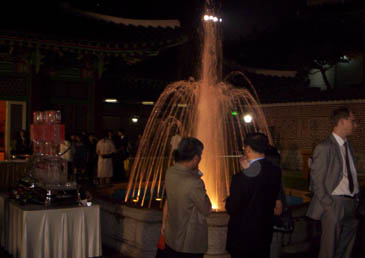 Water fountain at Hotel Shilla's Guest House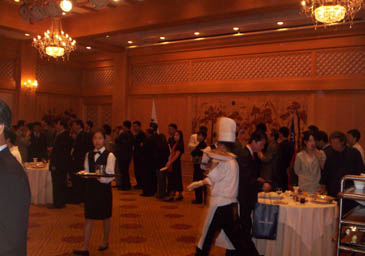 Buffet in a Guest House hall at Hotel Shilla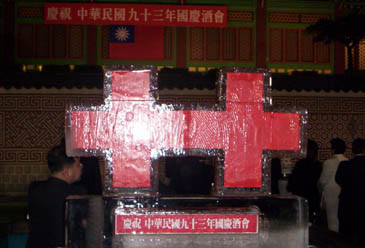 An Ice sculpture at Hotel Shilla's Guest House
The above photos were taken by Kim Sun-Young.