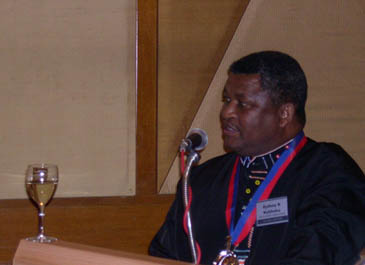 South African Amb. Sydney Bafana Kubheka gives a speech to a delighted crowd of wine lovers.
The South African Embassy with the In Vino Veritas held a dinner at the Novotel Ambassador-Gangnam Hotel in Seoul to a warm crowd of dignitaries, business people and wine connoisseurs and journalists.About 80 VIPs showed up to taste test new South African wines that will be introduced to the South Korean market."Koreans will accept these wines because of their natural feelings; it makes us feel what we have lost," said wine connoisseur and President of In Vino Veritas Paik Sung-Ki.Some of the guests were South African Amb. Sydney Bafana Kubheka, economic counselor for the Department of Trade and Industry South Africa Sake Van Der Wal, General Manager Brian Connelly from Oakwood Premier Coex Center (Seoul's five-star corporate housing), and Ms. Elizabeth C. Daniel, professor of Fahmyook University's Division of English Studies.The evening's entertainment was provided by South African and American students. Led by Shoman Daniel on vocals, they got together for the first time to perform songs for this event. They played crowd favorites like "In the Jungle" and "Song Sung Blue" originally written by Neil Diamond but later covered by South African performer Steve Hofmeyre.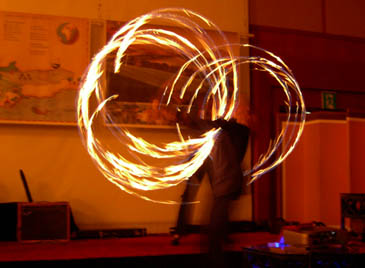 Dazzling fire show by Vibemarters
Including the wine and music, there was also a fire show performed by two South African students. The performers twirled and juggled chains lit with fire, creating a vibrant visual show. A definite crowd-pleaser.The wines introduced were from Nederburg and Fleur Du Cap. The Nederburg introductions into the Korean market are the Sauvignon Blanc 2004, Pinotage 2001, and Shiraz 2001. The other wines tasted were from Fleur Du Cap, which were a Cabernet Sauvignon 2001 and a Chardonnay 2001.Nederburg is located in the coastal region of Paarl and has 200 years of winemaking history. They are the number one selling wine in South Africa and have won many awards throughout its history.The Nederburg Sauvignon Blanc 2004 is a white wine that has a peach flavor and a fruity smell with a dry crispy finish. It is fermented in stainless steal tanks for two weeks then left in barrels for three months.Nederburg Pinotage's introduction into the Korean market was developed in 1925 and is a cross breed between Pinot Noire and Hermitage. It spends two weeks fermenting and 12 months in a barrel. The color is an intense red with a cherry smell. It has a soft tangy taste with bitter aftertaste.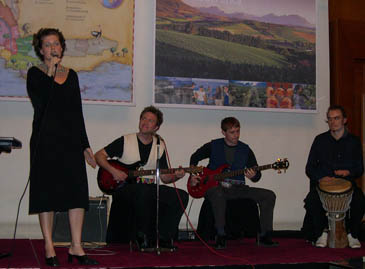 A brand new band made up of two South Africans and two Americans entertain the crowd at the Novotel Ambassador Gangnam Hotel
The Shiraz wine from Nederburg is from 2002 and is the second year Nederburg has produced it. Like the Sauvignon Blanc, the Shiraz is made in a stainless steel tank but its time in the barrels is from 12-18 months. It is a medium full body wine with a soft subtle spicy aroma and is perfect with any main course.The other wine tasted was from Fleur Du Cap, which is also located in the coastal region of Stellenbosch. They offer a contemporary new world style with modern and trendy labels. The Fleur Du Cap is considered a house pouring wine and has won many awards.The Fleur Du Cap Chardonnay 2001 has a toasty aroma with a honey and vanilla smell. The toasty aroma is attributed to its fermentation process in which oak barrels are used for 10 days before a six-month fermentation period in regular barrels.The other Fleur Du Cap wine sampled was a Cabernet Sauvignon 2001. It has a purple inky red color. Its color comes from its 18-month maturity process. It has is medium to full body wine with a smoky oak scent. It has a bit of a cherry and slight vanilla taste.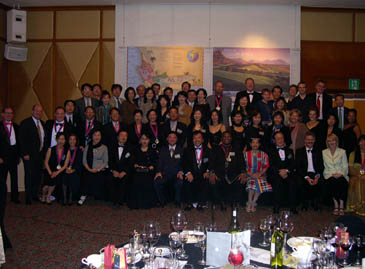 South African Amb. Sydney Bafana Kubheka and his wife, President of In Vino Veritas Paik Sung-Ki and some of the guests.
"Wine lovers should have a chance to enjoy wines from around the world," said Paik. "South African wines can give us something different; an African spirit mixed with a natural feeling," South Africa has 350 years of winemaking history. It surpasses Australia at 300 years, New Zealand at 200 years and California at 250 years. There are 11,000 hectares of wine vineyards that produce over 950 million liters of wine annually. In 2003 South Africa exported 230 million liters of wine to the outside world compared to 1992 in which South Africa produced 29 million liters of wine for export. South Africa produces three percent of the world's wine production and is mostly marketed to Europe, England, Germany, Holland, the United States, Japan, and South Korea.