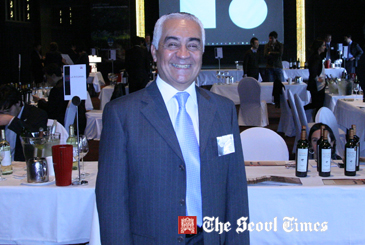 Argentine Ambassador Carlos Alberto Arganaraz at Banyan Tree Club & Spa in Seoul's Jangchung-dong area on Nov. 7, 2011.
Argentine Ambassador to Seoul Carlos Alberto Arganaraz hosted a wine tasting event at Banyan Tree Club & Spa Seoul in Jangchung-dong on Nov. 7, 2011. Under the slogan of "a wild rumor, spreading from mouth to mouth," the event was organized by Wines of Argentina, a non-profit organization representing Argentine vintners. The Seoul wine tasting was part of a week-long Asian tour that also included Beijing and Taipei. Representatives from some 30 wineries were in attendance, offering samples from dozens of wine varieties and blends. Intended to appeal to a broad spectrum of drinkers, the quality of the wines on showcase ranged from entry-level to prestige. The event was attended by over 100 guests. Notable persons included Alba Legnani, Uruguayan ambassador; Hernan Brantes, Chilean ambassador; Young Ho Kim, CEO of Ilshin Spinning Co. Ltd.; Chan Ho Hong, CEO of LAN Airlines; and Choi Hoon, president of
Wine Review
.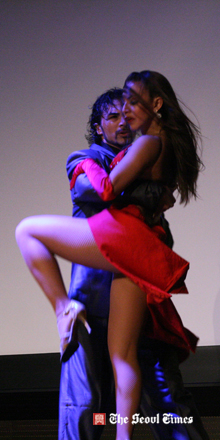 A couple demonstrate the tango at Argentine wine tasting event held at Banyan Tree Club & Spa Seoul.
The wine tasting was followed by a three welcoming speeches, delivered by Argentine Ambassador Carlos Alberto Arganaraz; Choi Hoon, president and publisher of
Wine Review
and
Wine an' City
; and Mario Giordano, general manager of Wines of Argentina. A tango demonstration followed, after which Marcelo Marasco from Septima winery and Lis Clement from Wines of Argentina gave presentations on the Argentine wine industry. Representatives of Argentine wineries and local distributors were aware of the challenges facing entrants to the South Korean wine market."First, Korea is still a very young wine market — Koreans are just now discovering and learning about wine," explained Daniel Kangas, portfolio director of Asia Pacific Wine Group. "Secondly, wine in Korea is very expensive. This is partly due to high import duties and taxes, and partly due to the first factor – importers, distributors and retailers all rely on higher margins to make up for the lack of economies of scale."The result ... is that consumers are less likely to experiment and try new things."Like most representatives attending the event, Kangas was nevertheless optimistic for the long-run. "Argentine wines in particular have fantastic potential in Korea. They make fantastic quality wines, and offer them at great values," Kangas said. "Furthermore, they make wine in a style that I believe Koreans will really appreciate. The country's signature grape, Malbec, is a rich, lush fruit-driven red wine, with great structure."Kangas stated that Malbec would be appreciated by Korean wine-lovers who were already familiar with the full-bodied wines of Chile and Australia."In white wine, Argentina produces wonderful Chardonnay, and I am even more excited about Torrontes, Argentina's signature varietal," Kangas added. "It's a beautiful, floral, aromatic wine, with a touch of sweetness that is wonderful on its own, but even better when paired with spicier Korean dishes." Grapevines have been cultivated in Argentina since 1557, but the South American nation only began actively exporting wine in the 1990s. Once the world's largest producer, a shift in industry philosophy has slashed output while boosting quality. Despite this, Argentina remains South America's largest producer of wine, and the 5th largest in the world. The majority of Argentine wine is produced in the west and northwestern edges of the country, in the high-altitude, low-humidity foothills of the Andes where problems of insects, fungi, molds and other grape diseases are rare.The Mendoza region in particular produces two-thirds of the nation's wine and has become a popular destination for wine tourism. Recently, the southern provinces of Patagonia, Rio Negro and Neuquen have been experimenting with cooler climate varietals. Malbec is the country's most widely planted red grape. Its second flagship varietal is the white Torrontes. Other commonly planted grapes include Bonarda, Cabernet Sauvignon, Syrah, Tempranillo and Chardonnay.
For details or inquiries call the Embassy of Argentina in Seoul at 798-1145 or email at ecorecom@mrecic.gov.ar for Counselor Alicia Irene Falkowski.