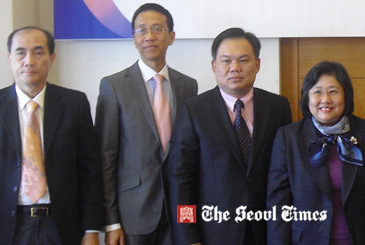 Director Walailak Noypayak (right) of Tourism Authority of Thailand Seoul Office poses with Minister Counselor Panot Punyahotra (2nd from left) of the Royal Thai Embassy in Seoul and General Manager Taviroj Songkumpol (2nd from right) of Thai Airways International Korea (to his right) at the tourism conference held at the Lotte Hotel in Jung-Gu, Seoul on Dec. 9, 2011.
The Tourism Authority of Thailand (TAT) and Thai Airways International (TG) held a press conference on the 36th floor of Lotte Hotel in Jung-gu, Seoul on Dec. 9, 2011. The conference addressed Thailand's flood crisis and its impact on the country's major tourist sites. The Director of TAT Seoul Walailak Noypayak not only discussed social and economic difficulties incurred by the early 2011 disaster, but insisted that tourism sites within and outside Thailand's capital city, Bangkok, were returning fully operational."By showing these pictures, we are reporting the real situation of our tourism sector," Noypayak said while presenting photos of major tourist sites in Bangkok. Photos displayed Asok shopping mall section and Chatuchak Weekend Market in Bangkok, looking unscathed by the major floods from late July 2011.With Director Noypayak assuring the condition of Thailand's diverse tourist sites, General Manager Taviroj Songkumpol of TG, reinforced Noypayak's message that Thailand's resorts and businesses were open to flourish after the receding floods. However, his main emphasis was on the misrepresentative coverage provided by international media outlets. "Pictures were shown during the crisis but not after the receding floods," Songkumpol said. "I worked in 5 radio stations in Bangkok before becoming a general manager for TG. And so when we followed a story, we would follow through the whole way. We have to strike people's attentions during and after the story's results." In addition to Songkumpol's appeal for Thai tourism and assurance that floodwaters had receded, an in-depth video titled "Once in a Lifetime" portrayed an audio documenter encountering diverse resorts, experiences, and an open-minded Japanese photographer unhindered by the floods in Thailand. But TAT and TG officials were quick to point out the significant social and economic damage caused by the floods.The industrial sectors affected by the floods included automobile and electronics factories, comprising 50% of Thailand's current global exports. Panot Punyahotra, minister counselor of the Royal Thai Embassy in Seoul addressed not only tourist impacts but also concerning local residents' economic difficulties in relation to the resorts. In response, 21 South Korean private and public institutions such as Korean Red Cross and DongAh Elecomm Corp. donated funds totaling 475,167,810 Won to relieve Thailand's socioeconomic situation. "18,000 factories in Thailand have been affected by the floods and so terms of trade investments will take a longer time to recover," Punyahotra said while also referring to SANYO Electric Co.'s discontinuation of operations in Thailand. "We're frustrated with our electronics and automobile exports but the year 2012 brings greater prospects."
For details or inquiries contact Tourism Authority of Thailand Seoul Office at 779-5416.