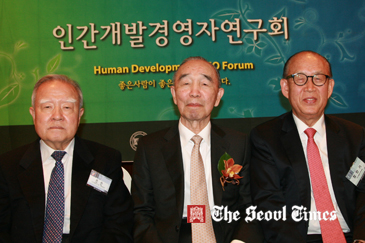 KHDI Chairman Chang Man-Key (Right) poses with ex-Prime Minister Cho Soon (left) and retired Gen. Chae Myung-Shin.
Chairman Chang Man-Key of the Korea Human Development Institute (KHDI) left Seoul for China on Dec. 5, 2012 to exchange views with Chinese leaders including Chinese Premier Wen Jiabao.He opened his activities for the year 2012 by inviting a retired Gen. Chae Myung-Shin, who is regarded as one of the most resptected military leaders in the nation.Gen. Chae spoke in front of hundreds of business or other social leaders at a breakfast forum held by Chairman Chang at Lotte Hotel in downtown Seoul at 7 a.m. on Dec. 5, 2012. Gen. Chae touched hearts and minds of the participants with his life or death experiences both in Korean War and Vietnam War.Right before his departure Chairman Chang met with The Seoul Times to reveal his plans to meet with Chinese leaders and his thoughts on how China and South Korea can help North Korea to break away from its isolation.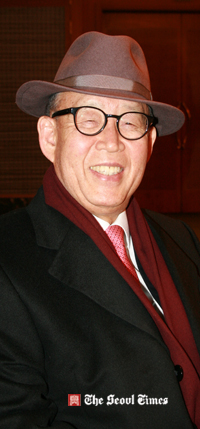 KHDI Chairman Chang Man-Key
"The Korean Peninsula is now at its critical situation," Chairman Chang said. "China and the US can play a very crucial role in this matter, particularly China's role is very important since she is now a great power""Now South Korea has grown into the world's 7th largest economy, so our role is also very important for the North Korea," he went on."Soon South Korean President Lee Myung-Bak will visit China," he said. Hopefully he will be helpful in his talks with Chinese leaders over the matter of North Korea""I guess that we can be very confident based on our economic stature in talks with China over North Korea's problems," he said emphatically.He said that a year ago he and ex-Prime Minister Cho Soon were invited to then South Korean Ambassador to China Hong Soon-Young. They shared the same view with the Korean envoy about the rolel of China in inter-Korea affairs.Chairman Chang said that he will meet with Chinese Premier Wen Jiabao and other leaders on his Chinese tour of Jan. 5-Jan. 10, 2012.He said that China now must shoulder a much bigger part in international affairs now that is became an economic superpower with a population of 1.3 billion."China can even play a bigger role than the US in world's affairs particularly over the issue of North Korea," he went on."Chine once recognized North Korea's power shift from the late Kim Jong-Il to his 29-year-old son Kim Jong-Un," he said. "But, that is not enough""China should play more active role in helping North Korea to break out of its isolation," he stressed.He also asked South Korean leaders to turn more seriously to the inter-Korean affairs."Ove the last 50 years South Korean has achieved a surprising economic development," he said "But, now we have to take care of our inner minds""We have to make an approach to North Korea from the perspective of brotherly love," he said. "That's how the North would appreciate our help and the real breakthrough would come out of that approach""We should never brag about our economic wealth to the Northern brethren," he continued.He said that the current South Korean government quite aggrevated the inter-Korean relations, incurring the wrath and enmity of the North Korea.Chairman Chang also touched upon the plight of over 20,000 North Korean residents in South Korea, who defected from the North."They have so much difficulty and troubles in settling down in the capitalist South Korea," he said. "The government seems to have no no specific or practical plans for them""They are have tremendous difficulty in finding jobs and spouses," he went on. "These problems would eventually make our reunification more difficult"Asked about the plans of his institute
Chairman Chang said that his institute would focus on globalization of its activitie."For this nearly 200 world leaders particularly from Asian countries would gather on the island of Jejudo in late spring this year," he said. "Many of them will be heads of states to attend our gloabal forum for the world peace""We try to be impartial from the religion, politics, or nationalality," he said. "We just try to development the human potentials through our activities""Our motto is 'Better People Better World,' I believe in human development," he said. "After all it is human that will change the whole world for the better"
Who Is KHDI Chairman Chang Man-Key?
Chairman Chang Man-Key of the Korea Human Development Institute (KHDI) has been one of the busiest business leaders in South Korea.Chairman Chang has been hosting a total of 1,772 breakfast forums on Thursdays over a span of three decades. He still holds the early morning seminars on every Thursday.Famous scholars, powerful politicians as well as big corporate figures of Korea or from overseas have been invited for his forum.He established the institute in 1975 while the entire nation is toiling for better economic conditions under the slogan of "New Community Movement" or "Samaeulundong" As a young scholar in his 30s he decided to set up his institute because he believed in developing the potentials of the young businesspeople in the nation. He coined the institute's motto of "Better People and Better World"Back in 1970s South Korean was still one of the developing countries in the world."In 70s a lot of people were suffering from hunger," Chairman Chang recalled. "Back then I believed that developing human resources was the only way of developing the nation's economy.""That's why I decided to set up my institute," he said.Since then he has been dedicated himself to developing potentials of the young businessmen and women for over 30 years. He is now 74.He graduated from the Business School of the prestigious Seoul National University. His thesis was "Achievement Motives for Developing Business Leaders."He served as a professor of business at Myongji University in Seoul before he started his institute over three decades ago.For details or inquiries please contact Ms. Kim Hye-Young at the institute at 445-1946.