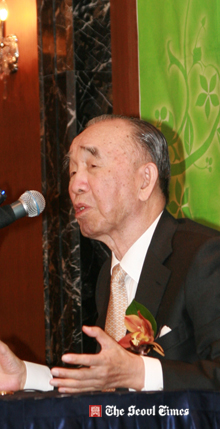 Retired Gen. Chae Myung-Shin speaks about his experience of the Korean War and Vietnam War at the breakfast forum held at Lotte Hotel in downtown Seoul on Jan. 5, 2012.
"When North Korean Army invaded South Korea on June 25, 1950, South Korean Army was totally in disarray," said South Korea's famed retired general in a forum held in Seoul. "South Korean military was literally debacled¡±In the breakfast forum arranged on Jan. 5, 2012 by Chairman Chang Man-Key of the Korea Human Development Institute (KHDI), Gen. Chae Myung-Shin (óùÙ¤ãæ) vividly recalled the day of North Korean attack on its rival South Korea.The 85-year-old retired general said that highly-trained North Korean Army was well-equipped with hundreds of Soviet-provided tanks when it crossed the 38th Parallel in its pre-dawn surprise attack.¡°We had only some mortars to meet the North Korean tanks,¡± he fumed. ¡°And already dysfunctional Syingman Lee¡¯s government¡¯s lied to its own people¡±He said that in three days Seoul was captured by the Nothern enemy and hundreds of Seoulites were drowned in Han River when the only bridge was bombed by South Korean forces.¡°South Korean government lied to its people that brave South Korean Army was repelling its Northern attackers and was pushing them back toward the North,¡± he lamented.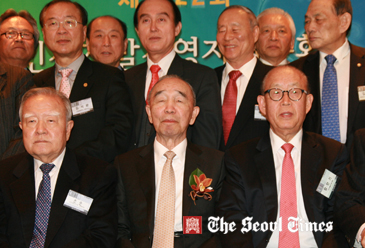 Retired Gen. Chae Myung-Shin (denter) in front row poses with ex-Prime Minister Cho Soon (to his left) and with Chang Man-Key of the Korea Human Development Institute (KHDI), the host of forum.
¡°A number of refugees were forced into the water from the bridge when endless line of people fleeing the North Korean Army pushed them from behind,¡± he went on. ¡°Most of them were drown to death¡±¡°But it was the US Army who saved South Korea from its northern attacker,¡± he said. ¡°It was the Task Force Smith that delayed the North Korean forces from further advanced into the South¡±The US Liet. Col. Charles B. Smith was ordered to do so by the US 24th Division Commander William F. Dean, who was later captured by the North Koreans.Gen. Chae said that the Task Force Smith¡¯s small contingency force blew two of North Korea¡¯s T-34 tanks, successfully delaying them over a slope south of Han River.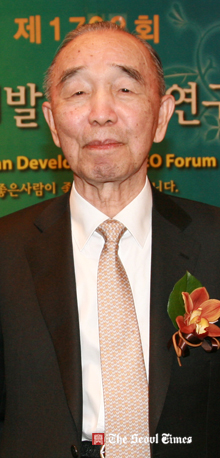 Retired Gen. Chae Myung-Shin. Chae is one of the most respected senior veterans in South Korea.
He said that he went through life and death occasions countless times during the three years of the Korean conflict. He rose from a low ranking officer to a general by the time war ended.¡°It was Gen. Douglas MacArthur and the US soldiers who saved South Korea from the danger of Communist forces,¡± the devout Christian said.Chae Myung-Shin (óùÙ¤ãæ) was born in Goksan County of North Kora¡¯s South Hwanghae Province on Nov. 27, 1926.His father died when Chae was still young. His father was an independence fighter against colonial Japan. He was left with a devoted Christian mother. He went through a teacher college in Pyeongyang, landing a teaching job at a public school in the city, now the capital of North Korea.In following years of Korea¡¯s liberation from Japan in 1945, Chae had a chance to meet with late-North Korean leader Kim Il-Sung at a political gathering in Pyeongyang.¡°Kim held my hands and said he wanted to work with me,¡± Chae recalled. ¡°But, I told him I had to take care of my single mother¡±¡°Actually I was worried by the North Korean regimes, because it adopted a communism,¡± he said. ¡°To me religious freedom was very important¡±He said that the 34-year-old Kim Il-Sung seized power in North Korea only because he was groomed by the Russian Gen. Terenti Fomitch Stykov (1907-1964), the commander of occupying Soviet forces from 1945-46.¡°Gen. Stykov favored Kim because other Communist leaders like Kim Chaek or Huh Ga-Ee were not even fluent in Korean language,¡± the senior veteran argued.¡°The Communists in the North hated religion particularly Christianity,¡± he said ¡°I had no alternatives but to leave there¡±He crossed clandestinely the 38th Parallel that divided the North from South Korea and came to Seoul where his father¡¯s friends helped him.Chae entered the Chosun Guard Academy, former version of present Korean Military Academy.After graduation he was commissioned into Second Lieutenant and went right into the Korean War (1950-53).He commanded ¡°Skeleton Corps,¡± guerrilla corps during the war, which earned him a nickname ¡°here of guerrilla tactics.¡±Chae joined hands with Maj. Gen. Park Chung-Hee in 1961 when Park staged a military coup. Chae played an important role in the military government.Soon, Chae was sent by Park to Vietnam War. He served as the commander of the South Korean Vietnam Expeditionary Forces.Chae adopted strong tactics for the Vietnamese as an authority on guerrilla tactics. In spite of his remarkable feat Chae later received some criticism for his units¡¯ brutal massacre of Viet Kongs and civilians In Phong Nhi and Phong Nhat.For this reason, there were frictions between Chae and a US general, William Westmoreland, the chief of staff of the United States Forces.In late70s Chae objected strongly to Park¡¯s plan to perpetuate his dictatorship. Chae was relieved of his military posts by Park.After retirement from the army, Chae served as ambassador in such countries as Sweden, Greece, and Brazil.Chae also served as the first president of Korea Taekwondo Association, promoting the national Korean martial art.