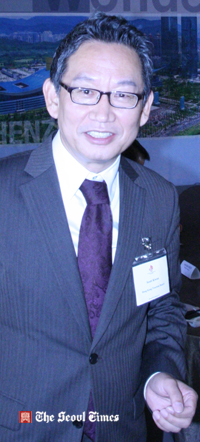 Mr. Scott Kwon, director of Hong Kong Tourism Board in Korea
Mr. Scott Kwon, director of Hong Kong Tourism Board in Korea, said that he celebrated the achievement of 1 million Korean tourists' arrival in Hong Kong in year 2011.At the press conference held at the Westin Chosun Hotel in downtown Seoul on Jan. 17, 2012 Director Kwon went on to say that he will maintain this trend in the year 2012.South Korean tourists heading for Hong Kong have been on the increase by the 200,000 per month since 2009.He said that a variety of promotion programs has contributed to the increase of tourists.Also, Hong Kong's slogan "Hong Kong. Asia's World City" has been conducive to the influx of South Korean travelers into "Pearl of the Orient."Programs of low-budget package tour and free travels for travel agents and average tourists played a pivotal role in the rise of South Korean visitors to Hong Kong.Famous South Korean actresses like Chae Shi-Ra and Park Han-Byul were also helpful.They visited Hong Kong shooting photos and making videos with the assistance of the Hong Kong Tourism Board.Other well-known South Korean TV celebrities were also invited to the island for their TV programs.
"Dragon Boat Festival" in Hong Kong This photo was provided from Hong Kong Tourism Board in Korea.
Director Kwon expected that this year would not be an easy year due to global financial crisis started from Europe and rising commodity prices in Korea.Domestic political situation — general election is scheduled in April, and presidential election will be held in December — is not favorable to the Hong Kong tourism.
Big events — Yeosu Expo slated for May in South Jeolla Province and London Olympics in July — will also adversely affect the promotion of Hong Kong Tourism amongst South Koreans.Under the newly coined concept of "Destination Favored by All Age Groups" three target groups were selected by the board.The first is young-age group looking for fashion, beauty, and relaxing.The second is family group seeking weekend trip.The third group is middle-aged people who want to visit Hong Kong while traveling other countries.
For this, various marketing plans will be developed and carried out.Ties with local travel agents will be bolstered as well. Public relations will also be more activated in order to upgrade the image of Hong Kong amongst local Korean people."Hong Kong Tourism Board in Korea" will also use South Korean network TVs and cable TVs to promote the image of Hong Kong through the TV programs including documentary
programs about Hong Kong.On the extension of "Ladies Promotion," which was hugely successful last year, "Fashion Queen Pageant" will be continued.On top of that, the board will launch "Stylish Hong Kong Travel Partner Contest" in which a woman will be selected to travel with a famed South Korean actor in Hong Kong.Such on-going programs as "Dragon Boat Festival," Hong Kong Wine & Dine Festival," and "Hong Kong Winer Fest" will be carried out through the year.
For details or inquiries contact Olivia Lee, PR manager, at 778-4643.