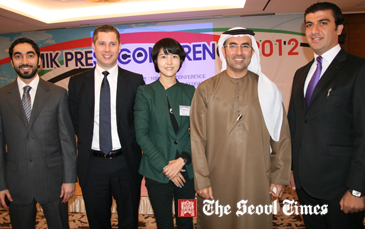 Ideal Idea Events Management LLC Director Faisal Al Raisi (2nd from right) poses with its Executive Director Mohammad Harfouch (right), President Rei Kim (center) of Nexfair, Deputy Managing Director Ahmed Ali Suwaid (left) of RAK Free Trade Zone, and with RAK Manager Felix Simon at Lotte Hotel on Jan. 30, 2012..
A local press conference for "Made in Korea 2012" to be held in UAE's Abu Dhabi on May 21-23, 2012 was hosted on Jan. 30, 2012 at a Seoul hotel by "Ideal Idea Events Management LLC" and Nexfair, a local PR agent joined by significant guests including Charge of Affairs Saeed Ali Alzaabi of the United Arab Emirates Embassy in Seoul. The purpose of the conference is to motivate Korean companies to participate in the "Made in Korea 2012," a major business exhibition to various kinds of Korean products to the Middle East regions. "MIK 12 exhibition will help strengthen the bilateral relationship between South Korea and United Arab Emirates," said Rei Kim, the CEO of Nexfair. The exhibition is aimed at advertising Korean products, services and technologies as well as institutions to the Arabic world. It allows buyers and sellers to have a direct opportunity to conduct business meetings and to form immediate alliances with other markets.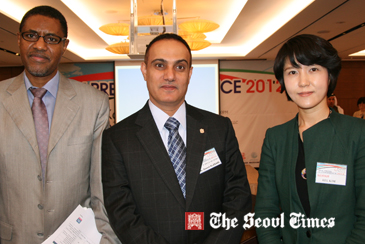 Charge of Affairs Saeed Ali Alzaabi (center) of the United Arab Emirates Embassy in Seoul poses with President Rei Kim (right) of Nexfair, and with Mr. Adam Hameed of the UAE Embassy.
The Ideal Idea Events Management LLC director, Faisal Al Raisi, began the conference by explaining the significance and benefits of a stronger relationship between the two nations. Currently being world's fifth largest oil supplier, UAE is still in the process of growing to be one of the most powerful oil and aluminum exporters as the amount of their sales is estimated to be worth around 11 billion US dollars. Since 2010 the oil market has been increasing, therefore in 2012 it is proving to be the best year to establish new investments for the UAE. Whilst Korea is rapidly expanding industrially by exporting ships, automobiles, electronic appliances, textile, and steel structures reaching 4.7 billion US dollars. In 2010 UAE and South Korea's trading market was 16 billion US dollars it further increased to 23 billion US dollars in 2011. "Therefore the exhibition will enhance trade as it will provide a gateway for exposure" stated Mr. Raisi. He said that some 300 Korean exhibitors will be present and around 25,000 people will visit the first event of its kind. The event will allow guests to witness the heritage and traditions of Korea and to explore the tourism industry. Such interaction will help countries build a stronger connection and a mutual understanding for each other's cultures. "The exhibition consists of only Korean companies in order to enhance the strategic platform for the relationship," explained Mohammed Harfouch, executive director of Ideal Idea Events Management LLC. The top trading country for United Arab Emirates is China and South Korea is its 13th largest trading partner. MIK exhibition is expected to further increase the trading between the two nations in 2012. In order to attract Korean companies and businesspeople, the exhibition will be marketed around Korea and United Arab Emirates, by "advertising it in Korean magazines and newspapers" added Mr. Harfouch. "This event will open doors for Korean companies to further increase distributions" The exhibition contains six sectors, heavy industries, engineering and constructions, ICT, energy, chemical rubber and plastic, healthcare, consumer and lifestyle. Significant cultural activities are also incorporated as part of the exhibition. Side events such as taekwondo and other performances by Korean pop stars will be held. It also includes a costume designing competition, for models to wear for each sub-show. This competition offers an opportunity for fashion designers from various colleges across Korea to showcase their creativity. The winner will be announced on the final day of the exhibition. The event also encourages entries for the poster design competition. The designs should reflect the UAE relationship with Korea. The chosen poster will be used as the cover page of a catalogue for MIK 12. This award will also be given out on the final day of the exhibition The bilateral relations between UAE and South Korea further consolidated when South Korean President Lee Myung-Bak visited the Middle Eastern nation in 2011 to sign a number of landmark cooperation agreements. In addition, Ras Al Khaimah Free Trade Zone (RAKFTZ) has already developed into a cost efficient business city. The Free Zone offers customized support services to its investors. The main objective of establishing free zones is to attract investments. In each free zone, an independent Free Zone Authority (FZA) is responsible for issuing free zone licenses and assisting companies to establish their businesses. Warehouses, executive offices, business centers and administrations are already being built in the free zones. The main achievement that Mr. Raisi hopes for 2012 is to "further grow the nuclear energy sector and to understand the Korean government." "This will take a long time, as there are still obstacles that need to be overcome such as the language barrier," explained Mr. Raisi. "Therefore, by visiting Korea and understanding the culture through interaction and organized events "the friendship is able to increase" The UAE government has already initiated a grand strategy for improvements to achive by 2021. Some of the future goals include first-rate education and strong global understandings. Thus, both countries can benefit from each other politically, economically, and culturally through a stronger relationship.