Sunset outside Ajaccio, Corsica
In the end, despite all the anticipatory agita, the only problem with Corsica was figuring it out. The goal seemed so simple: to immerse ourselves as much as possible in "the grave, hard splendor of the island," as the redoubtable traveler Dorothy Carrington wrote in her 1971 meditation on the history and anthropology of Corsica, "Granite Island." The problem, of course, was how to see it all and do it all in 11 days — a challenge given the island's profusion of natural wonders. There were, we read, glorious pleasure ports, primordial mountain fastnesses, mysterious menhirs, a distinctive cuisine and wines that demanded respect. But the barriers seemed formidable. Principally, there was the puzzle of the island's famously narrow white-knuckle roads. Just how much time was needed to drive from town to town to claim our restaurant reservations and our rooms? What was the most efficient route to explore the island? No guide was very specific. Our friends who had visited even disagreed about how to get there — by air or car ferry. In the end, we set an itinerary that seemed possible, flew to Corsica from Paris, rented a car and took our chances.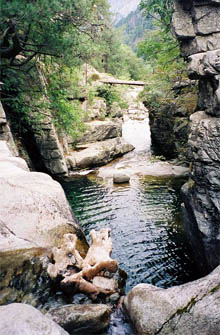 Beautiful rock pools in Corsica's Ruisseau de Manganellu
Ajaccio, where we arrived on a Sunday afternoon, is a sun-blessed port town where it is all Napoleon, all the time. Mindful of our jet lag, we took an uphill ride on the Petit Train, the rubber-tired tourist-hauler at the Place Foch — and hopped off at the imposing Napoleon monument with its severe stone battlefield roster. Then we strolled downhill to the Maison Bonaparte (where Napoleon first saw the light of Corsica in 1769) and visited the Cathedral at the end of the Rue St.-Charles with its worn baptismal font, where he was christened. The second-floor Bonaparte gallery in City Hall at the Place Foch, with a bronze cast of Napoleon's death mask, is not to be missed; nor is the art collection, with its array of Italian old masters, amassed by Cardinal Joseph Fesch, Napoleon's uncle, at the museum that is named after him.On Monday morning, it was with some anxiety that we approached a car-rental office on Cours Grandval. Europcar had guaranteed a midsize automatic (not easy to find on the island); it actually had to import one by ferry from Nice. There it was, a brand-new Peugeot, silvery and gleaming, in the claustrophobic little garage. We had wheels. And so, on an island that is only 114 miles long and 52 miles wide, we drove 960 miles in 11 days; 10 of them, thankfully, in glorious sun. We explored five major cities — Ajaccio, Bonifacio, Corte, Calvi and Bastia — in that order. It proved to be an efficient circuit of the island. We never lost the sense that visiting Corsica was something like stepping into a fairytale. But we learned that the primordial island of vendetta, witchcraft and donkey cart, so vividly evoked by Carrington, has largely been displaced by the onslaught of international tourism and modernity. Not that long ago it seemed a bit backward, but it is, after all, France; the phones work really well. And mercifully, much of Corsica is still not kitschified.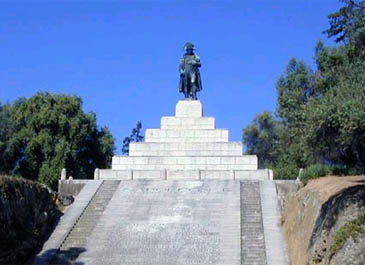 Statue of Napoleon in Ajaccio, Corsica
Corsican driving often demanded total attention because of frequent turns, unsigned roundabouts and the antics of motorcyclists. Then there was the day we were halted for a few minutes by a herd of goats foraging unattended on the highway. In general, we found it possible to make good time on Corsica's main roads, as long as we didn't get stuck behind that cinder-block truck. The spectacular 46-mile mountain-view drive between Ajaccio and Corte, for example, took only an hour and 20 minutes. The single-lane nightmare roads were inevitably slow, but often there were plenty of lay-bys — and even some new stone guardrails that were at least psychologically reassuring.Especially fraught, however, were the blind, narrow hairpin turns in areas such as the Calanques de Piana, with its gloriously tortured granite formations. A 50-mile nighttime drive from Porto back to Ajaccio through the Calanques along the knotted, narrow D81 took more than two hours. Curiously, the most dangerously twisty corners were much easier to take than they had been during the day, because we could see the glow from approaching headlights. The 80-mile drive from Ajaccio to Bonifacio, our second destination, took three hours, partly because we stopped shortly before the town off the N196 for the extraordinary view from the Ermitage de la Trinité, a pretty church reachable only by driving two miles on a diminutive mountain road. We estimated that without traffic, it was probably only a two-and-a-half-hour drive from Bonifacio to Corte, our next overnight. But tourist forays to Porto Vecchio, the ruins at Aléria, and the Col de Bavella made it a very long day.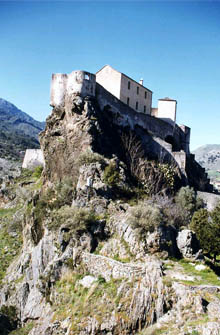 Corte
The fastest highwayish road we encountered shot the 49 miles from Corte to Calvi in an hour and 15 minutes. We also sped 69 miles from Calvi to Bastia, Corsica's northern economic capital, where we strolled about the old port with its picturesque crescent of restaurants. In the end, our most colorful transportation saga was the scary drive from Calvi to Ajaccio, negotiating 116 miles of mostly mountainous roads. We took turns driving the sinuous, heart-in-mouth route along the D81, which was improbably scenic. Unfortunately, we realized we were driving in the bad direction: outside, next to the precipice and those puny guardrails. A road-maintenance program often dictated one-lane driving. Our initial estimate — four hours — was half an hour too optimistic. We budgeted one thrilling day for discovering some of Corsica's menhirs — those giant, mysterious, slablike, Stone Age, anthropomorphic megaliths. After an hour-and-a-half drive from Ajaccio, we found Filitosa, the largest, best-preserved prehistoric site. There, a partly restored vast Neolithic park of fortifications and habitations offered recorded commentary in English, French and German. We wandered about the collection of three-ton menhirs, then headed for the small, interesting museum. After driving for lunch to Propriano, we headed for more menhirs via the medieval gray, forbidding, seemingly conspiratorial precincts of Sartène. Its tall, fortresslike houses once witnessed out-of-control vendettas that decimated the male population; one conflict became a civil war requiring the intervention of the local military governor. A half hour beyond, in Palaggiu on a mule track off the D48, we discovered dozens of startlingly untended menhirs, some standing and others capriciously jumbled. After a visit to another famous menhir alignment, Stantari, we made the two-hour trek back to Ajaccio, reading aloud from Dorothy Carrington's description of the discovery of these ancient mysteries.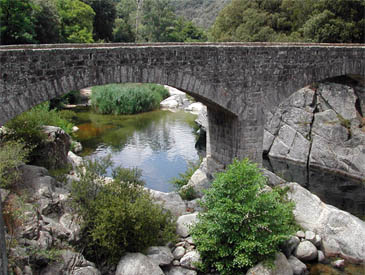 Zonza in Corsica
We sought out traditional Corsican cuisine wherever possible, and tasted many variants of the island's ubiquitous fish soup, rough cuts of lamb and chestnut desserts. In Ajaccio, Restaurant Le 20123 — a simulacrum of the village square in the proprietor's rural hometown (the name is its postal code) — was our introduction to the genre. The stage set of a dining room offered such artifacts as an archaic village fountain, and even the recorded sounds of singing crickets. The Auberge de Prunelli, a 20-minute drive from Ajaccio overlooking the rushing Prunelli river, added to our repertory some typical desserts of brocciu, a ricottalike Corsican cheese (pronounced broach). René Orlandazzi, the proprietor, explained to us that the restaurant had once been his family's centuries-old residence and stable. How long had it been there? "Toujours," he said. How long had it been an inn? "Toujours," he replied. We sampled local seafood when possible, and at La Mer in Porto — an amiable restaurant with a terrace affording a postcard view of the sunset — Sophie Rossini, a genial spirit who runs the place, brought out a plate of fresh whole fish for our inspection. We chose a silvery specimen, which she called le lische, to be grilled, filleted before us and shared; it was sweet and light. Two restaurants in the Riviera ambience of Calvi — Aux Bons Amis and L'Abri Côtier — also offered perfectly fresh seafood. In Corte, our favorite was U Museu, a traditional Cortenais restaurant with a terrace-dining mix of locals and tourists. In Calvi, we discovered U Fanale, a family restaurant with a stone terrace shaded by a 100-year-old umbrella pine and a view of the coast. There we first tasted fiadone, a cake of brocciu cheese with a hint of lemon.As for our explorations on foot, whenever possible we sought out the abundantly flowering late-May maquis, the famously aromatic, stubbly undergrowth of evergreens, wild rosemary, myrtle, rockrose and heather that gave its name to the World War II Resistance fighters, who used it for cover.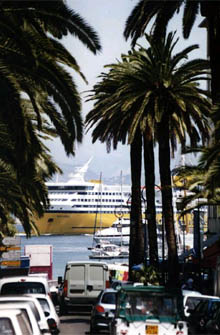 Ajaccio in Corsica
In Ajaccio we followed pink-painted trail blazes far up the hill to the Crest Walk, or Sentier des Crêtes, and its panoramic view of the Gulf of Ajaccio. It offered a Cinemascopic view of the Isles Sanguinaires, the island chain that steps out from the coast. A more rugged hike was our exploration of the eerily colorful Calanques de Piana, with its eroded, tortured science-fiction granite formations in the shape of gargoyles, birds, turtles and elephant trunks. Piana, the gateway to the Calanques, is about an hour and 40 minutes from Ajaccio. We picked up a trail map at the tourist office in the Syndicat d'Initiatives on the town's main street, and drove five minutes to the trailhead of the Ancien Chemin de Ota à Piana. As we headed up the trail, we were startled by the blue of the bay clashing with the reddish needles of the rocks and the riotous rainbow of wildflowers. After 45 minutes the trail returned us to the road, where, later, we discovered the famous Château Fort, an enormous, fortresslike granite block. In Bonifacio, after heading up the Monte Rastello staircase to the citadel and its bastion, we walked to the windswept bluff overlooking the lighthouse, a level route that affords amazing vistas to Sardinia. Our most challenging hike, in the Restonica Valley near Corte, required a precipice-defying 40-minute drive along the D623 to the Grutelle parking lot at 4,494 feet above sea level. There, we climbed up toward the white-topped Capu a Chiostru past the snow line and the fierce torrents down the sides of the gorge. We clambered up ladders and chains 1,100 feet to the partly frozen Lac de Mélo, a glacial lake.Also from Corte, we made a side jaunt to the mountain hamlet of Vizzavona, and picnicked at the Cascade des Anglais, an easy family hike with friendly tourists at the legendary waterfall path that got its name from the English tourists who once negotiated the riverbank in their Victorian finery.In Calenzana, near Calvi, we walked the first stage of the GR20, the famous red-and-white-blazed trail that traverses 100 north-south miles of Corsica. We walked up, up, up the granite path until Calenzana was a child's village with a toy bell tower far below. Later, we made a lunch of bread, cheese, ham and salami under the scrutiny of three mountain goats on a nearby crag.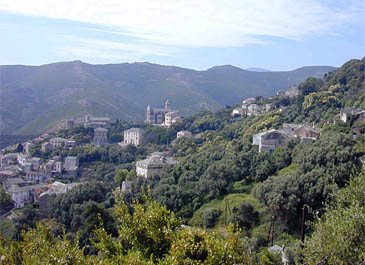 Rogliano in Corsica
Two of our most memorable explorations were water excursions: in Bonifacio, before dinner, we had just enough time for a 50-minute boat cruise ($14.50) to see the harbor, the limestone caves and the famous "grain of sand." That's the Bastille-sized chunk of limestone cliff that tumbled to the sea 800 years ago. And from Calvi, we reveled in a three-hour tour of the Nature Reserve of Scandola that revealed this exquisite, protected coastline to the south. So spectacular was this voyage that we had to acknowledge it was worth the scandalous price of $48 per passenger. And that, to be honest, was before we saw the school of dolphins frolicking about our boat.
Visitor Information
We flew into Paris (Charles de Gaulle) on Continental from Newark, then hopped the $18.60 connector bus (Les Cars Air France) for the half-hour trip to Orly, and flew Air France to Ajaccio ($209 each round trip). Our essential driving guide was the All-Corsica Michelin map (No. 345, titled Corse-du-sud, Haute-Corse), available inbookshops in the island's big towns, at least in May. Our midsize Peugeot 406 from Europcar cost $925, at $1.25 to the euro, for 11 days with unlimited mileage.
AJACCIO
Our lodging in Ajaccio, the comfortable, friendly
Hôtel San Carlu
, 8, boulevard Danielle Casanova, (33-4) 95.21.13.84, fax (33-4) 95.21.09.99, was well situated in the old town overlooking the citadel. We paid $126 for a double room. There is a spacious municipal park-and-lock only a block away, where we were able to stash our car overnight for $9.60.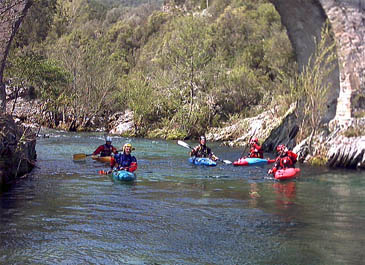 Kayaking in Corsica
At
Restaurant Le
20123, 2, Rue Roi de Rome, (33-4) 95.21.50.05, a three-course meal for two with wine was $78.The
Auberge de Prunelli
, (33-4) 95.20.02.75, is a 20-minute drive away in Pisciatellu on N196; look for the turnoff onto D55B just before crossing the river. We found "Walking in Corsica" by Gillian Price (Cicerone, 2003) to be the best English-language guide to Corsican hiking, but there was no section on Ajaccio. We finally stumbled across the hidden trailhead for the Crest Walk by walking past the Napoleon memorial to the right up the hill on the Avenue Nicolas Pietri, and bearing right up to the sign for the Bois des Anglais park. There we made a sharp left past the parking lot and walked uphill to the right of a low wall, ignoring the "Residents Only" sign.
PORTO La Mer
, Porto Marina, (33-4) 95.26.11.27, is at the northern edge of the crescent-shaped harbor of this sleepy village with an unspoiled view of the gulf, an abundance of picturesque hills, and a famous Genoese watchtower. The meal was $104, with wine.
BONIFACIO
Our gemlike lodging in Bonifacio,
Hôtel La Caravelle
, Quai Comparetti, (33-4) 95.73.00.03, fax (33-4) 95.73.00.41, offered us a small, charming room with white stucco walls and a vivacious nautical air. The harborside view cost $150 a night.
CORTE
Our bare-bones lodging in Corte was the only one available: the
Hôtel de la Paix
at the end of a quiet cul-de-sac had a view of the mountains; 1, avenue du Géneral de Gaulle; (33-4) 95.46.06.72, fax (33-4) 95.46.23.84. A double room cost $66 a night.
Corsica
U Museu
, 1, Rampe Ribanelle, phone/fax (33-4) 95.61.08.36, has long been known for its $15 menu, which now costs $18. Our main courses were an intensely flavorful tripe in a myrtle-flavored stew and a wild boar stew served, according to tradition, with pennelike pasta.
CALVI
Our lodging by a hillside lemon grove, the
Best Western Premier Hotel Corsica
, (33-4) 95.65.03.64, fax (33-4) 95.65.00.54, offered us a luxury suite with a terrace view of the Genoese citadel. It cost $186 a night at a discount rate available to the chain's Gold Crown members.To get to the trailhead for our GR20 hike, we took the 15-minute drive from Calvi to Calenzana and parked in the city hall plaza. Following signs up the hill, we came upon the characteristic blazes leading to our four-hour hike.Friends steered us to the
U Fanale
, ld Mozzello, (33-4) 95.65.18.82, in Calvi, where we had a flavorful pavé steak in wine sauce on the $19.25 menu, and large pieces of marinated braised lamb on the $27.65 menu — all of it accompanied by a strong local 2001 red wine, E Prove, from Domaine Maestracci.On subsequent nights we trolled Calvi's portside restaurants, using a tested principle: look for the busiest restaurant full of French people. We found the 20-seat
Aux Bons Amis
, 11, rue Clemenceau, (33-4) 95.65.05.01, where we had a wonderful meal of paella bursting with seafood from the port, accompanied with a 2003 Clos Landry rosé gris, all for $115.50.Our other find was
L'Abri-Côtier, Rue Joffre
, (33-4) 95.65.12.76, a large, cheerful seafood place. Glenn had razor-thin slices of sea bass with orange zest and lime seasoning, and a pricy but spectacular grilled langouste. Sarah started with a tomato-and-chèvre terrine, and then a moist, tender grilled loup de mer (sea bass); the bill was $158 including tip and wine.
The above article is from The New York Times.