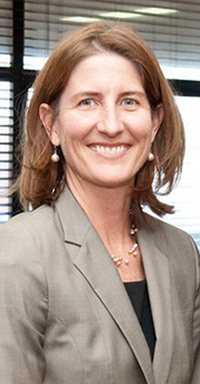 Ms. Ann Harrap, Australian High Commissioner to South Africa
I am here at Indaba 2012 with the six other Australian High Commissioners and Ambassadors posted in sub-saharan Africa, with our Senior Trade Commissioner, the head of AusAID in Africa, and several hundred Australian companies.This visible and active presence at Indaba by team Australia is not only a reflection of our international leadership in the resources sector but also of Australia's growing engagement with the continent. I want to talk to you about that engagement from the commercial perspective, but more particularly from the Australian government's perspective and to give you a sense of how we are working with African governments to build partnerships in natural resource management.Our enhanced engagement comes at a time when Africa is 'on the move'. I'm sure I don't need to tell an audience like this but the environment has never been better to realize Africa's opportunity. Africa continues to experience a significant resource boom – about two-thirds of African countries have mining activities underway; more than half the countries on the continent regard mining as an important economic activity and are producing minerals for an international market outside Africa; and there is plenty of untapped potential in the sector. Africa contains around 12 percent of the world's petroleum and 30 percent of global mineral reserves. Commercial exploration expenditure in Africa has outstripped global increases, rising from US$300 million in 2000 to more than US$2 billion in 2008.
This positive resources picture is coupled with more stable political environments and a greater openness to foreign investment. It also comes at a time of strong economic turnaround. African economies have shown strong resilience to the global economic and financial crisis and the IMF still predicts that four of the world's top 10 fastest-growing economies in the next five years will be from Africa. As the World Bank has noted — "Africa could be on the brink of an economic take-off, much like China was 30 years ago and India 20 years ago." Even the Economist magazine, which a decade ago described Africa as the 'hopeless continent', recognizes that Africa is 'rising'.Sound statistics and positive commentary are all good but as a country like Australia knows well, managing a booming mining sector has its challenges. Without effective financial management and macroeconomic planning and without appropriate environmental standards, labor laws and social responsibility standards, the boom can be short-lived and benefit few.Australia brings a unique perspective relative to most countries looking to engage in Africa and we know about managing booms and busts! We have over 100 years experience in harnessing natural resources to promote our own economic growth. Starting with the gold rushes of the 19th century, through the iron ore and nickel booms of the 1960's, the growth of the coal industry and the current high demand for minerals, particularly from China, mining has played an important part in my country's development. Mining makes a major contribution to the economy – contributing about ten percent of GDP last financial year, or about USD100 billion to income – and employing more than 220,000 people. In Australia the mineral resource sector includes exploring, extracting and processing a number of resources [such as coal, uranium, iron ore, nickel, bauxite, gold, lead, copper, zinc, mineral sands and diamonds]. Major processing industries include base metal smelting and refining, conversion of bauxite into alumina and aluminum, and iron ore into iron and steel. Our vast mineral resources, productive efficiency and cutting-edge support industries allow Australia to remain at the forefront of the minerals sector globally. And we remain a significant recipient and effective manager of foreign investment in the minerals sector – in mid-2011, mining and energy projects underway in Australia were worth about USD176 billion. Australia has a proud record of ensuring that our mining sector is sustainable, sensitive to environmental considerations and subject to appropriate operational and safety standards. And if you are a mining company operating in Australia you benefit from a stable regulatory environment with low sovereign risk, a highly skilled workforce and world-leading technologies. Australian mining and mining services companies – both big and small – coming out of the environment I have just described and expanding into Africa come with a particular mindset. They are active, results-oriented and efficient. The vast majority of Australian mining companies are responsible and committed to the highest standards of occupational health, safety and the environment. They bring advanced technology and corporate responsibility. Above all, they deliver partnerships with local communities, including through the up skilling of local workers. Of course, Australian companies want to make a profit for their business. But they have built a strong reputation on the continent, including for the open and transparent way in which they deal with African governments. It is important that Australian interests continue to uphold Australia's positive reputation in Africa. Australian companies need to be leaders in the promotion and implementation of best practice in the extractive resources sector. If mistakes are made, issues must be quickly resolved with local African partners in a fair and transparent manner. Just as they would be expected to do back home.The scale of Australian resources sector interests in Africa is significant and expanding at a rapid pace. There are at least 230 Australian companies with approximately 650 projects in mining exploration, extraction, and processing, spread across 42 countries in Africa.When I first spoke at an Indaba conference four years ago, we were proudly announcing that Australian investment in the African resources sector amounted to about USD20billion. Today, Australian minerals and resource companies have more projects in Africa than in any other region of the world. And the total current and projected investment is estimated to be well over US$50 billion. Australian companies are engaged in mining as well as oil and gas and the projects cover the full spectrum from smelters and refineries, to mines, to feasibility studies, to exploration, and to branch offices of mining services companies. Gold is the main mineral of interest, but there is also considerable interest in uranium, copper, coal, platinum, diamonds and iron ore. A number of Australian companies are on track to begin production in mines across the continent in 2012.Australian companies are also active in delivering a range of mining services, including engineering, consulting and analysis. Many of these companies in the Mining Equipment and Technology Services sector have looked at the range of technology goods and services that are suitable for Australia's demanding conditions and seen similar opportunities for them on the African continent. Well-known Australian METS companies such as Leighton, GHD, Clough Engineering, Sedgeman and Snowdon are all active in Africa. At the same time as the size, commodity interest and geographical spread of Australian commercial presence on the continent is growing, so too is the Australian government's determination to use our substantial experience in both mining and development to assist African countries derive real benefit from their mining sectors. As the Australian government has expanded its engagement in Africa – we now have diplomatic relations with all 54 countries on the continent – we have looked at how we can most effectively work with African governments to ensure maximization of the social and economic benefits from the significant mineral resources here.Following discussions with our African partners it is clear there are real opportunities for Australia to share its experience in managing mineral wealth effectively and sustainably. Working to deliver the real benefits from mining is now an important part of Australia's growing development cooperation program in Africa.
This is a new and exciting change. Australia is one of only two OECD-donor countries that is actually expanding its official development assistance as a proportion of our gross national income. For this financial year, our aid to Africa is likely to be close to $500 million. This includes our expanding programs in agriculture, health, water and sanitation and scholarships across Africa. We have seen more than a quadrupling of the budget in Africa over the last three years, and our intention is to grow this budget to nearly $1 billion a year by 2015/16. But this is not about hand-outs or creating dependency. It is our very strong view that in resource-rich but economically-poor countries, a well-managed mining sector can increase government revenue flows; improve employment, income and enterprise opportunities; and support progress towards the Millennium Development Goals by helping to reduce poverty and deliver sustainable economic development. Done well, the mining industry can create a whole series of other industries, initially in mining services, but more broadly across the services industries in general.It is our equally strong view that Australia has a lot to share with African countries and that we can use our natural resource management experience and our growing development cooperation funds to assist African governments and communities maximize their returns from mining by building capacity. So in October last year the Australian Prime Minister launched the Australian government's Mining for Development Initiative with an emphasis on partnering with African countries that are committed to effective management of the mining sector. A key element of the Initiative is to support implementation of the 'Africa Mining Vision'. That vision, which was adopted by African Union members in Addis Ababa in February 2009, encourages 'transparent, equitable and optimal exploitation of mineral resources to underpin broad-based sustainable growth and social-economic development'. We recognize that our best 'value-add' will be to help improve resource governance; build resource sustainability, and grow technical capacity. In particular, we will focus on helping to strengthen the capacity of governments to manage and regulate the mining sector. We have already started this effort, and I want to give you four examples of our activities in 2011 before outlining some of the areas of potential cooperation between Australia and Africa in 2012.In 2011, Australia:
— Provided 106 scholarships in the mining sector to African professionals from 27 countries to study in Australia — Funded four study tours to Australia for over 120 senior government officials from 19 African countries to look into mining regulation and management issues. Rio Tinto, BHP-Billiton and Newcrest were among those Australian companies that hosted mine-site visits and the groups held discussions with natural resources and regulatory agencies and local communities in Queensland and Western Australia. Mining Ministers from Ghana and Liberia participated in the tours. — Began work to assist Liberia to establish a Natural Resources Tax Unit in the Treasury and to draw up a capacity development plan, administrative procedures and a policy for the taxation of natural resources. — Funded the development of a long term capacity building program for the Ministry of Mineral Resources in Mozambique and we continue to facilitate the development of a Regional Planning and Integrated Investment Plan for Tete province. The aim of the plan is to encourage collaboration between key investors and government in the planning, prioritization and future co-financing of infrastructure investment activities. As part of the program Mozambique officials visited Queensland to review Australia's regional planning framework and share experience on public private partnerships. The tour was delivered with the assistance of Rio Tinto, the Queensland Government and the Sustainable Minerals Institute at the University of Queensland.For 2012, under our Mining for Development Initiative, we are proposing to assist more than 40 African countries to attain the expertise they need to build a more sustainable mining sector. In particular:
We will fund close to 350 African officials to undertake training either in Australia, or in their home country, in governance regulation, community and environmental sustainability, and mining operations. Some of this training will be provided through the International Mining for Development Centre, based in the University of Western Australia's Energy and Minerals Institute, and supported by the University of Queensland's Sustainable Minerals Institute. We will offer over 115 short-term professional development scholarships to be delivered in Australia covering geospatial information systems, occupational health and safety, regulation and resource management, sustainable management of revenue flows, and managing corporate community relationships. We will continue to offer longer-term study opportunities under our Australia Awards scholarships program. Nearly 20% of the 330 African students undertaking masters' degrees in Australia in 2012 will be studying natural resource management, including mining. We will support up to 90 African participants to attend the 2012 International Geological Congress and related mining governance workshops in Brisbane. In addition to these bilateral support opportunities, we will continue to partner with global and regional initiatives offering assistance in the mining sector. For example, we are supporting the International Monetary Fund's Africa Regional Technical Assistance Centres to assist up to 40 African countries in areas such as tax policy, revenue administration, macro-economic policy, asset and liability management, and the management of resource statistics. We are also a leading donor on the Extractive Industries Transparency Initiative, because we believe that transparency and accountability are key to reaping the benefits from the resources sector. We will extend our support to other countries' efforts to reach EITI standards by providing $12.7 million over the next four years to promote international advocacy of the initiative and to assist developing countries to meet the technical challenges of implementation. We particularly welcome the fact that six of the 11 countries that have achieved and maintained EITI compliance are African and that a further 14 African countries have achieved and maintained EITI candidate status. Australia has also committed to undertake a pilot implementation of the EITI, under which we will assess the transparency of our own financial reporting arrangements against EITI principles. Ladies and GentlemenI have sought to paint the picture of Australia's engagement in the resources sector in Africa both from the commercial perspective but also in terms of the Australian government's role in helping to build capacity so that our African counterparts can not only create an environment conducive to investment and development but also maximize the returns from the natural resources sector for their citizens.Mining can be a tough game – we have learnt that in Australia from experience. But we have also reaped the rewards from effective, equitable and sustainable management of our mineral resources sector. We want to see the same happen in Africa and we are willing to offer our practical support to ensure it does. Thank you.Australian High Commission in South Africa