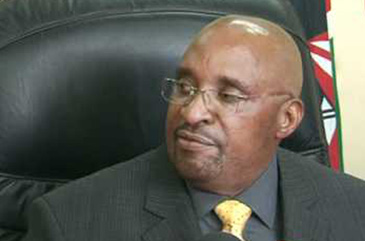 Kenya's Tourism Minister Danson Mwazo
Kenyan Ambassador to Seoul Ngovi Kitau hosted the "Kenyan Cultural Day 2012" at the Seoul Museum of History in Shinmunro 2-ga, Jongro-gu on June 8, 2012, Kenyan Embassy in Seoul announced on June 7, 2012.
The opening ceremony of "Kenyan Cultural Day 2012" was held at the museum from 2:15 p.m. on the day. The ceremony was attended by Kenya's Tourism Minister Danson Mwazo. Minister Mwazo will head 30-member Kenyan delegation of government officials and business leaders. The Kenyan delegation arrived in South Korea June 3, 2012. They took part in the "Yeosu Expo 2012," being held from May 12 to August 12, 2012."I cannot tell you about their departure day and time because of diplomatic reasons," Mr. Raphael Musyoka, second secretary of the Kenyan Embassy in Seoul said.The ceremony was also joined by some 20 foreign mbassadors in Seoul, Korea government officials, and some 60 business leaders. Kenyan cultural assets and products were presented during the event scheduled to run from 9 a.m. to 5 p.m. on the day.
They included paintings, traditional costumes, jewelries, and accessories. About 100 Wooden sculptures were also on display. Performances by several Kenyan dance troupes were shown to the participants. There were also a mixed performance with a local troupe christened "Africa meet Asia." "The real blend of Kenyan culture and natural diversity was introduced during the event," Embassy sources said. Kenya is Africa's most popular safari destination often described as a "melting pot" as it attracts people from the West African plains and forests. The bursting East African state holds in high esteem its great cultural values and ethnic diversity. "The event was an opportunity for Kenya and South Korea to further strengthen their existing diplomatic relations," the sources said. The diplomatic ties between South Korea and Kenya were established on Feb. 7, 1964.The bilateral relations have been growing in diversity since then. For details or inquiries contact the Kenyan Embassy in Seoul for Mr. Raphael Musyoka at 3785-2903.