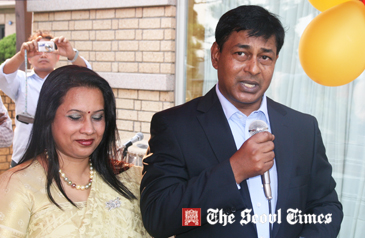 Bangladesh Ambassador to Seoul Shahidul Islam (right) speaks in front of the guests gathered for his farewell reception held at his residence "Bangladesh House" on June 21, 2012 as his wife Mrs. Jesmeen (Shahidul) Islam looks on.
Bangladesh Ambassador to Seoul Shahidul Islam gathered a host of diplomatic and local friends at his Seongbuk-dong residence for a farewell reception on June 21, 2012 on the occasion of his departure for a new post in Paris.The career diplomat has recently been appointed as the new Bangladesh ambassador to the Republic of France.
The farewell reception, hosted by Amb. Islam and his wife, Mrs. Jesmeen (Shahidul) Islam, drew scores of top foreign envoys including German and Russian ambassadors.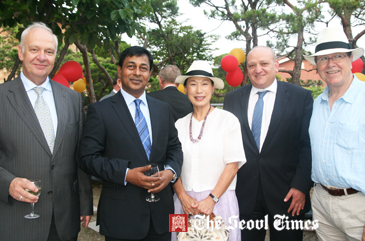 Bangladesh Ambassador to Seoul Shahidul Islam (2nd from left) poses with other ambassadors at Bangladesh House. At right is Mr. Alan Timblick, seccutive advisor of Parallel Media Group and at the center is his wife Mrs. Mija Timblick.
Also local businessmen and women and other personalities were invited to the dinner party.Representing South Korean government, Director General Park Hae-Yun of Foreign Ministry's South Asia and Pacific Affairs Bureau attended the farewell reception. Mr. Park delivered a congratulatory speech.In a farewell speech the Bangladesh envoy expressed his deep gratitude to his local Korean friends and to his diplomatic colleagues for making his stay in Seoul an enjoyable one.In the speech Amb. Islam also recalled the visit of Bangladesh Prime Minister Sheikh Hasina to South Korea in 2010 as a notable occasion to boost bilateral ties.
Amb. Islam arrived in Seoul on Feb. 15, 2008 to serve as its ambassador to South Korea. He is expected to leave Seoul for Paris in the middle of July, 2012, according to the sources of Bangladesh Embassy in Seoul.Mr. Islam belongs to the 1985 batch of BCS (Foreign Affairs) Cadre within the Bangladesh Foreign Ministry.Before he took up his ambassadorial assignment in Seoul several years ago the diplomatic career served, in various capacities, in Bangladesh missions in Kolkata, Geneva, and Washington D.C.Mr. Islam received his master's degree in international relations from Dhaka University in 1987.He also received a diploma in French Language and Diplomacy from Paris in 1991.
Remarks at Good-bye Party at Bangladesh House
Good evening. Excellencies, honorable guests, ladies and gentlemen: Me and my wife Jesmeen would like to express our deep appreciation to you for joining us this evening. After serving for over four years in Korea, I shall be leaving this beautiful country within a few weeks time. I was fortunate to serve as the Ambassador of my country to Korea, a country that has earned global admiration for its rapid economic development and rich cultural heritage, and its contribution to global prosperity and technological advancement. During the past four years, I worked closely with the government and civil society of Korea to expand and deepen my country's relation with Korea in the areas of trade, investment, development cooperation, cultural exchange and people to people contact. Thanks to the generous support from my Korean friends, it seems to me that we were able to add some value to the already existing excellent relations between our two friendly countries. Most notably, Bangladesh Prime Minister Sheikh Hasina visited Korea in 2010: that was a visit by our head of government to Korea after long 15 years, and I take a modicum of satisfaction on this count. I hope my successor will further advance our bilateral relations and he will receive the same kind of support and cooperation that you have given me. As we prepare to leave Seoul, I would like to express my deep gratitude to my Korean friends and diplomatic colleagues who made our stay in this country extremely rewarding — both professionally and personally. We have thoroughly enjoyed our stay in Seoul. We will miss Korea; in particular, we will miss our friends, the beauty of the Han River and the taste of Kalbi. Thank you all.
For details or inquiries call the Bangladesh Embassy in Seoul at 798-4058.