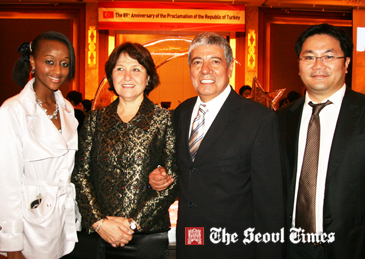 Turkish Ambassador Nici Saribas (2nd from right) poses with his spouse Madam Saribas (2nd from left), CEO Ryu Sang-Wook (right) of GRAND Plastic Surgery, and with Kenyan fashion model known as "Martha" during its 89th National Day reception.
Turkish Ambassador to South Korea Nici Saribas hosted a reception at Lotte Hotel in Seoul on Oct. 29, 2012 on the occasion of the 89th anniversary of the proclamation of Republic of Turkey.The dinner reception held at 6:30 p.m. on the day attracted hundreds of local politicians, businesspeople, and other personalities including scores of top foreign envoys serving in Seoul.Representing the Korean government came Minister Bahk Jae-Wan of the Ministry of Strategy and Finance.Nowadays Turkey and South Korea looks very different from each other geographically and culturally. But similarities abound for both Koreans and Turks.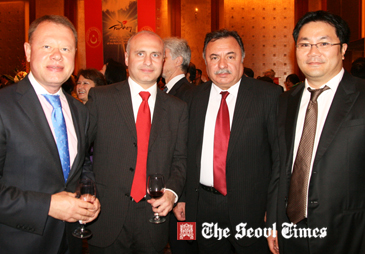 CEO Ryu Sang-Wook (right) of GRAND Plastic Surgery poses with Ukrainian Amb. Vasyl Marmazov (left), Georgean Amb. Mikoloz Apkhazava (2nd from left), and with Azerbaijan Amb. Rovshan Jamshidov at Turkey's 89th National Day reception in Seoul.

Turkish and Korean derived from the same Altaic language family. Races of Turks and Koreans migrated from Central Asia.It was Turkey that recognized Republic of Korea as a state in 1949 first in the world.Turkey opened its embassy in Seoul on March 8, 1957, becoming the ninth country to do so. South Korea followed suit.But their friendship harks back to 1950 when the Korean War (1950-53) broke out.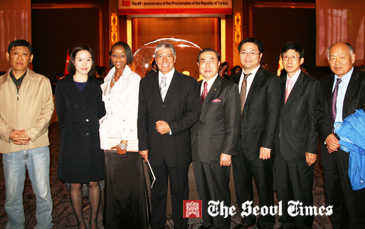 Turkish Ambassador Nici Saribas (4th from left) poses CEO Ryu Sang-Wook (3rd from right) of GRAND Plastic Surgery, Ms. An Eun-Ji (2nd from left) of GRAND Plastic Surgery, and Kenyan fashion model known as "Martha" (3rd from left). At far left is President Song Young-Kug of Citrex Trading Corp.
A number of South Korean are grateful to Turkey for the blood thousands of Turkish soldiers shed during the Korean War to which the 16 nations sent their troops. For this reason many Koreans consider Turkish people as brothers and sisters, calling Turkey as "brother country."During the war unlike other nations 15,000 young Turks volunteered to fight for South Korea, making Turkey the one which sent the fourth largest troops among the participating UN nations only after US, UK, and Canada.In 1973 a South Korean park was opened to commemorate the Turkish soldiers killed in the Korean War. Four years later "Ankara Park" was dedicated by South Korea in Seoul's Yoido area for the friendship with the Islamic nation.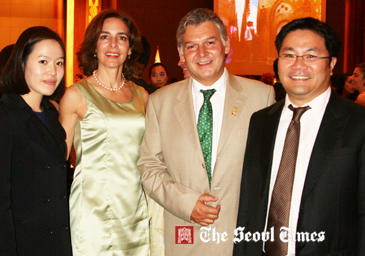 Colombian Amb. Jaime Alberto Cabal Sanclemente (2nd from right) poses with his spouse Mrs. Claudia de Cabal (2nd from left), CEO Ryu Sang-Wook (right) of GRAND Plastic Surgery. At left is Ms. An Eun-Ji of GRAND Plastic Surgery.
An orphanage called "Ankara Academy" was set up in Suwon south of Seoul by Turkish soldiers in the wake of the Korean War. A monument was erected by South Korean government in commemoration of the Turkish soldiers killed during the war.In 2005 South Korean President Roh Moo-Hyun and Turkish President Ahmet Necdet Sezer met for the summit talks. The two leaders agreed to declare as "Year of Korea-Turkey Friendship" the year 2007, which marked the 50th anniversary of diplomatic ties between Seoul and Ankara.The cordial friendship between the two countries was also emphasized during the 2002 FIFA World Cup when the South Koreans welcomed and supported the Turkish players. During and after the soccer games held in Seoul Korean people started showing close affection toward Turkey, dubbing it as their "brother country."The bilateral ties was promoted to the level of strategic partnership earlier this year when South Korean President Lee Myung-Bak visited Ankara and met with Turkish President Abdullah Gul for the summit.In the summit talks held on Feb. 6, 2012 the two leaders discussed bilateral trade ties including South Korea-Turkey FTA, South Korean support for the nuclear power plant in Turkey.The bilateral trade volume between Ankara and Seoul grew to 590 million US dollars in 2011 from a meagre 20 million US dollars recorded in 1977.As of 2011 some 1,500 South Koreans including students reside in Turkey.
For details or inquiries call the Turkish Embassy in Seoul at 3780-1600.