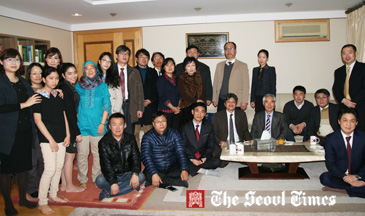 Malaysian Trade Commissioner A Rashid Mohd Zain (7th from right sitting) poses with Korean participants in "INTRADE 2012."
The major trade exhibition "INTRADE 2012" will kick off on Nov. 27, 2012 for a three-day run in Kuala Lumpur with the participation of thousands of trade exhibitors, buyers, and other international visitors from some 18 nations including South Korea, India, Indonesia, Bangladesh, Sri Lanka, and UAE.The exhibition of "INTRADE," the International Trade Malaysia, to be held at Menara MATRADE in the Malaysian capital from Nov. 27 to Nov. 29, 2012, will be hosted by Malaysia External Trade Development Corporation (MATRADE), the National Trade Promotion Agency under the Ministry of International Trade and Industry, Malaysia (MITI).From South Korea alone scores of trade buyers from major trading companies and trade experts in South Korea will take part in this year's trade fair, announced. And one journalist representing South Korean news media will be invited to the trade exhibition along with some 30 journalists representing their own respective nation.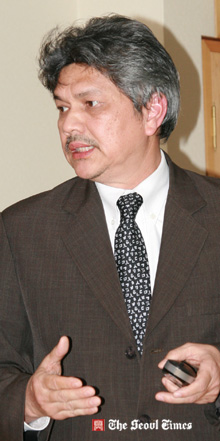 Malaysian Trade Commissioner A Rashid Mohd Zain explaining about "INTRADE 2012" in front of the South Korean participants.
Mr. A Rashid Mohd Zain, MATRADE trade commissioner to South Korea, gathered the scores of this year's participants in Seoul on Nov. 16, 2012 to brief them about the upcoming trade exhibition. Local journalists from such media as The Seoul Times and Asia Daily were also invited to the gathering.The South Korean companies include SE & COSTTOP Co., KAYA PMK Co., Won Kwang Top Net, KY Controls, and Woorin."INTRADE 2012" is the sixth edition of this annual international export event that connects trade exhibitors, buyers, and international visitors to opportunities in the global markets.This year's event is themed "Energizing Export Growth" — selected to reflect the importance of sustaining export opportunities in the face of increased competition and uncertainties in the global economy.INTRADE will showcase products and services from four industry clusters — Automotive, Electrical & Electronics & ICT, Manufacturing Support and Lifestyle. These clusters were identified for their emphasis on research and innovation, and strong growth potential in international trade.INTRADE has over the years expanded in terms of exhibitors, exhibiting countries represented, visitors and international trade delegates. Last year's event held in November saw 8,972 visitors from 77 countries, 433 exhibitors representing 367 companies from 15 countries and concluded potential sales valued at USD 304.33 million.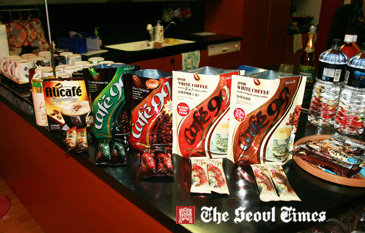 Various Malaysian products displayed at the "INTRADE 2012" briefing made by Trade Commissioner A Rashid Mohd Zain
This year's event is expected to see 450 booths from some 18 countries including India, Indonesia, Bangladesh, South Korea, Sri Lanka and UAE to name just a few. INTRADE will once again host another 9,000 focused international and local trade visitors and buyers.INTRADE prides itself in being more than just a trade show. Its program is designed to attract a dedicated audience comprising strictly trade visitors. Three concurrent events will be held during "INTRADE 2012" — the Incoming Buying Mission Programme (IBM), FTA@INTRADE and the Kuala Lumpur International Trade Forum (KLITF). International visitors to "INTRADE 2012" will have the opportunity to see the premium export-ready products and services on exhibition, and experience and learn first-hand the diverse range of products and services that are currently contributing to Malaysia and the world's growing export markets.They can speak to manufacturers; network with agents and distributors; build business alliances; source for potential suppliers; explore joint venture opportunities with players at the global level; and learn of the current prospects and challenges in international trade. "INTRADE 2012" offers numerous business opportunities to the international delegates whether they are manufacturers, buyers, agents or visitors.For registrations or for visiting details, log-on to www.intrademalaysia.my