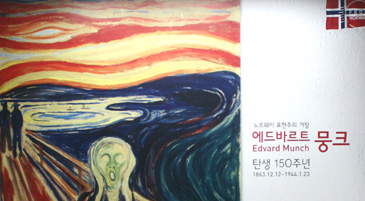 Exhibition of Edvard Munch in Seoul 2013
Norwegian Embassy in Seoul started exhibiting some 20 works of art of its great artist, Edvard Munch (1863-1944), on the occasion of his 150th birth at Samgakji Subway Station on Subway Line No. 6, in Seoul, announced the embassy recently.Munch's famous "The Scream" and other works are on display on the walls of the subway station, attracting attention of the Seoul subway passengers.In actuality, the Norway Eembassy in Seoul has been displaying photos of Norway's varous scenes of its nature, culture, industry, and sports since April of 2011.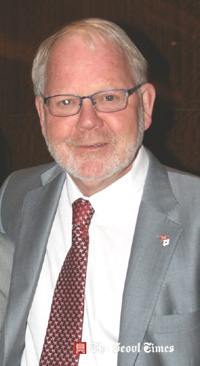 Norwegian Ambassador to Seoul Didrrik Tonseth
The Munch exhibition in Seoul is a part of "Munch 150" anniversary exhibition to be held in Oslo at the National GalleryMunch's exhibitions and related events are being held in many other major cities around the world as well as in Norway. The following is the official news release from the embassy.
This year is the 150th anniversary of Edvard Munch's birth. Munch (1863-1944) is one of modernism's pioneers. The anniversary year will be celebrated with the largest ever Munch exhibition in Oslo, as well as a range of cultural events in Norway and other countries to celebrate Munch and his art."Events are now finally starting," says Stein Olav Henrichsen, director of the Munch Museum. "We shall first and foremost celebrate Edvard Munch, but we also want to increase knowledge, curiosity and enthusiasm for his life and art locally, nationally and internationally."The highlight of the celebration will be the "Munch 150" anniversary exhibition, which will be on display in Oslo at the National Gallery and Munch Museum from 2 June to 13 October 2013. With over 250 works, "Munch 150" will be the most comprehensive presentation of Munch's art ever to be displayed. The exhibition includes a large number of the artist's foremost works, as well as lesser-known works, from both public and private collections.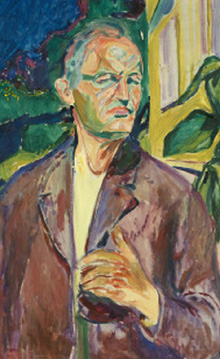 "Self-Portrait with Cigarette" by Edvard Munch (1863-1944)
In addition, the anniversary programme offers a rich selection of exhibitions, research conferences, film productions, concerts, theatrical productions, walks in the artist's footsteps, book releases and dedicated events for children and young people. One of Munch's key works, "Self-portrait with cigarette", is also being sent on tour. This unique travelling exhibition, "Munch on Tour", will visit a total of seven exhibition sites in Norway. "We hope that the anniversary will make Edvard Munch's art even more accessible, and strengthen awareness of his great significance and position within our international cultural heritage," says Audun Eckhoff, Director of the National Museum.The anniversary has been jointly arranged by the National Museum of Art, Architecture and Design and the Munch Museum, in collaboration with a number of private and public organisations.www.munch150.no MUNCH 150• The Munch anniversary comprises a total of 120 projects within Norway and across the world• Officially opened on 23 January by H.M King Harald V, patron of Munch 150• The "Munch on Tour" exhibition features one of Munch's main works, sent on tour from the north to south of Norway• Anniversary exhibition in Oslo from 2 June to 13 October in both the National Gallery and the Munch Museum• Four films, 18 books, theatrical productions, concerts, conferences and moreFor details or inquiries call Ms. Juri Chun
Cultural officer
Royal Norwegian Embassy in Seoul
chun@mfa.no
+82 2 727 7156
www.norway.or.kr
www.norway.info
www.visitnorway.com