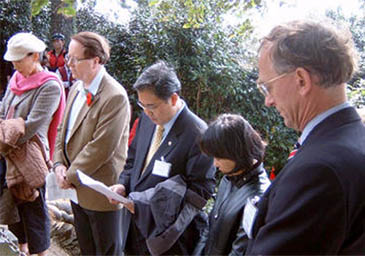 Amb. Warwick Morris (right) of United Kingdom and others have a moment of silence in front of tombs of British soldiers who died during the Goemundo Incident (1885-1887) on Geomundo Island in Yeosu, South Jeolla Province Nov. 6, 2004. Courtesy YNA
Westerners in Seoul are well aware that numerous soldiers of a host of Western nations including United Kingdom shed their precious blood on the Korean soil during the fratricidal Korean War (1950-53). But not many seem to know that several British soldiers already did so on Korean Peninsula over half a century earlier.Nearly 110 years ago a contingent of British soldiers shed their blood on a small islet on the southern tip of the "Hermit Kingdom" of Jeoseon which was described as the "Land of the Morning Calm" by legendary Indian poet Rabindranath Tagore (1861-1941).Initially sent by the British Empire to block Russian military from advancing into the Korean Peninsula, seven British sailors lost their lives in a naval fight with a Chinese fleet led by Adm. Ting Ju-chang (ïËæ£óã). Ching Dynasty China wanted to defend its traditional rights of sovereignty over the peninsula.The British contingent of about 900 sailors in six warships and two supply ships was a part of the British Eastern Fleet (a.k.a the East Indies Fleet). Geomundo was a strategic point for Pacific Fleet of the Imperial Russia which needed a unfreezing port on the Far East. China, Russia, Great Britain were vying for the control of the Korean Peninsula.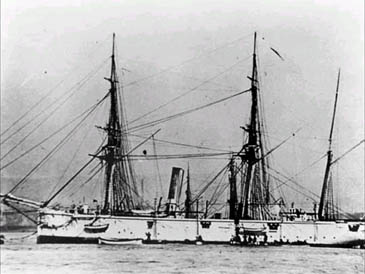 British ship conquered Geomundo from April 23, 1885 to March 1, 1887.
Victorious British naval contingent conquered the tiny island Goemundo (ËÝÙþÓö). Union Jack was flung for two years from April 1885 to February in 1887 on the islet. But Adm. Ford Hamilton, commander of the British fleet had to bury nine of his sailors on the island.Luckily, the British soldiers were known to have friendly ties with local Korean folks. Now there remain only three tombs of the British sailors. The British treated the villagers very well, paying handsome rents to land owners and enough salaries to the laborers. They built military facilities including barracks, artillery emplacements, and a port called Hamilton Port by the British.Exactly 109 years later top British envoy to Seoul Amb. Warwick Morris visited Geomundo to pay his tribute to the forgotten soldiers in their burial site in Samsan-myeon, Yeosu City, South Jeolla Province Nov. 6, 2004.Mrs. Morris and some 20 others also accompanied the British ambassador. Rep. Park Jin of the National Assembly and his wife, and military attache Colin Greaves of British Embassy in Seoul were also joining the ceremony.
Military attache Colin Greaves of British Embassy in Seoul lays a wreath of flower on the burial site of British soldiers on Geomundo Island in Samsan-myeon, Yeosu City, South Jeolla Province Nov. 6, 2004. The British sailors died over 100 years ago in a battle against Chinese sailors on the islet.
Courtesy YNA
Amb. Morris and his entourage laid a wreath of flower and had a moment of silence in memory of the British soldiers, surrounded by scores of local villagers.Amb. Morris said that he will create a scholarship program for local students as a way to promote friendship with residents of Geomundo at the ceremony.Other participants included members of The Korea-Britain Society, British Embassy and Yeosu City officials, and South Korean sailors. A South Korean naval ship escorted the British group to the island.Located in the southernmost part of Hallyo National Marine Park between Yeosu and Jeju Island, the 12-sq.-km Goemundo is made up of three islets — Dong (East), Seo (West), and Go islets. Hallyo park attracts tens of thousands of tourists from around the country for its scenic beauty annually.
Geomungo photos taken by British during 1885-86
Present-day Geomundo Island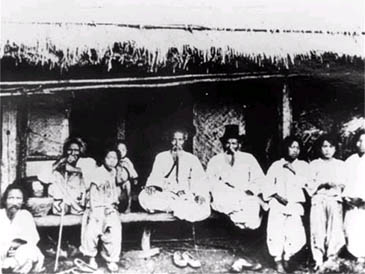 A Korean Family: No women are seen in this photo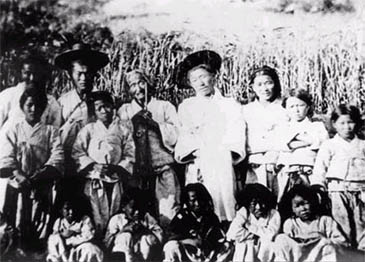 Goemundo villagers and children's faces are bright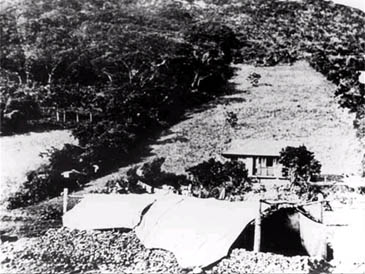 A communications room of a British company Eastern Telegraph. Its employee Macpherson was working in the room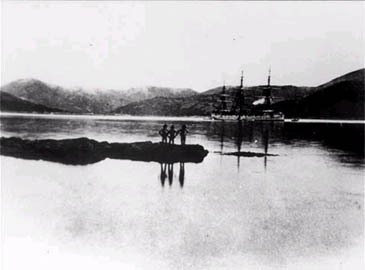 A view of Geomundo's Seodo (West Islet). British ship HMS Pegasus is anchored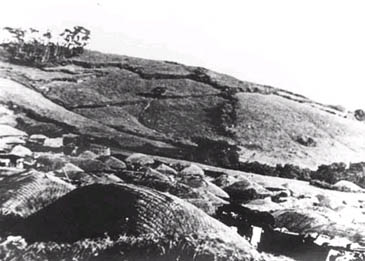 A view of village of thatched roof house on Geomundo's Dongdo (East Islet).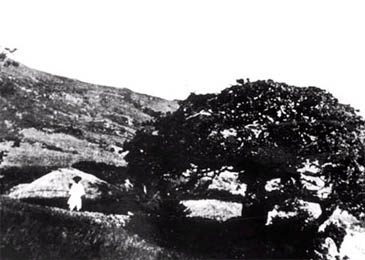 "Corea House (Korean house)": A man stand in front of a thatched house by an old tree.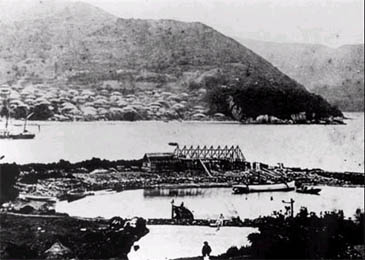 A huge warehouse under construction for British navy on Geomundo's Godo. A British ship is seen anchored behind.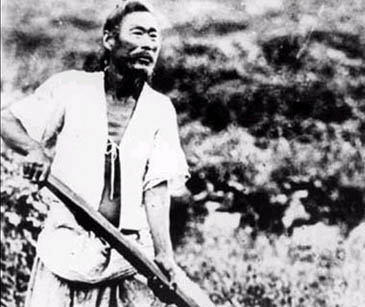 "Turning Ground Over": A Korean farmer tilling on Geomundo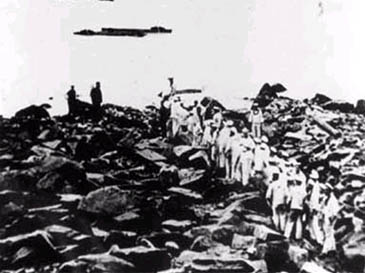 British navy soldiers working on Geomundo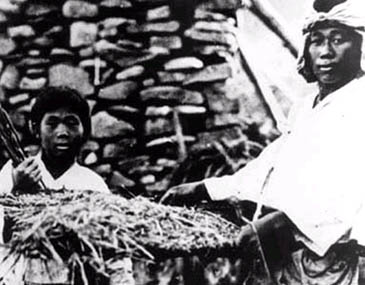 "Winnowing": Two Korean boys are winnowing on Geomundo's Seodo (West Islet)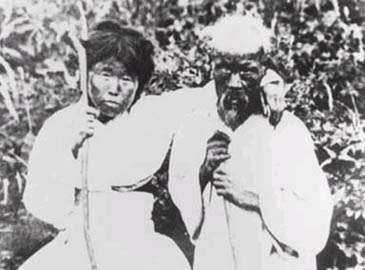 "First Korean Woman" photographed on Geomundo: On her right is her husband.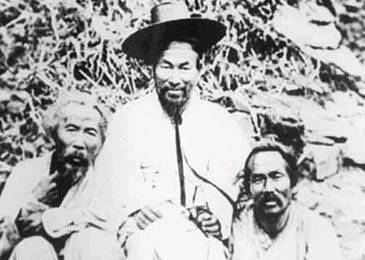 "The Inquisitive Ones": Geomundo residents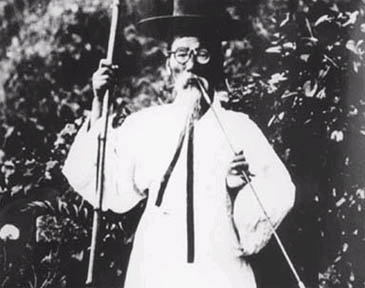 Village head: This photo was taken by British navy Capt. A. C. Wooks.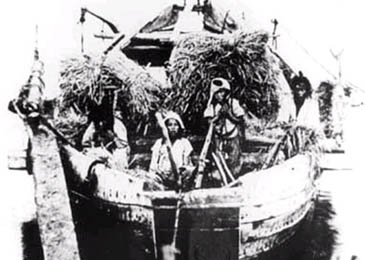 A primitive Korean boat on Geomundo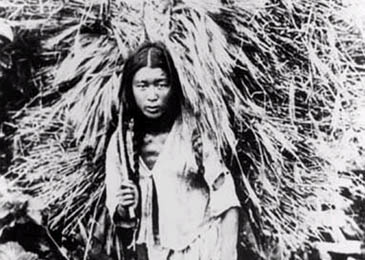 "Gathering Crop": A Korean man with A frame on his back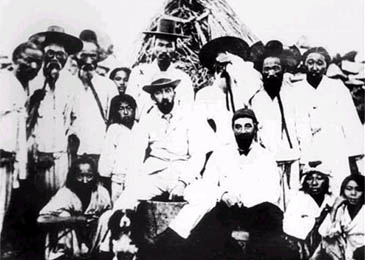 Two British Navy officers and villagers of Geomundo's Seodo (West Islet)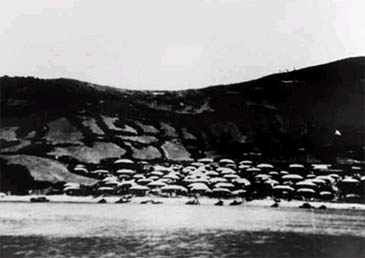 A group of thatched roof houses on Geomundo's Dongdo (East Islet). Fishing boats are also seen on the shore.