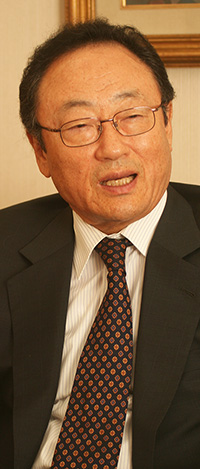 Chairman SaKong Il of the Institute of Global Economics (IGE)
Chairman SaKong Il of the Institute of Global Economics (IGE) hosted a breakfast forum at Lilac Room of Westin Chosun Hotel in Seoul on Feb. 26, 2014 under the title of "IGE/Samsung Electronics Global Business Forum."For this forum SaKong invited Mr. Peter Friedrich, minister for the Bundesrat, Europe and International Affairs, Baden-Wuerttemberg, Germany.Minister Peter Friedrich spoke on "The Secret of Germany's Performance: The Mittelstand Economy" at the forum.Friedrich presented his thoughts on the critical role of medium-sized companies (Mittlestand) in the German economy.He also touched on the implications of the success of German Mittelstand for Korea and explored the areas for possible cooperation between German Mittelstand and Korean counterparts.The lecture was attended by policymakers, businesspeople, academics, researchers, and foreign dignitaries.
Who Is SaKong Il
SaKong Il is currently serves as Chairman and CEO of the Institute for Global Economics in Seoul, South Korea founded by himself in 1993. He was formerly Minister of Finance (1987–88) and Senior Secretary to the President for Economic Affairs (1983–87) of the Republic of Korea.He also served as chairman and chief executive officer of Korea International Trade Association (KITA).He has been serving as chairman of the Presidential Committee for the Seoul Summit since 2009.The world's famous scholar has been invited to numerous institutes. He was the visiting fellow (1991–92) at Peter G. Peterson Institute for International Economics.He authored many books and wrote countless number of articles regarding issues on Korean economy, economic development, international finance, and trade policy.They include "Korea in the World Economy (1993)." He also coedited several conference volumes with C. Fred Bergsten, including The Korea–United States Economic Relationship (1997), Korea–United States Cooperation in the New World Order (1996), and The Political Economy of Korea–United States Cooperation (1995).SaKong is the recipient of a number of prestigious awards for his contribution to the world's economy. They include Blue Stripes Order of Civil Service Merit, Korean government (1990); Order of the Brilliant Star with Grand Cordon, China (1987); Order of the Crown, Belgium (1986); and Grand Prize for Distinguished Policy Makers, Korea University (2002).He graduated from Seoul National University in 1964. He went on to his graduate study at University of California, Los Angeles, earning his MBA in 1966 and PhD in 1969.
For details about IGE activities call 02-551-3334 or leave an Email at igenet@igenet.com