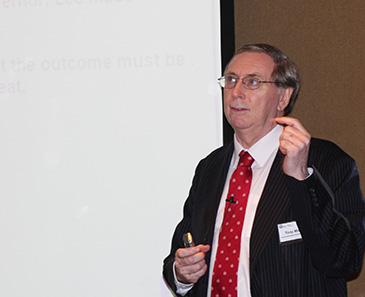 Dr.Tony Michell speaks at Business breakfast forum.
Managing Director Tony Michell of the Korea Associates Business Consultancy (KABC) hosted a business breakfast forum "Multi-cultural Korea: reality and potential" at Namsan Room I of Grand Hyatt Seoul on April 17 (Thursday), 2014.Dr. Michell and his members explored the recent trends in the number of foreigners in South Korea and their role and influence in various sectors of the nation's economy and industryIn their regular monthly forum they also discussed the social and cultural implications the economic migrants' children can have on the Korean society.KABC is a consulting firm formed and headed by foreigners in 1989. Since then it has been specializing in the problems faced by foreigners conducting business in South Korea and in Northeast Asia. Presently Dr. Michell serves as its managing director.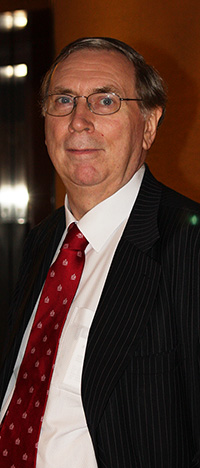 Dr. Tony Michell
Dr. Michell, British businessman operating in Seoul and other parts of Asia, heads Euro-Asia Business Consultancy (EABC) set up by him in 1989. He has branches in Beijing, Hong Kong, Seoul, and Pyongyang.
The following is the full text of the roughly story prepared by Mr. Michell for the members of this forum.We last looked at the evolution of multicultural Korea in 2011, and it is time to see whether, amidst the other areas of social progress since then, this concept has advanced or retreated, and how this affects the three year revitalization plan of the current administration.Over the previous decade the number of foreigners in Korea had risen fast from about 3-400,000 to an estimated 1.41 million plus up to 200,000 illegal workers, (or about 2.7% of the total population), and the expectation was that the number could rise to about 4 million by 2020. However in April 2013, the official number was 1,501,760, a slower rate of growth than before. The number includes tourists so the heightened tensions with the North discouraged tourism in April 2013. The figure for April 2014 is not yet available. Certainly this suggests a slowdown in the growth of numbers.The rise of foreigners in manufacturing zones as industrial workers, as students and as marriage partners in rural areas, as well as expatriate businessmen and entrepreneurs had been subtly reshaping Korea, but are these trends past their peak?This would not merely be a changing social phenomenon, but also has important business and macroeconomic impacts, including limiting the growth potential of Korea. The reshaping had appeared to be taking many forms, from reinvigorating rural areas to keeping industries which might otherwise have migrated to Asia in Korea. Behind this phenomenon come other issues such as a rapid increase in children who are no longer pure Koreans, challenging the national stereotype of the recent past, but reviving some of the traditions of the more distant past. It means that Korean is no longer the only language spoken in many households and in daily business.The Ministry of Justice who monitors many aspects of this phenomenon had generally advanced progressive policies to promote the integration and care of foreigners, although the new F-6 (spouse visa) require a foreigner to speak basic Korea and other recent measures are more restrictive. As always, in this session we will try to detect future patterns in the present trends. We will also try to build on a line of discussion on the policies of Korean chaebol and small firms in employing foreigners in managerial posts as well as industrial foot soldiers.Will this trend continue, and how does this change the consumer and industrial landscape as well as any ongoing business impact? Will it make Korea seem a more attractive investment destination and make the country more business friendly?What is the reality and the potential? Since the total misleadingly includes those foreign tourists in the country at any one time, we will also take the opportunity to look at changing tourist trends, and the rise and rise of the Chinese tourist, and the impact this has on the economy. As always, your contributions are what make the forum interesting, particularly when by disagreeing you force us all to probe our assumptions and facts more deeply. The session will begin with a general economic update.
For details or inquires of KABC
Fax: +82 (2) 323 4262
Email: kbf@kabcltd.com
www.kabcltd.com