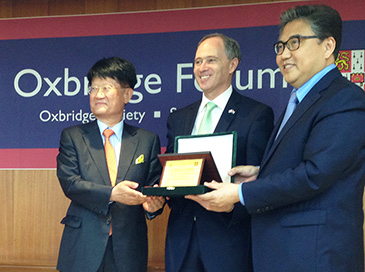 British Ambassador to Seoul Scott Wightman (center) receives a plaque of appreciation from President Park Jin (right) of Oxford Alumni Association in Korea and from President Kim Dong-Gun of Cambridge Alumni Association in Korea at a ceremony held at the British Embassy in Seoul on April 28, 2014 to launch the Korean "Oxbridge" Forum.
Oxford and Cambridge Universities have been recognized for centuries as the two leading schools of learning and academic achievement in Britain. Their contiguous history of almost 1,000 years has seen graduates from both universities consistently hold leading positions in the fields of government, politics, business, medicine, science and literature not only in the UK but worldwide.Rivalry exists, of course, and displays itself especially in sports, where annually the two are pitted against each other in rugby, cricket, football and rowing.Oarsman-ship, a sport little known in Korea, is widely followed in Britain and annually, in early April, the UK population sits glued to the TV watching The Boat Race, a unique and eccentric event in which for 160 years, crews of eight burly men plus a lightweight steerer, or cox, (nowadays female), have vied to be the faster in a grueling, winding seven kilometer race up the Thames.
Cambridge crew, winner of 2012 boat race
With the growing appreciation in Korea of British education, the number of students from this country leaving to study either at undergraduate level has been increasing and the alumni associations in Korea of both Oxford and Cambridge have thrived.In many cities, a combined association, with the portmanteau abbreviation "Oxbridge" has long existed, but it was not until the visit of Oxford Vice-Chancellor Alexander Hamilton (the de-facto head of the university), who addressed a joint meeting in 2013, that the merger of the two Association in Korea was proposed.Out of this idea emerged a new body, a knowledge-sharing forum comprised of alumni of both universities, and the inaugural meeting of the Korea Oxbridge Forum took place at the British Embassy on April 28, 2014.Presided over by Dr. Park Jin (Oxon) and Dr. Kim Dong-Gun, (Cantab) and attended by many distinguished academics, government officials and businessmen/women, the host, H.E Ambassador Scott Wightman (Edinburgh), gave a speech on the role of Better Regulation. The full text of his speech can be found on the Embassy's Korean website WWW.gov.uk under "Korean Oxbridge Forum." But highlights are given below:In a drive to make regulations more helpful to doing business, the UK government has launched several initiatives, led by a body named the Better Regulation Executive, including the "Red Tape Challenge," a web portal in which rules are put to the test of how effective they are; and "one-in two-out" rules which require every new regulation to be measured as to the cost of its implementation and be accompanied by measures to remove existing rules which cost twice the amount of the new rule to enforce. UK Regulations also must contain sunset clauses under which rules automatically expire after seven years if they have not been applied.The Korea Oxbridge Forum promises to be an on-going group which could play an important role in helping Korea learn from the experiences other countries in improving the regulatory environment.