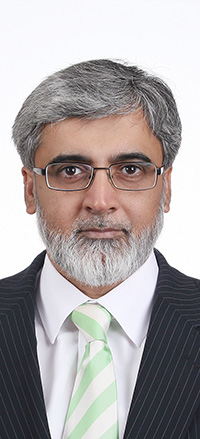 Pakistani Ambassador to Seoul Zahid Nasrullah Khan
The special event "Mehndi Function," a traditional Pakistani celebration on the eve of wedding, scheduled to take place at Pakistani Ambassador to Seoul Zahid Nasrullah Khan's residence on May 16 (Friday), 2014, has been postponed indefinitely due to the "Sewol" ferry accident, its embassy announced on May 8, 2014.The postponement has been informed to the individual invitees, according to the embassy.Pakistani Ambassador Zahid Nasrullah Khan also offered a heartfelt condolence to the bereaved family members of the "Sewol" ferry victims.In a message sent to The Seoul Times the Pakistani mentioned "At this time of national grief our prayers and thoughts are with the grieved families and we offer our condolence to the Korean nation."Through the message the envoy said that fresh dates for the event will be conveyed to the invitees at due course of time.He regretted that the postponement might have caused some inconvenience to the invitees.Sewol-ho (世越號), the largest cruise ship in South Korea, sank off Jindo lsland in southern seas of South Korea on April 15, 2014, while it was en route to Jeju Island with 476 passengers and crew on board.Hundreds of coast guard, maritime police, military, and fishing vessels have been fighting the fast currents and choppy surf on seas still cold, assisted by scores of helicopters and 200 rescue personnel, to save more lives since the accident.As of May 8, 2014 a total of 263 people confirmed dead and 39 are still missing. Only 174 were saved mostly on the day of the accident of 6,825-ton cruise ship.Most of the victims were high school students of Danwon High School in Ansan City, Gyeonggi Province, who were on a school trip to the resort island of Jeju.
For details or inquiries call the Pakistani Embassy in Seoul at 796-8252.