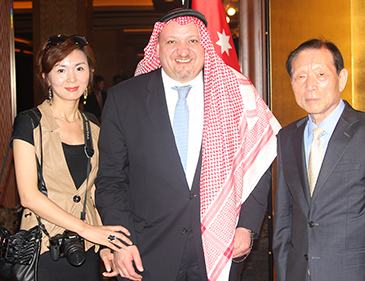 Jordanian Ambassador to S Korea Omar Al-Nahar (center) poses with Vice Chairman Min Byung-Il of The Seoul Times.
Jordanian Ambassador to South Korea Omar Al-Nahar hosted a dinner reception at Lotte Hotel in downtown Seoul on June 10, 2014 on the occasion of its national day "Independence Day," which falls on May 25.On May 25, 1946 Jordan gained its independence from the United Kingdom and Jordanians observe this day as their national day.Hundreds of high-profile guests were invited to the event of Jordan's most important public holiday. Among them were scores of top foreign envoys and their spouses serving in Seoul.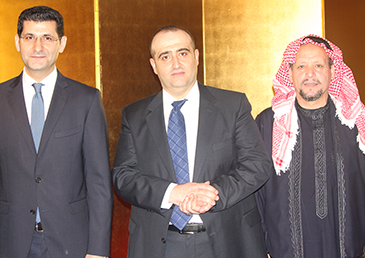 Diplomats of Jordanian Embassy in Seoul
Jordan-S. Korean Relations
Jordan has been enjoying amicable bilateral relations with South Korea since the two nations established mutual ties on July 26, 1962.
Jordan also It opened the official ties with North Korea in July of 1974.It was in 1975 that South Korean set up its embassy in Jordan whereas Jordan established its embassy in Seoul only in 2010.Since the establishment of ties Jordan has been supportive of South Korea's position on the international stage in spite of its relations with the North.On the economic front the mutual cooperative ties has been on the steady increase.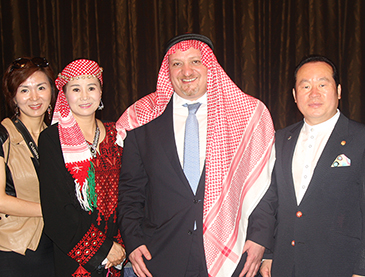 Jordanian Ambassador to S Korea Omar Al-Nahar (2nd from right) poses with Chairman Lee Duk-No of Hilton Lee Tailor Co.
During 1970 and 1980s South Korean construction companies were very strong in the local Jordanian market on the strength of the construction boom in the Middle Eastern countries.Currently, such South Korean construction companies as Hanwha Engineering & Construction, Doosan Heavy Industries & Construction Co., and Lotte E&C are involved in various construction projects in the Middle Eastern country.Jordan's import of South Korean goods reached 1.4 billion US dollars in the year 2013, according to the statistics of KOTRA. Meanwhile, Jordan's export to South Korea amounted to 70 million US dollars. Over 75 percent of Jordan's import is automobiles including used cars.In 2012 Jordan and South Korea celebrated the 50th anniversary of the diplomatic ties in each other's country with hosting various events.A number of dignitaries from Jordan and South Korea visited each other's country in the years following the diplomatic establishment.King Abdullah II of Jordan visited South Korea in 1999, 2004, and 2008, respectively.As recently as two years ago the Jordanian king also visited Seoul again to attend "2012 Nuclear Security Summit" held in South Korea's capital city.Presently some 600 South Koreans – businesspeople, religious people, and students – are residing in the Middle Eastern country.
Who Is Ambassador Omar Al-Nahar?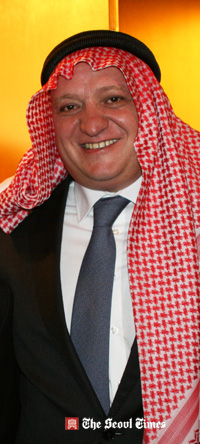 Jordanian Ambassador to South Korea Omar Al-Nahar
Mr. Omar Al-Nahar is the first Jordanian resident ambassador extraordinary and plenipotentiary to South Korea. He has been serving as the ambassador since he came to Seoul on Oct. 6, 2010. In the year both Jordan and South Korea marked 48th anniversary of the diplomatic ties. Previously the Jordanian ambassador to Tokyo was in charge of South Korea. A big fan of American pop songs at an early age Ambassador Al-Nahar loves Korean pop music as well.
His favorite Korean singers include Baek Ji-Young, Chu Ga-Yeol, and Shim Soo-Bong. Before coming to Seoul he worked as the director of the Peace Process Negotiations Coordination Bureau at Jordan's Ministry of Foreign Affairs from January to October of 2010. Since June of 2006 he had been serving as director of the Political Department of the Prime Ministry until September of 2007 when he was appointed advisor at the ministry.In December of 2007 he returned to the Ministry of Foreign Affairs to serve there as head of Policy Planning & Research. Between January of 2004 and January of 2006 Mr. Nahar served as the director of the Office the Minister of the Royal Hashemite Court.He was also a member of the Strategy and Programming Committee at the Office of His Majesty King Abdullah II. He joined the Ministry of Foreign Affairs in November of 1992 as a career diplomat. Since then he served at the Jordanian Embassy in London for two years from 2000 to 2004.
Jordanian Ambassador to Seoul Omar Al-Nahar (center) poses with President Alan Timblick (to his left), Prof. Ryu Bong-Ha (2nd from right), director of Kyung Hee University's Korean Medicine Hospital, and with +Prof. Kim Young-Chul of Kyung Hee University's College of Korean Medicine.at the reception held at Lotte Hotel in Seoul on June 10, 2013 on the occasion of Jordan's Independence Day. At right is Medical Coordinator (RN) Lee Eun-Ji of Kyung Hee University's International Health Care Center. He served as a spokesperson at the embassy in London and acting director of the Jordan Information Bureau in London. Before London, Mr. Nahar was in charge of Israel Desk at Cabinet of the Minister of Foreign Affairs (1999 – 2000) and a member of the Peace Process Coordination Bureau at the Ministry. In December 1994 Mr. Nahar was one of the team members in charge of setting up the embassy in Tel Aviv, where he stayed until 1999. He was born in Amman, Jordan in 1969. Mr. Nahar studied at the University of Jordan from 1986 to 1990. He majored in political science and business administration at the university. Mr. Nahar holds the Jordanian Al Istiklal (Independence) Medal of the First Order, Al Istiklal (Independence) Medal of the Fifth Order, and a British Lieutenant of Victorian Order (LVO) Medal. He is married with two children.
For details or inquiries call the Jordanian Embassy in Seoul at 318-2898.