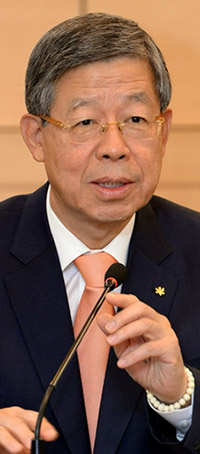 President Kim Hee-Ok (ÐÝý÷è¬) of Dongguk University
Prosecutor-turned educator Kim Hee-Ok (ÐÝý÷è¬) is emerging as the new candidate for South Korea¡¯s next prime minister as the Prime Minister-designate Moon Chang-Keuk quits in a press conference over because of his ¡°improper¡± comments on comfort women issues and other social and historical issues.The journalist-turned journalism Professor Moon has been under pressure from mainly opposition camps to stand down since he was excoriated by the nation¡¯s media for his pro-Japan views and a series of "ultra conservative¡± comments and views about social and historical issues.Kim, the current President of Dongguk University is mentioned by local news media as a candidate for Prime Minister in case Moon fails to become the new premier.Local news media reason that Kim is the right candidate for new premier due to his expected ability to reform the government and to compromise with rivals.Kim is a native of Cheongdo, South Gyeongsang Province and President Park Geun-Hye was born in Daegu, South Gyeongsang Province.Political analysts agree that Kim is fast emerging as the most likely new candidate for the prime minister post.They say that Kim has developed long ties with President Park through the medium of Buddhism. They are both Buddhist.The reformed-minded Kim was appointed by her as the chairman of the Ethics Committee of Government Employees in March of 2013.In particular Kim played a role in drawing support for her from the nation¡¯s Buddhist circles in the last presidential election.
Kim is known to maintain good connections with the nation¡¯s opposition camps.Kim is also unlikely to be attacked by the opposition parties at the National Assembly¡¯s confirmation hearings in case he gets nominated as the new prime minister by President Park, according to a political analyst.Inaugurated in 2011 as the 17th president of Dongguk University, Kim has been credited for his reform drive to upgrade the quality of the time-honored university founded by the nation¡¯s largest Buddhist order ¡°Chogyejong¡± over 100 years ago.For two consecutive years Kim has been picked as one of the nation¡¯s most influential CEOs by a local news media ¡°TV Chosun.¡±A variety of reform projects have boosted the prestige of the old school since he became its president two years ago.Under Kim¡¯s leadership Dongguk University has formed various exchange agreements with some 180 universities in over 40 countries around the world.Kim Hee-Ok (ÐÝý÷è¬) was born in Cheongdo, South Gyeongsang Province on August 17, 1948.He graduated from Dongguk University in 1972 with a BA degree in Law. In 1974 he received his MA degree in mass communication from Seoul National University.He earned his PhD in law from Dongduk University in 1984.It was in 1976 that Kim passed the nation¡¯s bar examination to serve as a prosecutor.Two years later he graduated from the government-run Judicial Research & Training Institute to work as a prosecutor.In 1984 he served as a prosecutor at National Assembly¡¯s Legislation & Judiciary Committee and five years later he became a faculty member at the Institute of Justice.From 1990 to 1995 Kim served as a prosecutor at the Prosecutors¡¯ Office before he became a professor of the Judicial Research & Training Institute (ÞÉÛöæÚáóêÂ).Between 1998 and 2003 Kim served as a senior prosecutor at several locations of the office.In 2004 Kim was promoted to become the deputy head of the Judicial Research & Training Institute.It was in 2005 that Kim was appointed as vice minister of the nation¡¯s Ministry of Justice.A year later Kim became a Justice at the Constitutional Court of Korea and served until March of 2011 when he took his current post: President of Dongguk University.One of his three official citations is the one received from the National Assembly speaker in 1985.While working as a prosecutor and law professor Kim has authored numerous books mainly related to the code of criminal procedure.