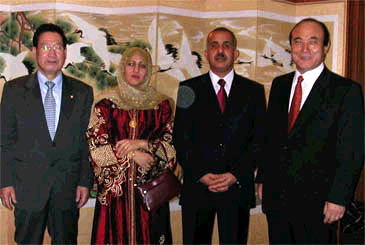 Amb. Ahriz of Algeria (second from right) poses with his wife (second from left) and Chairman Lee Jung-Woo of The Seoul Times (right), and Rep. Lee Gyu-Taek of Grand National Party at a reception held at Lotte Hotel in downtown Nov. 17, 2004.
Amb. Abdelmounaam Ahriz of Algeria hosted a reception Nov. 17 at Lotte Hotel in downtown Seoul to mark the 50th anniversary of the November 1 Revolution Day.Attending the event were more than 200 prominent guests from local and foreign communities in Korea including Minister of Health and Welfare Kim Geun-Tae and members of diplomatic corps accredited to Korea.All well-wishers who were on hand at the reception joined in extending their greatest blessings and warmest greetings to the Algerian people on this historic day."Korean people are confident that Algeria would not give away under any circumstance the liberation for which Algerians paid awesome and dear price," Kim said in his congratulatory remarks to the audience at the reception.
Amb. Ahriz (left) looks at Minister Kim Geun-Tae while Kim is making a speech at the reception.
Meeting with The Seoul Times, Amb. Ahriz said that he is very proud of being the Algerian envoy accredited to Korea at this crucial time when bilateral relations between Korean and Algerian are about to enter into a new era of partnership."I'm pleased to be here as I'm a little bit familiar with Korea and this region thanks to my professional experience in East Asian affairs," Amb. Ahriz said. He was referring to his previous position as deputy director of East Asia Division of Foreign Ministry of Algeria from 1992 to 1994.Before that he was desk officer in Japan and South Korea (1990-1992) he was first secretary of the Embassy of Algeria's economic affaires in Tokyo (1988-1990). He was serving as deputy director (United States of America) of Ministry of Foreign Affairs before coming here last month to assume the Seoul post from his predecessor Ahmed Boutache who is now back in Algiers to take over the post of Inspector General of the ministry.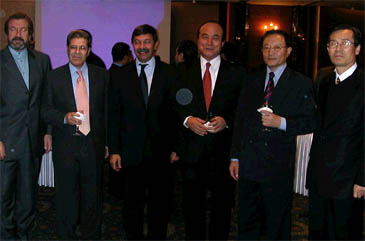 Chairman Lee Jung-Woo (third from right) of The Seoul Times poses with President Kah Jae-Mo of Global Korea (right), Amb. Urjinklhundev Perenlei of Mongolia (second from right), Amb. M. K. Helmy of Egypt (fourth from right), and Amb. Othman Jerandi of Tunisia (second from left).
"I will do my best to upgrade bilateral relations between Seoul and Algiers," he said. In particular, he called on Korean business interests to make investments in Algeria, which is now offering various incentives and tax breaks to attract foreign businesses. Under the strong leadership of President Abdelaziz Bouteflika of Algeria the investment climate in Algeria has been improved to the satisfaction to foreign business interests and there is no longer social unrest or security problems in Algeria, he explained. Amb. Ahriz touched on the Algerian tourism industry, which he said has immense market potential.As part of Algerian tourism promotional projects, he went on to say that the Ministry of Tourism will host from Dec. 29, 2004 to Jan. 1, 2005 the Sahara Tourism Festival in the city of Tamanrasset, capital of Tassili.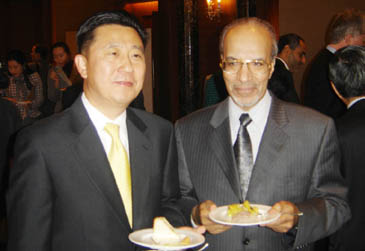 Chairman David Kim (left) of Westech Korea Inc. poses with Amb. Zaid Al-Sherida of Kuwait at the reception.
"This event aims at making known the tourist potentialities of Algeria with a view to attracting a greater number of tourists and to encouraging investment opportunities and partnership," Algerian envoy explained.He hopes that this event will be a huge tourism and cultural endeavor with the chance of making known certain tourist attractions in the Saharan areas of Algeria by emphasizing the values of human civilization and the variety of the patrimony and the cultures in this area. According to Amb. Ahriz, various cultural and sport activities will be discussed on that day as well as information about the different opportunities for investments and partnership regarding tourism in the Saharan areas.More recently, the Algerian oil and Gas Company Sonatrach is switching a greater proportion of its capital and investment efforts to the international market. Its announcement of investing $900 million on securities in foreign markets is just one of many initiatives aimed at positioning the firm as a key player in the global oil and gas market.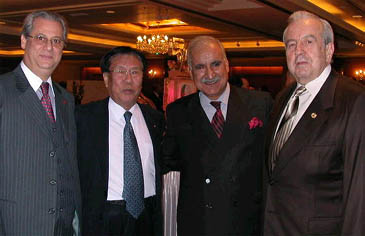 President Kwan Won-Sik (second from left) poses with Amb. Jaafar Alj Hakim of Morocco (left), Amb. Saleh Bin Mansour Al-Rajhy of Saudi Arabia (second from right), and Amb. Alfredo Francisco Ungo of El Salvador (right). Amb. Ungo now serves as the dean of Diplomatic Corps to Seoul.
France, the United States and Japan are leading the way in boosting commercial relations with Algeria and are preparing to establish operations there.Algeria and Japan are both emerging from difficult times and the future bodes well for their bilateral and economic relations if both make the appropriate steps to strengthen them, according to market watchers.Sonatrach is preparing to sign a major loan agreement with the Japan Bank for International Cooperation (JBIC). The agreement will enable the Algerian oil and gas company to finance its 2004 to 2009 investment program in line with the similar agreements it concluded with a group of European banks in 2003 and 2004. This deal would also help Japanese companies sell their
products and services to the Algerian market. American investment in Algerian is one of the highest among North African country's key trading partners. U.S. top diplomat in Algeria Richard Erdman reported that American investment there reached $2.8 billion in 2003.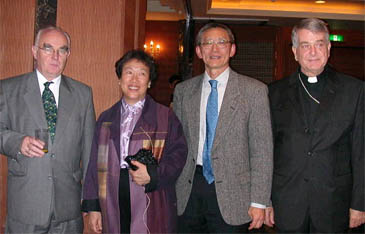 Amb. Victor Wei of Belgium (second from right) poses with Amb. Conor Murphy of Ireland (left), and other VIP guests.
But with the exception of water desalination projects, U.S. investment in Algeria focused almost exclusively on the petroleum industry. In the area of trade — the two countries exchanged $5 billion — in which 10 percent represented Algeria's imports from the United States. The remaining amount represented Algeria's petroleum exports to the U.S. market. The United States has established a preferential tariff system to benefit Algerian goods entering the United States and is reportedly favoring the entry of Algeria into the World Trade Organization.Amb. Ahriz was born on Biskra, Alergia in 1957. He is married with three children. He graduated from the National School of Administration, Diplomatic section and joined the Foreign Service in 1982. He commands perfect French and English on top of his mother tongue Arabic.
Related Photos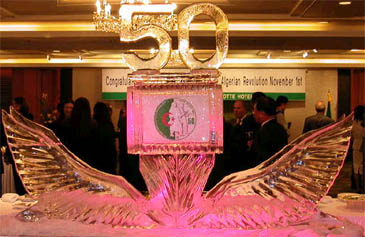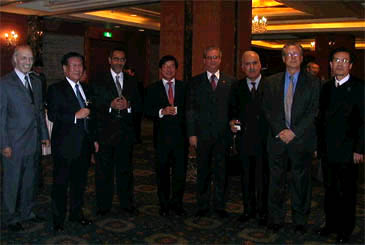 President Kah Jae-Mo of Global Korea Co. (right) poses with other dignitaries.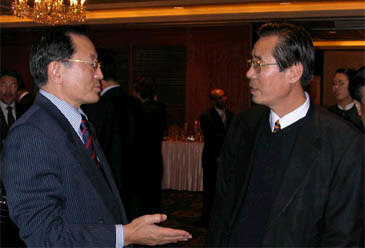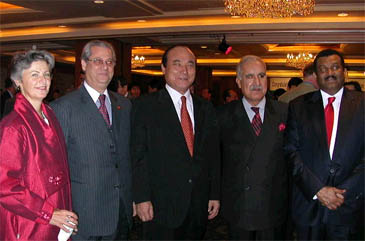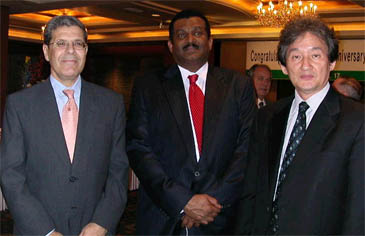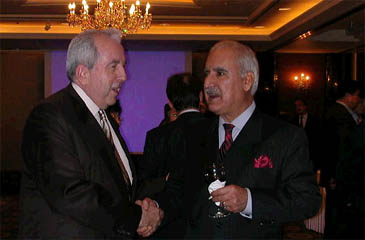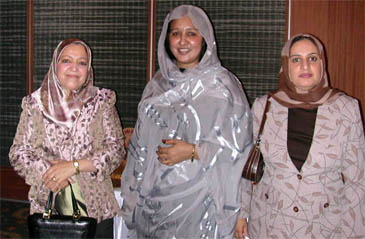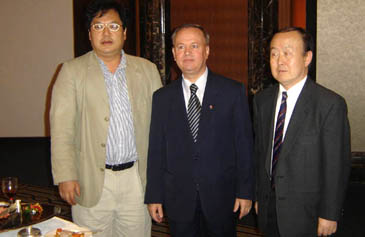 The above photos were taken by Lee Hyun-Ju.