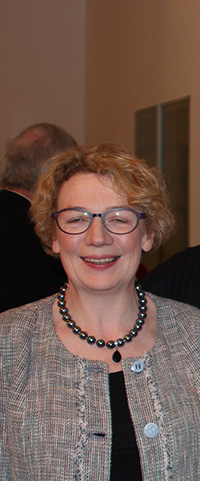 Irish Ambassador to S. Korea Aingeal O'Donoghue
Ambassador's Message Dear Joseph,Many of you are familiar with the Irish Missionaries in Korea and their unique contribution to this country. Two events in the past week have really brought this home to me.Fr PJ McGlinchey, originally from Donegal but now celebrating 60 years on Jeju Island, was one of 9 Irish people overseas selected for the Presidential Distinguished Service Award 2014. This is a huge tribute to the work of Fr McGlinchey but also to the contribution of the Columban Order in Korea over the last 80 years.Fr McGlinchey arrived in Jeju in 1954 just as the Korean War was coming to a close. It was an island in dire circumstances with pervasive poverty and scarred by extreme violence in the anti-Communist campaign in 1946-49.While in Jeju on a spiritual mission Fr McGlinchey also saw the need to address the poor circumstances of the people living there. And so he embarked on a series of courageous, innovative, but practical, projects to generate employment and improve people's living conditions.This included over the years a variety of farm development projects and has culminated today in St Isidore's large dairy and stud farm. But that is not all - St Isidore Development Association includes a range of outreach and care institutions including a hospice, a nursing home and a youth centre. When I travelled t Jeju last April we were worried that we would not be able to find St Isidore's. But we need not have done so – when you go to street view on google maps you see clearly the giant Trinity Church Fr McGlinchey built in the shape of a Celtic Cross!Though now in his 90's Fr McGlinchey remains an impressive and charismatic man, though very modest about all he has achieved. We could have listened for hours to his stories and I was delighted that my teenage daughter had the opportunity to meet such an inspiring figure. Much of the management of St Isidore's has been taken over by a fellow Columban, Fr Michael O'Riordan. Ireland being what it is we discovered during the course of the afternoon that Michael had lived for a few months in the same small village in Co. Cork where I grew up. I am sure that the whole Irish community and friends of Ireland in Korea join me in offering our sincerest congratulations to Fr McGlinchey on this fitting award for his life of service and inspiration.On 22-24 September I visited Mokpo and Gwangju to meet with the Irish missionaries there- both from the Columban Order and the Order of St John of Gods. First a little bit of history. The Columban order first came to Korea in 1933 entrusted with organising missions and parishes in Gwangju and Chunchon. At one time there were over 40 Columban priests in the Gwangju region. The Columban Sisters arrived here in 1955, just after the end of the Korean War.Mokpo, though less developed than many parts of Korea, is beautifully situated on the southwest coast and is a gateway to the hundreds of islands off the south coast. There I met the Columban sister, Sr Gerardine Ryan. She explained that she first came to Mokpo as a nurse – the Columbans operated a large hospital there – but that she came to see a great need in providing services and care for those with intellectual disabilities. Returning to Ireland she retrained and then came back to Korea where she set up in a small apartment her first centre for those with special needs.Today her organisation reaches over 700 people. Where feasible, her aim to give them as much independence as possible through work placements and group homes. There is also a wonderful, if at times heart wrenching, children's centre. It is a bright and stimulating setting for therapies and classes for children with intellectual disabilities. The love and care given to the children is evident all around and it gives hope that these children can look forward to a bright future. In nearby Gwangju I met a number of Irish Columban priests including Fr Niall O'Neill who founded and developed the Emmaus Centre for those with intellectual disabilities. Fr O'Neill was a pioneer in supporting people with special needs to participate more fully in the life of their community.I visited a factory operated by the Emmaus Centre – staffed by people with special needs – but operating and competing on a commercial basis with its products such as toilet paper and candles. Other facilities include a Welfare Centre, Group Homes and a Protection Centre. In all they support and help over one third of those with intellectual disabilities in Gwangju.The Irish branch of the Order of St John of God came to Korea in 1958 to carry out medical missionary work. I spent a very interesting morning with Br Brian and Br John who showed me the modern medical facilities that the Order developed in the city including a hospice and rehabilitation and psychiatric facilities.The welcome I got there both from the Korean and Irish brothers was heart warming.These visionary people lead quiet lives of dedication and service in Korea, the country which has become their second home. Their welfare work is funded in part by the Korean Government but also relies on private donations from charitable organisations and commercial supporters.To any of you looking for ways to contribute more broadly during your time in Korea donations to these very impressive and caring facilities would be very welcome and put to very good use.With best regards,
Aingeal O'DonoghueAmbassador
Upcoming events in Seoul - October 2014
The Columban Sisters are having their Annual Bazaar on October 12th from 9 a.m.-4 p.m. If you have a hankering for homemade bread, marmalade, jam or looking for a bargain this is the place to go next Sunday.The Bazaar takes place at the House of the Missionary Sisters of St. Columban which is located next to Donam Catholic Church near Shungshin Women's University Station Exit 2.Don't forget the Irish/Scottish Ceilidh at D Cube City, Sindorim Stn, Seoul on Saturday October 18th from 1-6 p.m. Great fun for all the family!