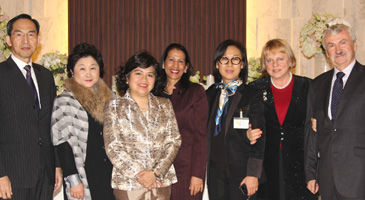 Ms. Catalina Lee (3rd from right), CEO of the Circle of Hermitage, poses with Bolivian Ambassador Guadalupe Palomeque De Taboada (3rd from left), Polish Ambassador Krzysztof Ignacy Majka (right), and Charge d'Affaires Yadira Hidalgo de Ortiz (center)of Polish Embassy. At second from left is spouse of the Polish envoy Mrs. Majka.
The charity exhibition by global artists and the gala dinner with South Korea's "K-pop" stars were held at "Galleria Foret of Seoul Forest in Seoul on Dec. 4 (Thursday), 2014.The international exhibition and the dinner reception with the local South Korean singers was hosted by The Circle of Hermitage.The events was supported by Ministry of Environment and the Ministry Trade, Industry, and Energy (MOTIE) of South Korea.Scores of top foreign envoys serving in Seoul were among the 500-plus guests invited to the year-end events.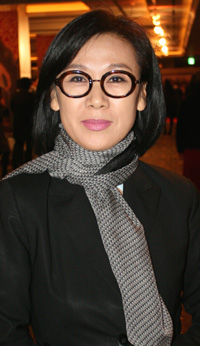 Ms. Catalina Lee, CEO of the Circle of Hermitage
The opening ceremony of the exhibition called "Cross-Cultural Exchange Exhibition" began at 6 p.m. on the day at the basement of "Galleria Foret" in Seongsu-dong area of Seoul.In particular Bolivian ambassador, Mrs.Guadalupe Palomeque De Taboada delivered a congratulatory speech during the opening ceremony of the exhibition.The five participating artists are Roberto Mamani Mamani of Bolivia, Owais Husain of India, Krzysztof Recko-Rapsa of Poland, Yook Keun-Byung of South Korea, and Im Ho-Young of South Korea.The international charity exhibition runs from Dec. 4, to Dec. 29, 2014 except for holidays.The gala dinner began at 7 p.m. at the "La Foresta" Convention Hall of "Galleria Foret" with charity concert called "Melody of Love."About a dozen of K-pop stars including Rainbow and Kara and classical musicians were invited to the gala dinner concert.An art auction and a lucky draw followed the extravagant dinner concert.The proceeds to be generated from the charity events will be used for children suffering from the sudden climatic disasters, according to Ms. Catalina Lee, CEO of the Circle of Hermitage."This outstanding charity event was supported by the five global artists and various foreign embassies in Seoul," said Ms. Lee.
For detail or inquiries call Ms. Ms. Catalina Lee at 010-8612-9061.