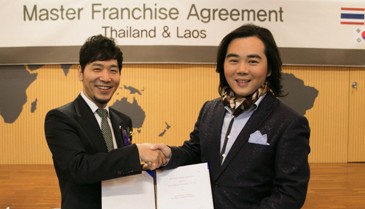 Chairman Kim Sun-Kwon (left), CEO of Caffe Bene, and Mr. Jakkaphong Suteestarpon, CEO of JKN Bene Company Ltd., sign a master franchise agreement.
"Caffe Bene" unveiled its plan to enter Thailand and Laos by signing master franchise agreements with Thailand's largest media group — JKN Global Media Group on Jan. 5, 2015.The Seoul-based highly successful coffeehouse chain is headed by Chairman Kim Sun-Kwon, CEO of Caffe Bene (www.caffebene.co.kr), which pursues the creation of a cultural complex.Caffe Bene newly established the JKN Bene Company Ltd., in partnership with the JKN Global Media Group, to open stores in the capitals of Thailand and Laos.The signing ceremony for the master franchise agreement was held at the Caffe Bene headquarters. On hand at the ceremony were Jakkaphong Suteestarpon, CEO of JKN Bene Company Ltd., along with 50 staffs from Thailand.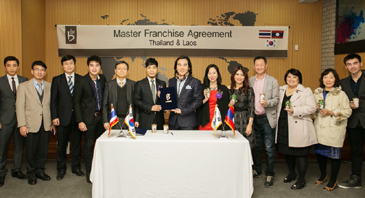 Eexecutives of both sides pose for the camera after the signing ceremony.
The agreement was signed with the active support of KOTRA, and Caffe Bene plans to advance into nine countries in Southeast Asia, including Thailand and Laos. JKN Global Media, which was established in 1987, is the largest media group in Thailand that imports popular contents from abroad, including the UK's BBC and Canada's TLC, and broadcasts such contents through public TV, satellite, and cable channels.In particular, it plays a leading role in promoting Korean Wave contents through diverse channels in Thailand, based on its ownership of the licensing rights to Korean dramas and films. Thailand has developed its restaurant franchise industry to account for more than 50 percent of all franchises in the country. Particularly, with the influence of Korean dramas, including Daejanggeum (Jewel in the Palace), the Thai people have become highly interested in Korean food and dessert culture; thus, Caffe Bene plans to grab the attention of the Thai youth by offering them differentiated menus and services.An official at Caffe Bene said, "Caffe Bene will make every effort to incorporate differentiated strategies in Thailand and Laos, respectively, as both countries tend to show totally different market characteristics.Thailand's franchise market is growing rapidly, whereas that of Laos is in its early stage of development. Caffe Bene plans to be a pioneer in Laos market with the opening of its first store in Vientiane soon.With the establishment of the first store in Thailand, Laos, Singapore, and Brunei, in the first half of this year, Caffe Bene plans to open 140 outlets in Southeast Asia by 2017.