The U.S. online travel market has grown at a fast pace over the last year, totaling $54 billion in 2004, or 23 percent of travel purchased. The online market is projected to grow to $91 billion in 2009, or 33 percent of travel purchased, JuputerResearch said in a report released recently.Sales are growing for both online agencies such as Orbitz, Expedia and Travelocity, as well as supplier websites, with supplier sites capturing the majority of the online market. In this highly price-sensitive industry, search engines are becoming a critical part of the marketing mix: more consumers are prompted to visit travel sites as a result of a search than through any other media source, it said in the report entitled "Market Forecast Report, Travel 2004."JupiterResearch is affiliated with Jupitermedia headquartered in Darien, Conn. and is a leading global provider of original information, images, research and events for information technology, business and creative professionals.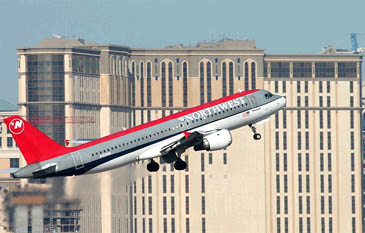 Courtesy Airliners.net
Findings of this JupiterResearch forecast include: in 2004 airline tickets remain the largest online leisure travel revenue category, representing $23.3 billion in revenue; over $11.6 billion in hotel revenue was booked by consumers in 2004; supplier websites will continue to increase their share of the market, increasing from 56 percent of online leisure travel revenue in 2004 to 60 percent by 2009; airlines and car rental companies will lead the charge in increasing direct online share; and new booking tools and increased compliance will drive the online managed travel market to $32 billion by 2009. "We're seeing steady growth across all segments of the online travel industry," said Diane Clarkson, Analyst at JupiterResearch. "Both business and leisure travelers are booking a growing percentage of their travel online, and search is having an increasing influence on their research and purchase behavior. In this competitive market, the online travel industry must ensure that search is at the forefront of their marketing strategy," added Clarkson.