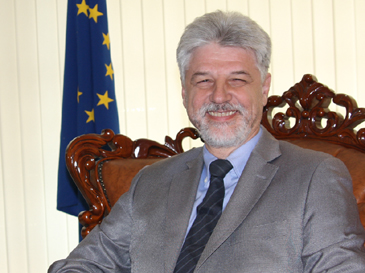 Romanian ambassador to Seoul, Dr. Calin Fabian at his office
Romanian ambassador to Seoul, Dr. Calin Fabian and his spouse, Mrs. Mihaela Fabianto, hosted a special dance performance at Youngsan Art Hall in Seoul on June 12, 2015 on the occasion of the 25th anniversary of the diplomatic ties between Romania and South Korea.Hundreds of guests including scores of foreign envoys were invited to the event, "Perichoresis(Dance of Life) — Hadar Contemporary Music Theater Performance" held in the afternoon of the day.The Romanian envoy is perhaps one of the most passionate foreign ambassadors in Seoul in introducing his nation to the local Korean people. Dr. Fabian is particularly keen on hosting cultural events including frequent Romanian wine tasting events.It was in March of 1990 that Romania established the formal diplomatic ties with South Korea. Romania maintained the official ties with North Korea from 1948 to 1989.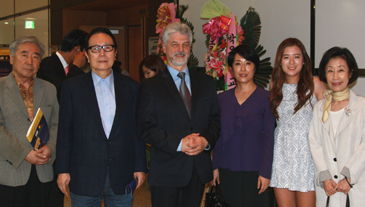 Romanian Ambassador to Seoul Calin Fabian (3rd from left) poses with music Prof. Park Eun-Hye (3rd from right) of Ehwa Womans University, and with famous politican and lawyer Park Chan-Jong (2nd from left) at Yongsan Art Hall in Seoul on June 12, 2015. At right is Mrs. Park Chang-Jong and to her left is professor's daughter, who is also a pianist. Prof. Park is the daughter of the lawyer.
The Romanian envoy explained that by 1989 when Romania's political situation changed, the focus of Romania's diplomacy switched to South Korea from North Korea.Since the diplomatic establishment between Romania and South Korea, mutual exchanges and cooperation have been on the steady rise. A series of agreements and accords have followed in areas of sports, trade, economy, science technology, investment security, and so forth.In 1996 visa-free agreement was reached between the two countries. In 1994 Romania's then President Ion Iliescu visited South Korea. In 2005 Romania's then President Traian Băsescu also paid a visit to Seoul to improve further mutual cooperation.One year later, the late President of South Korea Roh Moo-Hyun visited Romania. Since the presidential visits the two nations have been maintaining a close and cooperative ties based on the strategic partnership."South Korea is the only nation that Romania established 'strategic partnership' with among Asian nations," the envoy stressed the strong mutual ties at his recent interview with The Seoul Times.
"We are willing to have more Korean investors into our profitable Romanian market," the envoy added. "The most dynamic field of mutual cooperation is economic, particularly trade area"As of 2014 the bilateral trade volume between the two nations reached 1.24 billion US dollars."South Korea is always present in the daily life of Romanians," he stressed the growing popularity among his fellow Romanians. "Lots of Romanians now know about a lot of things about South Korea"He explained that Romanians prefer to use TV sets made by Samsung or LG, and they love to use their mobile phones, PCs, and tablets.Currently, a number of South Korean companies are in operation in Romania. They include Doosan, Samsung, Sehwa, LG, Dongbu, and Daewoo.
Not only high-tech Korean products but also Korean dramas and other aspects of Korean culture are increasingly popular in Romania, according to the envoy."Romanian TV channels are airing Korean dramas and Korean pop musics some 30 times per week," he said.The envoy said that he will dedicate the whole year of 2015 not only to increasing political and economic cooperation but also to boosting cultural exchanges between Romania and South Korea.The university professor-turned career diplomat said that he was lucky when he was appointed first secretary by the Romanian Foreign Ministry in 1995, the year of his joining the ministry.Before becoming career diplomat he was a faculty member, teaching at universities in Bucharest.It was in 2002 that he was promoted to the ambassadorial position.
In the year he was posted at the Embassy of Hungary in Budapest.Dr. Fabian has been serving as Romanian ambassador to South Korea since 2012. He was the Romanian ambassador to Kingdom of the Netherlands from 2007 to 2012.The multi-lingual diplomat speaks English, French, Hungarian fluently as well as his native Romanian. He said that he is learning Korean and German recently.Dr. Fabian has been decorated with various awards including "Cross of the Hungarian Republic," "Romanian Diplomatic Medal," and "Award of the Ministry for Foreign Affairs."For details or inquiries please call the Romanian Embassy in Seoul at 02-797-4924.