Papua New Guinea Ambassador Bill Veri (left) poses with his spouse Mrs. Very at dinner reception held at Millennium Hilton Hotel in Seoul on Sept. 16, 2015.
In celebration of its 40th Independence Day, Ambassador of Papua New Guinea to Seoul, Mr. Bill Veri and his spouse hosted a dinner reception at Millennium Hilton Hotel in Seoul on Sept. 16, 2015.Papua New Guinea gained its independence in 1975 after being ruled by three external powers, the Germany, United Kingdom, and Australia, respectively since 1884.Bilateral relations between Korea and Papua New Guinea have steadily developed since the two countries established formal ties in 1976.Korean companies operating in Papua New Guinea are actively involved in various sectors such as infrastructure, energy, and fisheries.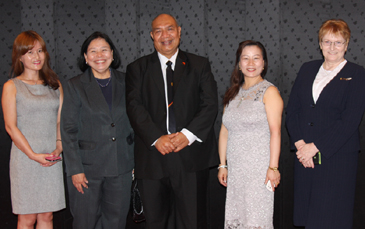 PNG Ambassador Bill Veri (center) poses with Belarus Ambassador Natallia Zhylevich (right), and with Malaysian Ambassador Dato' Rohana binti Ramli (2nd from left) at dinner reception held at Millennium Hilton Hotel in Seoul on Sept. 16, 2015. At second from right is President Ju Chu-Mi of Captain Santa.
In the meantime, Papua New Guinea is also the largest trading partner of Korea among the Pacific Island Countries with trade volume amounting to US$430 million in 2011. As Papua New Guinea goes through a transitional phase from traditional society to a modern one, Korea has also been sharing its own experiences and know-how with Papua New Guinea in finding a suitable model of development for the newly rising nation.Both nations have also shown their commitments to jointly fight climate change such as participating in the Global Green Growth Summit, a project initiated by Korea. Papua New Guinea has more than 820 indigenous languages and has a population of approximately 6.2 million. While the majority of the population lives in traditional societies and practises subsistence based agriculture, Papua New Guinea has emerged as the seventh fastest-growing economy in the world in 2011 due to its strong growth in mining and abundance in natural resources.Ambassador Very has been serving as its ambassador to South Korea since he came to Seoul in Nov. 7, 2011.The envoy has been very active in promoting and developing mutual ties betwen the two nations.In particular, the envoy has recently visited a local university in May of 2015 in his efforts to learn "Saemaeul Undong" or the secrets of the fast economic development of South Korea of the past decades.Known as Saemaeul Undong or New Community Development Movement has been the main slogan for the economic development of South Korea in the past.For details or inquiries please contact the Papua New Guinea Embassy in Seoul at 2198-5771.