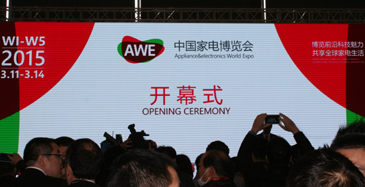 This file photo shows the opening ceremony of "AWE 2015" held in Shanghai on March 11-14, 2015.
"The Appliance & Electronics World Expo 2016" or "AWE 2016" kicks off in Shanghai on March 9-12, 2016 with a total of over 20,000 products on display from some 600 manufacturers from around the world.The Asia's largest household appliances exposition at Shanghai New International Expo Centre in China's commercial capital is expected to attract the keen attention from both Chinese and foreign news media alike. It is hosted and organized by China Household Electrical Appliances Association (CHEAA).In the year 2016 the fast growing "Appliance & Electronics World Expo" in Shanghai is expected to draw more than 600 manufacturers, hundreds of journalists including some scores of foreign journalists, and over tens of thousands of visitors from around the world.Industrial experts point out that the "AWE" in Shanghai has already surpassed the popularity of its counterparts, "CES" in Las Vegas and "IFA" in Berlin, as China has already become the world's largest market for household appliances and consumer electronics.At this year's exhibition over 600 top-of-the-line brands were on display during four-day conference and exhibition period. Over 150,000 visitors are expected to participate in the exhibition this year, according to the host.AWE, organized by the China Household Electrical Appliances Association (CHEAA), now has more than 20 year history. AWE, together with CES and IFA, are called the three exhibitions of the global appliance & electronics industry.From South Korea such electronics giants as Samsung and LG are taking part in this year's exhibition. Last year Korean products included LG's 77-inch curved LED TV and LG's 105-inch ultra HD TV.Other exhibitors include Haier, Midea, Sharp, Bosch, Siemens, Panasonic, Hitachi, Whirlpool, Daewoo, Gree, TCL, Alibaba, JD.com, Hisense, Fotile, Robam, Embraco, Skyworth, Karcher, and iRobot.
About CHEAA
Established in 1988 the China Household Electrical Appliances Association (CHEAA) is the host and organizer of "The Appliance & Electronics World Expo" or for its acronym "AWE."Operating under the direction of the governmental National Light Industrial Bureau, CHEAA serves the interests of its member enterprises and protects their legal rights by fostering the development of the household electrical appliances industry.The association serves as a bridge between the government and enterprises or amongst enterprises, managing its industry. It boasts of over 220 members from 24 provinces and municipalities throughout China.