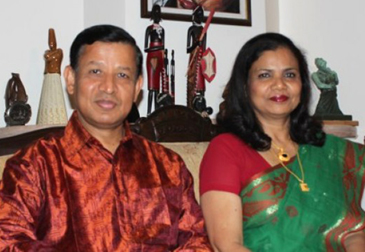 Bangladesh Ambassador to Seoul Md. Zulfiqur Rahman wth his spouse Madam Shameem Akhter in his office
Bangladesh Ambassador to Seoul Md. Zulfiqur Rahman had a luncheon meeting with the local South Korean journalists in a hotel downtown Seoul on April 20 (Wedenesday), 2016.The gathering held at Charlotte Suite Room on the 36th floor of Lotte Hotel lasted from noon until 2 p.m. on the day.The Bangladesh envoy had talks with the newsmen and women over a variety of issues ranging from contemporary Bangladesh business and politics, social affairs, to its international position on world stage.In particular, bilateral issues between South Korean and the Southeast Asian country was discussed at his gathering with the press corp members.Ambassador made a welcoming speech over luncheon followed by question and answer secession.His speech and video presentation included following contents.
"Bangladesh, propelled by strong unhindered economic growth and pro-people governance, has been posting silent progress in socioeconomic spheres, bringing its population out of the vicious cycle of poverty.
Social investments have been translated into people's empowerment and gender equality. The Global Gender Gap report 2015 placed Bangladesh at number 8 in political empowerment of women, a feat many developed countries would envy.Due to geographical distance and lack of direct connectivity, Bangladesh's transformation has largely gone unnoticed by the Korean audience."
Who Is Md. Zulfiqur Rahman?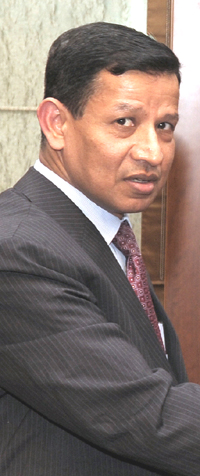 Bangladesh Ambassador to Seoul Md. Zulfiqur Rahman
Bangladesh Ambassador to Seoul MD. Zulfiqur Rahman has long been a career diplomat.He served as Bangladesh ambassador to Turkey before he was appointed as the ambassador to South Korea in January of 2015.Prior to his ambassadorial appointment in Turkey, Rahman served in Bangladesh as High Commissioner in New Delhi.His overseas posts included Bangladesh Permanent Mission to the UN in New York City, Bangladesh Embassy in Myanama, and at Bangladesh Consulate General in Los Angeles.Rahman belongs to the 9th batch of BCS (Foreign Service) Cadre, according to an official handout here today. Rahman obtained an MBBS degree from Rajshahi Medical College.Later, he studied in Paris, earning a Diploma for Higher and Specialised Studies in Diplomacy and Administration of International Organizations in 1994.Rahman has been married to Madam Shameem Akhter, a microbiologist, for over 30 years. They are blessed with three children.