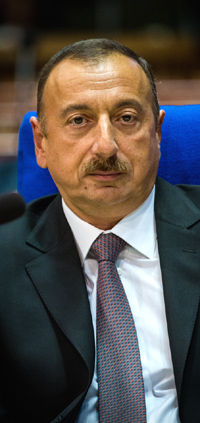 Azerbaijan President Ilham Aliyev
The 7th Global Forum of the United Nations Alliance of Civilizations (UNAOC) on the theme "Living Together in Inclusive Societies: A Challenge and A Goal" has kicked off in Baku. President of the Republic of Azerbaijan Ilham Aliyev and his wife Mehriban Aliyeva attended the opening ceremony.The forum brings together more than 3,000 delegates, including heads of state and government, high-level officials, politicians, public figures, representatives of leading international organizations and think tanks, and scientists.Foreign Minister Elmar Mammadyarov's interview to AZERTACAs usual the Armenian side has distorted the negotiation process in a way they see fit for themselves. Attempts by Armenia to distort the essence of the negotiation process and to introduce unilateral attitudes are yet another indication of Armenia's unserious and destructive approach towards the conflict settlement process.It is beyond any logic to argue the invalidity of the document, in this context the updated Madrid principles, submitted by co-chairs of the OSCE Minsk Group to the depositary of the Secretary General of OSCE, with the consent of the parties to the conflict - Armenia and Azerbaijan.Azerbaijan's position to resolve the conflict is well known to the international community.In accordance with the resolutions of the UN Security Council 822 (1993), 853 (1993), 874 (1993) and 884 (1993) Armenian armed forces should completely and unconditionally withdraw from all occupied territories of Azerbaijan and Azerbaijan's integrity and sovereignty must be provided within the internationally recognized borders. Azerbaijan repeatedly expressed its readiness to start the political process for the settlement of the conflict based on the mentioned principles.The sabotage and military provocations have launched by the Armenian armed forces since April 2 along the line of contact are yet another testimony to the fact that illegal presence of Armenian troops in the occupied territories of Azerbaijan is the main reason for the tensions and poses a threat to the regional peace and security. It has also demonstrated fragility of the peace in the region.Probably, some people in Armenia think that the region is still in the 90s of the last century. The region has changed significantly. It is obvious that unlike Armenia, the political and economic policy of Azerbaijan such as the other countries of the region is more mature in the international and regional levels.The sooner Armenian leadership realizes the importance of withdrawing their troops from the occupied territories of Azerbaijan, the sooner peace and stability can be provided in the region.
For details or inquiries contact the Embassy of Azerbaijan in Seoul at 02-797-1765.