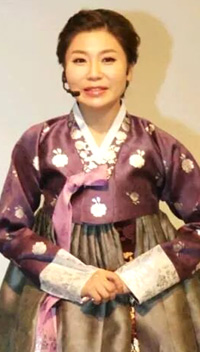 Kim Seung-Ah, Pansori storyteller
KIM Seung-ah told the tale of "Heung-bu and His Older Brother" to a Kenyan audience in Nairobi, on June 10, 2016, during the 7th Sigana International Storytelling Festival held from June 8th to June 14th , at Kenya Cultural Center.When my Seoulite friend, LEE Joon-hui, rung to inform me that the charming Pansori Storyteller, KIM Seung-ah, of Arirang Storytelling, was on her way to Nairobi, to perform at the 7th Sigana International Storytelling Festival, organized by Zamaleo, and scheduled to start on June 8, 2016, I was enthused.I was super excited because Seung-ah was going to be the first Korean Storyteller to perform in Kenya, and just after President PARK Geun-hye's visit to Kenya. She was going to perform Pansori(a Korean genre of musical storytelling performed by a vocalist-sorikkun and a drummer-gosu ), backed by a Kenyan drummer. Joint performance produces the best fusion of cultures. It is a fabulous way to bring a new cultural experience alive for the audience. (The term Pansori is derived from pan, meaning a place where many people gather, and sori, meaning song. Pansori was declared Korean National Intangible Cultural Property in 1964. UNESCO proclaimed the Pansori tradition a Masterpiece of the Oral and Intangible Heritage of Humanity on November 7, 2003.)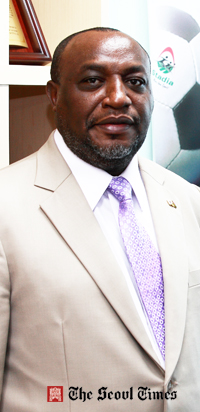 Former Kenyan Ambassador to South Korea Ngovi Kitau
When I first saw Seung-ah's Pansori the first time in Seoul a few years ago, I was blown off. It's an incredible feat of storytelling about the fight for the heart and soul of our very society. It's a look at history that feels immediately relevant today. It's a beautiful piece of art with empathy to spare.Seung-ah is, also, the best storyteller, and ambassador of Korean culture, on the Animal Planet. In just a few minutes, she connects with the audience and makes an impact. Her hand motions, voice changes, facial expressions, body language, dance, and use of a fan and handkerchief convey strong range emotions which leave the audiences feeling energized and excited. You feel like she has always been your best friend as you listen to her stories.While in Kenya, Seung-ah performed alongside storytellers from Ethiopia, Kenya, Singapore, Tanzania, and Uganda. She performed 6 Korean tales in Nairobi: 2 at Kenya Cultural Center; and 4 Korean legends in 4 schools within Nairobi. On stage, as expected, she was terrific. The loveliest moment of her storytelling was reached when she told the tale of "Chun-hyang's Love." A tale of romance and true love.
The 7th Sigana International Storytelling Festival
Like so many stories in African literature, the plot revolves around a particular society's individual social status, and restrictions against true love.LEE Mong-ryong, the super hero in the story, is the privileged son of the governor of Namwon, a yangban (aristocrat). He secretly marries SUNG Chun-hyang, a daughter of Kisaeng (Courtesan), the lowest of the low in the society. Being a daughter of a paramour, culturally make Chun-hyang a courtesan. Mong-ryon keeps the nuptial vows a secret from his family because they would be furious if they found out he married beneath is social standing.Soon after, Mong-ryong's father is transferred to be the governor of Seoul, and the family has to leave Namwon. Mong-ryong and Chun-hyan tearfully bid byes and solemnly vow to remain faithful to one another, as they part.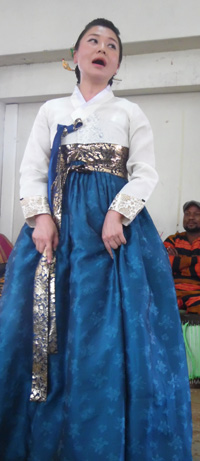 The 7th Sigana International Storytelling Festival
BYUNG Hak-do, the new governor of Namwon, takes over. He is a corrupt and greedy man. He finds the beautiful Chun-hyang and orders her to be his concubine, after all, a daughter of a Kisaeng is a Kisaeng. When she refuses, explaining that she was already married, and although her husband was away, she will forever remain faithful to her beloved, the governor punishes her by flogging, and throws her into prison.In the meantime, Mong-ryong completes his studies in Seoul and passes the government tests with the highest score and becomes the secret royal inspector of the King. His duties include travelling incognito throughout the republic to investigate and arrest corrupt governors.Disguised as a beggar, Mong-ryong travels to Namwon. His mother in law sees him in rags and greets him in a scornful way. Nonetheless, she takes him to Chun-hyang's prison cell because Chun-hyang is scheduled to be executed the following morning as a final punishment for disobeying the governor's lust.Although the two are happy for reuniting, Chun-hyang is saddened by Mong-ryong's condition and appearance. She tells her mother that, after her execution, the mother should sell all her clothes and buy decent clothes and a ring for Morg-ryong to wear. The two tearfully part again.The next day is governor BYUNG's birthday. He holds a great birthday party, and orders Chun-hyang to be brought to the feast. He asks her, for the last time, if she will become his mistress, and once again she declines.The governor then orders the guards to execute Chun-hyang. Just before they draw their daggers, a beggar enters and commands them to stop. He then removes the tattered clothes and displays his royal inspector's badge. He orders the guards to arrest the governor. He saves Chun-hyang and the two live happily thereafter. That is the story of love and good versus evil Seung-ah narrated to the general audience at Kenya Cultural Center. This love story which overcomes hierarchical barriers gave a vicarious thrill to Kenyans. It's truly representative of Kenya's unique cultural landscape.She also told the story of "Heung-bu and His Older Brother" to the general public. This is a story of Nol-bu and Heung-bu. Nol-bu, the older brother is greedy and callous. On a cold day during winter, he throws out Heung-bu and his entire family. One day, Heung-bu saves a baby sparrow whose leg had been deliberately broken by Nol-bu. In the following spring, the sparrow returns with a good luck gourd seed and give it to Heung-bu to plant. Heung-bu thereafter becomes the richest man in the village.Later in the week, Seung-ah visited Alliance Girls High School and presented the story of "The Snake Bridegroom." She then visited Roots Kindergarten and told the tale of "The Tiger and the Dried Persimmon". Again, she presented "Shim-cheon and Her Blind Father SHIM Boung-sa" to Makini School. Finally, she performed "Catching Tigers with a Greased Puppy" at Thomas Burke Primary School. And every story she told was a wonderful adventure.During her performances in schools, she distributed to the students, 1,100 Korean Lucky Story Bags donated by 89 Korean friends. The children were very excited. Some jumped to sit on her lap.
Seung-ah distributing Korean Lucky Story Bags at Roots Kindergarten in Kikuyu
I have received positive feedback from both adults and children who attended Sung-ah's sessions. They are still talking about KIM Seung-ah, and Korea. They all wish Seung-ah had stayed longer in Kenya, so that she can tell more Korean stories; and they hope she will return to Kenya next year. Mr. Musili Kilonzo of Nairobi County Government said: "This is my first time to meet a Korean Storyteller. She was superb. I'm so happy to have attended her performance." Most Kenyans have never experienced live Korean storytelling and this was a memorable experience. Seung-ah did a great job and she was a huge success. I want to pay her the highest compliment because no patrons looked at their watches, or left the theatre when she was on stage.Her visit was a big boost to Korea-Kenya culture exchange, and it is nice of Seung-ah to leave Kenyans with such a positive impression. Kenyans were truly intrigued and truly entertained. Seung-ah is a top notch storyteller. I highly recommend her as a professional story teller.It is true; storytelling has been at the heart of everything we do. However, the story needs to be told and told well. That is what KIM Seung-ah does best. From August 15, 2016( Korea's independence Day), Seung-ah will be performing weekly, every Monday, from 7:30 PM, at Insa Art Hall(B2F of Insa Art Plaza), located at 34-1 Insadong-gil, Jongno-gu, Seoul, South Korea(Insadong is Seoul's official cultural street). The duration will be 60 minutes and entrance charge is 50,000 Won (US$ 50.00), and the story she will be telling is "Chun-hyang's Love").
The above writer is former Kenyan Ambassador to South Korea Ngovi Kitau. He served as Kenyan ambassador in Seoul from 2009 to 2014. He can be reached at +254 722 511805 or at ngovikitau@yahoo.com