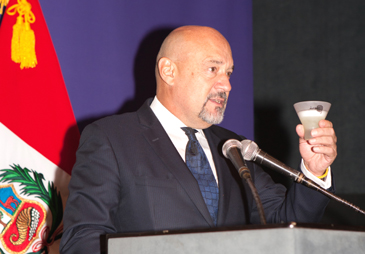 Peruvian Ambassador to South Korea Jaime Pomareda
Peruvian Ambassador to South Korea Jaime Pomareda celebrated its 195th Independence Day in Seoul by hosting a dinner reception at Grand Hyatt Seoul's Regency Room on July 28 (Thursday), 2016. Peru's most important holiday called "Fiestas Patrias" is the day celebrated in its capital of Lima and around the world on July 28 every year to marks Peru's declaration of independence from Spanish rule in 1821.The dinner reception attracted a number of both local Korean and international guests including scores of top foreign envoys serving in Seoul.Peru and South Korea officially formed the diplomatic ties on April 1, 1963.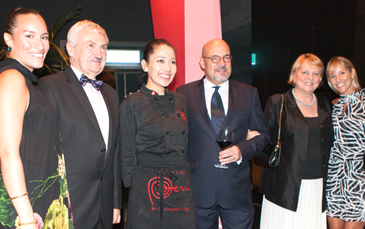 Peruvian Ambassador to S. Korea Jaime Pomareda (3rd from right) poses with other envoys at the dinner reception held at Grand Hyatt Seoul's Regency Room on July 28 (Thursday), 2016.
As an important of the non-allied nations Peru established the diplomatic relations with North Korea in November of 1989.Since then South Korea has been played the role of economic model for the Latin American country.Peru and South Korea has been cooperating in all area of economy.The complementary economic cooperations has been steadily strengthened since the two formed a free trade agreement (FTA) in 2011. The mutual relations and cooperations have been further upgraded when heads of state of visited each other's nation in the following years.In 1993 then Peruvian President made a state visit to South Korea in 1993. In return South Korea's former President Kim Young-Sam visited Peru in 1996.More presidential visits were exchanged since then.In 2005 Peru's ex-President Alejandro Toledo visited Seoul. Three years later former South Korean President Lee Myung-Bak visited Peru.Peru's former President Alan Garcia visited Seoul both in 2009 and in 2010. In 2013 another ex-president of Peru, Ollanta Humala made an official state visit to South Korea.It was on the occasion of President Humala's visit to Seoul that the mutual ties was promoted to the level of a "mutual strategic partnership."Through the frequent presidential visits the mutual ties, so-called "comprehensive cooperative relations," have been firmly consolidated and mutual cooperations have expanded into the other areas particularly in the economic fiends.As recently as April 18-21, 2015 the current South Korean President Park Geun-Hye visited Lima.The Peruvian envoy put huge efforts on South Korea's first women President Park's state visit to the South American nation."Our relations have reached the highest level following President Park Geun-Hye's visit to Peru from April 18 to 21," said Amb. Pomareda. "It added new momentum in diverse fields."Based on the active relations the mutual trade has also been developed. In 2014 South Korea exported to Peru a total of 1.4 billion US dollars' worth of goods while it imported 1.43 billion US dollars's worth of goods from the Lantin American country.South Korea and Peru officially inked a free trade agreement (FTA) in 2011.Since then trade volume of the two nations has been increased.Normally South Korea export to Peru such items as passenger cars, electronic goods. machinery, chemical products, and other manufactured goods.Peru's import items from South Korea include such law materials as zinc and copper, and fishery products.As of 2016 between 700 and 800 Koreans are working and living in Peru with a multitude of them in its capital of Lima.Presently, some 5,000 Peruvians are staying in South Korea for either work or study.For details or inquiries please contact Peruvian Embassy in Seoul at 02-757-1735.