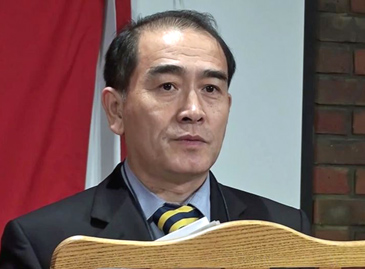 Ex-Minister Tae Young-Ho of North Korean Embassy in London. He defected recently to S. Korea wth his wife and two sons.
On the occasion of North Korea's Minister Tae Young-Ho's recent defection to South Korea, the living conditions of North Korean diplomats are more serious than are known, South Korea's leading daily JoongAng Ilbo reported on its internet edition of August 20, 2016, quoting sources of South Korean intelligence officers.Minister Tae of North Korean Embassy in London entered recently South Korea with his family: wife and two sons. He was working at the North Korean Embassy in London before his defection.The 55-year-old Tae was the highest North Korean diplomat ever defected to South Korea. Presently Tae and his family are living in South Korea under the protection of South Korean government.The sorry plight of North Korean diplomats was revealed by a study group composed of former and current officers of National Intelligence Service (NIS), Korean version of American CIA. They released a research paper called "Commentary on North Korean Study."According to the research paper describes in detail the roles and activities of North Korean diplomats serving overseas, including their economic and living conditions.The paper says that North Korean diplomats are living in hard economic situation at their overseas posts. The official monthly salary for the ambassador is only between 700 and 800 US dollars (850,000-900,000 Korean won).Hard pressed by the stiff commodity prices overseas, they are provided with such basic stables as bean paste and red-pepper paste from their government in Pyeongyang in North Korea.In case of counsellors, their monthly payment is between 600 and 700 US dollars. And lower ranking diplomats including first secretary the officials' salary is no more than 500 US dollars.For all the positions, there is no expediency fund or any monetary support for the diplomats other than their official salary.The North Korean government's support of up to 3000 US dollars for the embassy is given once per year. But the money is used for the local guests on birthday parties of the North Korean founder Kim Il-Sung and his son Kim Jong-Il.The above conditions are forcing the North Korean diplomats to turn to illegal smuggling businesses for the basic needs under the tutelage of or under official support of Pyongyang government.As a way of saving the living cost, wives of the diplomats do the cooling themselves. Hiring cooks or chefs are unthinkable for their economic situation.In the case of Minister Tae, it was very difficult for his family to live up to their basic economic life. They had to pay a monthly fee of 1,200 pounds (1.75 million Korean won) for his apartment in London.The living conditions are slightly better in the case of those serving in China and Southeast Asian countries, according to the study.In case of North Korean Embassy in Beijing there are some 200 diplomats and staff who have to use a common bathroom at each floor. Also most of them cook and sleep at the living quarters at the embassy.Up to 100 North Korean diplomats and staff at North Korean Embassy in Moscow are living more or less in the same way.
They receive the basic staples from the Pyongyang government in North Korea.In Ethiopia some 150 North Koreans are residing in the country. Among them are 50 medical doctors. Not only the doctors but also the diplomats are living a hard life.Minister Tae was able to take his two sons out of North Kroean and defect to South Korea with them only because the late North Korean leader Kim Jong-Il allowed its diplomats to bring two children to their overseas posts in 2009.Tae's two sons, who were studying at Kim Chaek University of Technology in North Korea, were allowed to accompany his father to London under the pretext of their overseas study. The university is the North Korean version of America's MIT.It is highly likely that Minister Tae was extremely hard-pressed about the school expenses of his son while they were attending British universities, experts point out.There was no official financial support for his sons from North Korean government.Minister Tae was the second highest ranking diplomat at the North Korean Embassy in London. The highest one was Ambassador Hyun Hak-Bong.The research study also showed that two diplomats are close to the executed Jang Sung-Taek, husband of Kim Kyung-Hee, aunt of the current leader Kim Jong-Un.After Kim executed Jang then-North Korean Ambassador to Cuba Jun Young-Jin was taken to Pyongyang via China. He was brother-in-law of Jang.Jang nephew, North Korean Ambassador to Malaysia Jang Yong-Chul, was also forcibly taken to Pyongyang after he was put to house arrest, according to the research study.Jang was executed on the order of his nephew, the current supreme leader of North Korea Kim Jong-Un on Dec. 13, 2015.Jang was vice-chairman of the National Defense Commission, a position considered second only to that of the Supreme Leader.