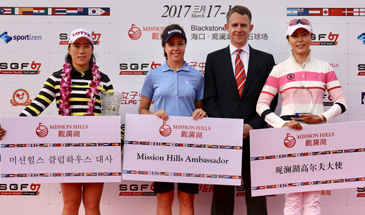 Recipients of Mission Hills Ambassador Awards
Haikou, China, March 19, 2017 — The newly-crowned champion, Kim Hae-Rym of Korea (far left), together with England's Georgia Hall (centre) and Li Jai-yun of China (right), were presented with Mission Hills Ambassador awards by Tom Phillips of Mission Hills Group following the conclusion of the 2017 World Ladies Championship on the tropical Chinese island of Hainan.As the leading players on their respective Tours for the week, Kim (Korea LPGA), Hall (Ladies European Tour) and Li (China LPGA) are each invited to return to Mission Hills Haikou for a month of golf and more, including unlimited access to the 17,000 square-metre golf academy, the state-of-the-art fitness centre and 10 world-class golf courses which make up the world's largest public golf facility.Staying in the five-star luxury hotel at Mission Hills, the Tour players will also have plenty to keep them relaxed and entertained after golf, including the world's largest spa with 126 natural mineral springs; one million square meters of retail, entertainment and culture at Centreville; and the Movie Town, Hainan's most visited tourist attraction.
About Mission Hills Group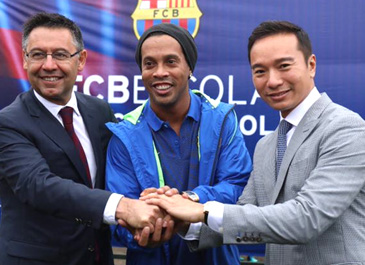 Mission Hills Vice Chairman Tenniel Chu (right) poses with FCB President Josep Bartomeu (left), with Ronaldinho in Mission Hills.
Mission Hills Group, owner and operator of Mission Hills in the heart of the Pearl River Delta and the tropical island of Hainan, is the pioneer in China's hospitality, sports and leisure industry. Founded in 1992, Mission Hills is recognised as the leading golf brand in the world and is synonymous with leisure, wellness, entertainment and luxury residences. Mission Hills has been the major driving force behind China's sports and leisure industry. The world-class integrated leisure and wellness resort destinations around China have hosted more than 100 international tournaments. Mission Hills has also been accredited by the Guinness World Records as the "World's Largest Golf Club" and "World's Largest Mineral Springs and Spa Resort". Mission Hills' properties sprawl over 40km2. They include 22 championship courses designed by renowned players and architects from five continents, five-star resorts, award-winning spas and volcanic mineral springs, international convention centres, golf academies and Asia's largest tennis facility. Mission Hills is also the official training headquarters for China's Tennis, Football and Golf Associations. The Group's "golf and more" leisure philosophy has catalysed its tourism-related business expansion into a leisure hub for multi-generational families. Mission Hills Centreville Shenzhen and Haikou are two HOPSCA (Hotels, Offices, Parks, Shopping, Culture and Arts) mixed-use developments with a focus on "Retail-tainment" and "Edu-tainment", providing integrated recreational, business, education, entertainment, shopping, leisure and cultural experiences. The group has also extended its foray into the hospitality industry by partnering with world-renowned hotel brands such as Hard Rock, Renaissance and the Ritz-Carlton. This collaboration has seen the opening of the Ritz-Carlton's first Golf Resort in Haikou as well as the impending launch of Hard Rock Hotel in Shenzhen – the first Hard Rock Hotel in China.
Other significant projects include Movie Town in Haikou in partnership with China's largest film production company Huayi Brothers Media Corporate and award-winning director, Feng Xiaogang and China's first Wet'n'Wild park in collaboration with Australia's leading entertainment group and largest theme park operator, Village Roadshow Limited.