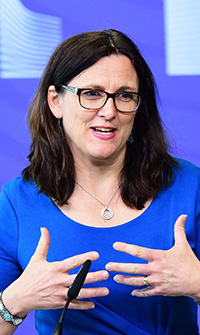 Madam Cecilia Malmström,
EU Trade Commissioner
EU Trade Commissioner Cecilia Malmström will attend the "2017 EU-Korea Business Forum," to be hosted by the European Union (EU) Delegation to South Korea in Seoul on Sept. 21 (Thursday), 2017.The Swedish-born EU trade chief will deliver a keynote speech at the forum titled "The EU-Korea FTA: A Shelter against Protectionism and Supporting Growth to be held in the morning of the day at Le Meridien Hotel in Yeoksam 1-dong, Gangnam-Gu in southern part of Seoul, the EU Delegation to South Korea announced recently in its news release.Madam Cecilia Malmström, a Swedish politician, has been serving as European Commissioner for Trade since 2014. She was a member of the European Parliament from 1999 to 2006. She also served as Swedish minister for European Union affairs between 2006 and 2010. She belongs to the Swedish Liberal Party.The welcoming remarks will be made by EU Ambassador to South Korea Michael Reiterer while introductory remarks will be delivered by ECCK Chairman Dimitris Psillakis.
The business forum seeks to engage participants in a dialogue about the assessment of the EU-Korea FTA implementation and policy implications.Te Forum will present an assessment of the implementation of the EU-Korea FTA and of its effectiveness and efficiency in qualitative terms for EU business operators in Korea; importers and distributors in Korea, as well as for Korean consumers.Based on input from enterprises and stakeholders, the assessment reviews the different impacts of the FTA after six years of implementation, and identifies the potential challenges and opportunities to further deepen economic integration over the next years.Other major participants include Mr. Kim Jung-Gwan, vice-chairman of the Korea International Trade Association (KITA); Mr. Murray Smith of Ticon Development Consulting; Prof. Cheong In-Kyo of Inha University; Prof. Choi Seok_Young of Seoul National University, former chief negotiator for the Korea-EU FTA negotiation; Mr. Christoph Heider, ECCK president;
Mr. Moon Tae-Hyun, director general of Department of Market Research of Korea Consumer Agency (KCA);
Ms. Ingrid Drechsel, president of Bayer Korea and chairman of Korean German Chamber of Commerce and Industry (KGCCI); and Mr. Lee Dong Bok, director of FTA & Regional Studies Department of Korea International Trade Association (KITA).The forum is supported by the European Chamber of Commerce in Korea (ECCK) and by the Korea International Trade Association (KITA).The following is the full schedule of the event.Program Schedule:08:30-08:50: Registration and welcome coffee
08:55: Speakers Group Photo
9:00-10:00: Conference Opening
•Welcoming Remarks by H.E. Michael REITERER, Ambassador of the European Union to the Republic of Korea
•Keynote Address by H.E. Cecilia MALMSTRÖM, European Commissioner for Trade, followed by Q&A session
•Congratulatory Remarks by Mr. Junggwan KIM, Vice-chairman of the Korea International Trade Association (KITA)
•Introductory Remarks by Mr. Dimitris PSILLAKIS, Chairman of the European Chamber of Commerce in Korea (ECCK)
10:00 – 10:30: Company testimonials
VIDEOS
•Company A
•Company B10:30 – 12:15: Presentations and Discussion
Study Presentation: "Evaluation of the EU-Korea FTA: Major Impacts, challenges and Opportunities"Mr. Murray SMITH (Ticon Development Consulting) and Prof. Inkyo CHEONG (Inha University)Discussion
Topic: The assessment of the EU-Korea FTA implementation and policy implications for the futureModerator: Prof. Seokyoung CHOI, Seoul National University (former Chief Negotiator for the Korea-EU FTA negotiation)
•Mr. Christoph HEIDER, President, European Chamber of Commerce in Korea (ECCK)
•Mr. Tae-Hyun MOON, Director General, Department of Market Research, Korea Consumer Agency (KCA)
•Mr. Dong Bok LEE, Director, FTA & Regional Studies Department, Korea International Trade Association (KITA)
•Ms. Ingrid DRECHSEL, President, Bayer Korea and Chairman, Korean German Chamber of Commerce and Industry (KGCCI)Discussion/Q&A (among presenters and open to the floor)12:15-12:30: Closing Remarks and the way forward by Mr. Johan VANDROMME, First Councellor, Trade and Economy Section, EU Delegation to the Republic of Korea
12:30 – 13:30: Buffet Lunch offered by the EU Delegation to the Republic of Korea