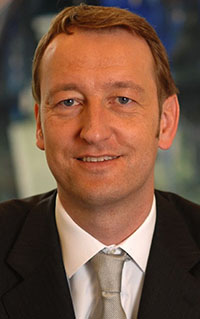 Mr. Eitel Coridass, managing director of HIH, at Hamburg-based pan-European real estate investment company
The "PERE Investor Forum" gets held at Plaza Hotel in downtown Seoul on Nov. 29-30, 2017 with a number of local and international real estate experts participating. The forum will cover areas of real estate investments during its two-day conference. The participants will discuss real estate issues and matters including the rise of insurers and property developers, getting creative, and moving beyond traditional geographies and asset classes.
A total of 44 experts will speak at the conference organized by PEI Media Group.The agendas of the forum's first day are "Rising global opportunities in 2018 and beyond," "The Korean institutional investors' perspective on building a global portfolio," "Focus on trends in the Korean market," "The current US market dynamics from a debt and equity perspective," "Developed markets case studies: North America and Europe," "Real estate debt strategies," and "Case Studies: Deep dive on debt opportunities."
On the second day of Nov. 30, 2017 they will discuss "Rising global opportunities in 2018 and beyond." on this day they will focus on the local Korean market. The press conference with the local and international journalists will also be held on this day.
Major international speakers and participants are
Brian York Colwell, co-founder of LCN Capital Partners; Jon Crossfield, head of Stratetic Partnerships; Jim Fetgatter, chief executive of the Association of Foreign Investors in Real Estate (AFIRE); Mark Harrison, managing director of
Australian property firm Wingate; Daniel Heflin, founder of Torchlight; Matthew Kaplan, overseer of the activities of Almanac; Hebron Ababu, founder of High Abyssinian; Haile Tirunheh, consultant of Korean Auction Corp.; The local and international journalists covering the global real estate business forum are Evelyn Lee, news editor of PEI's real estate publication PERE; Arshiya Khullar, a Hong Kong-based reporter of PERE; and Yim Se-Won of the Seoul Economic Daily.Among the participants from Europe is Mr. Eitel Coridass, managing director at Hamburg-based pan-European real estate investment manager HIH, a major real estate investment company in Germany.Director Coridass will discuss with other participants such issues as the current trends in the European real estate market, and how Asian investors can be more successful in Europe during his stay in Seoul.