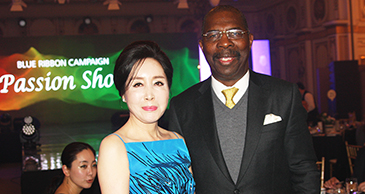 Madam Lee Moon-Soon poses with Angola Ambassador Albino Malungo at "Passion Show" held at Imperial Palace Hotel in Seoul on Feb. 7, 2018.
A lot of events have recently been held in South Korea right to pray for the big success for its first event hosting of the winter olympics. The 2018 Pyeongchang Winter Olympics will take place in the mountainous in Pyeongchang County, Gwangwon Province, South Korea from Feb. 9 and Feb. 25, 2018.Right on the eve of winter olympics "Passion Show" was held at a Seoul hotel by Blue Ribbon Campaign, a local social service organization to wish the Winter Olympics a huge success. "Passion Show," a gala dinner fashion show with a concert, held on Feb. 7 (Wed), 2018 at Imperial Palace Hotel in Seoul's upscale Gangnam area, was participated by not only local Koreans but also by foreign nationals.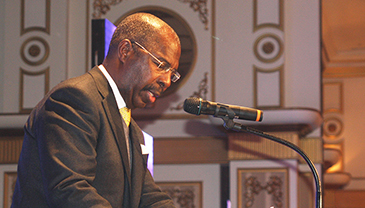 Angola Ambassador Albino Malungo makes a congratulatory speech at "Passion Show" held at Imperial Palace Hotel in Seoul on Feb. 7, 2018.
But, what made the event unique was it was organized by a well-known local artist Min Tae-Hong. Scores of his colorful paintings decorated the entrance of the majestic Selena Hall. The master artist donated much of his works of art to the great cause of the Pyeongchang Winter Olympics.Mr. Min earned his nickname "Master Artist" of finger touching technique. For most of his works he uses his fingers instead of the brushes. Highly passionate artist himself, he invited well-over 150 "passionate" guests carefully chosen from all walks of life.Among the high-profile guests invited to the event were top foreign envoys serving in Seoul's diplomatic stage.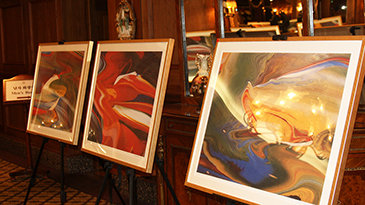 Works of art by Master Artist Min Tae-Hong on display at Imperial Palace Hotel in Seoul
Angola Ambassador Albino Malungo took part in the event on behalf of the diplomatic corps in Seoul, making a congratulatory speech at the start of the "Passion Show."Other dignitary participants included Chairman Heo Joon-Young of Korea My Pharm Group and President Cho Seung-Hee of Uvom Plastic Surgery Clinic. Chairman Heo also serves as president of a local charity group "Sports Doctors," which launches various social service events at home and abroad. Prof. Emeritus Kim Kyu-Chin of the Hankook University of Foreign Studies (HUSF) also attended the event along with his wife, Madam Choi Yeon-Ja, a famous soprano. Serving as HUSF vice president, Prof. Kim is widely regarded as the civilian "diplomatic doyen" on Seoul's diplomatic society.The event was supported by a number of companies, organizations, and individuals. Among the ardent supporters was Madam Lee Moon-Soon who has recently launched a new cosmetics brand "GENERTE." A passionate poet herself Madam Lee is known as "a poet greeting dawn after spending sleepless nights."