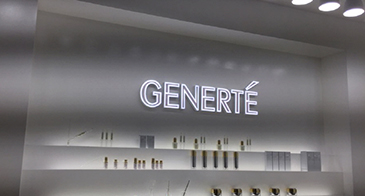 South Korea's new cosmetic brand "GENERTE"
A South Korean lady Lee Moon-Soon is an amateur poet who spends sleepless nights writing her poems and essays passionately. She may be called a poet with a little fame, but her friends do not hesitate to call her a "seasoned poet" who has not had a chance to make her literary debut yet.What makes her stand out is that she still works as a model, a social worker, and particularly as a businesswoman. Madam Lee Moon-Soon has recently launched a new cosmetics brand "GENERTE" in the nation where more than 2,000 or perhaps over 3,000 domestic cosmetics brands are vying with imported ones.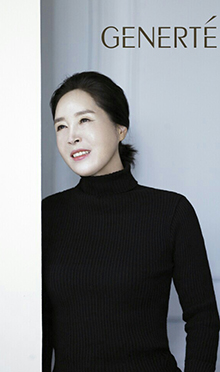 Madam Lee Moon-Soon
Many of the top local Korean brands are sold at overseas markets on the strength of Hanryu or Korean Wave, the global popularity of South Korean culture driven by the spread of Korean drama and K-pop. Some brands are making the direct foray into Paris, the fashion mecca of the world, and other European market as well as Asia.Madam Lee's decision to launch new state-of-the -art makeup brand shows her determination to make success in beauty industry "in her own way." The launching was made based on her confidence about her product and purity in mind at the same time.After the long and arduous experiments and painful tribulations Madam Lee reached her final conclusion: "Skin aging is determined by innate genes and current lifestyle."She had to struggle with her own experiment over the last 10 years. Her staff went through rigorous genetic researches and other scientific experiments for the anti-ageing and well-aging skin care.With the launch of her new brand "GENERTE," she introduced the idea of "gene test to skin care" for the first time in South Korea's cosmetic industry.
Madam Lee Moon-Soon
Madam Lee also came up with the catch phrase: "Well-aging beauty solution, customized just for you."On Nov. 21, 2018 there was the launching ceremony of "GENERTE" at Songdo IT Center in Yeonsu-gu, Incheon west of Seoul.Master artist Min Tae-Hong was among the dignitary participants. His exhibition at the ceremony also drew a big applauds from the large crowd.The launching ceremony was participated by a number of dignitaries including nation's top politicians and business leaders.On behalf of all the politicians Rep. Ahn Sang-Soo delivered a congratulatory speech. As a multi-term conservative lawmaker Ahn served as Incheon mayor.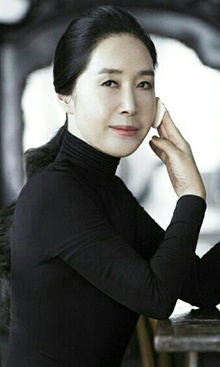 Madam Lee Moon-Soon
Equipped with an army of the best skin care experts GENETRE now offers to its customers its customized skin care system and solutions. Customers can examine their skin by using GENETRE's unique systems at its stores in the nation.Madam Lee coined her brand herself. She explains that GENERTE is combination of three words: Gene, Forte, and Art.All GENERTE products are manufactured in a customized way for the individual customers by analyzing individual gene so that the products will be best suited for the individual skin."Ours are the best cosmetic products," Madam Lee stressed. "Our products are the ultimate top quality ones."But, what makes "GENERTE" famous is does not lie in its brand itself. Rather it lies in her special habit and her ability. She purifies her minds by writing poems and essays.Even though she has never had the official chance to make her debut in South Korea's literary society, her poems and essays caught the attention of literary figures and readers. Madam Lee always tries to humble herself by saying she writes poems and essays as an efforts to purify her mind tainted by the dirts of real life."I will never cease my habit of cleansing my mind until my last day on the Earth," she said. "I will keep writing as long as I can.""And I want to make my cosmetic brand as pure as my poem," Madam Lee added. "I would like to turn GENERTE into an art on the basis of genetic science."