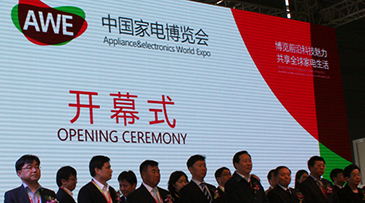 The opening ceremony of the previous AWE in Shanghai, China
"Appliance & Electronics World Expo (AWE) 2018," one of world's three major expositions for consumer electronics and household appliances, is going on in Shanghai, economic capital of China from March 8 (Tuesday) through March 11 (Sunday), 2018."AWE 2018," the four-day annual event, is the largest appliance and electronics exposition in Asia. Along with CES (Consumer Electronics Show) in America's Las Vegas and IFA (Internationale Funkausstellung) in Berlin, capital of Germany, AWE is one of the world's three major international consumer electronics trade fairs. AWE, CES, and IFA represent Asia, North America, and Europe, respectively as the region's largest and the most influential trade show of appliance industry.The Asia's largest international trade fair for the appliance industry, "AWE 2018," is taking place at the Shanghai New International Exhibition Center (SNIEC) in Pudong area of Shanghai.This year "AWE 2018" is showing large household appliances, consumer electronics, lifestyle appliances, environment & health-related products, and supporting services of industry designs and industry robots at the 10 exhibitions halls covering an exhibition area of 130,000 square meters. They include everything from kitchen appliances, audio and video equipment, and up to air conditioners and heaters.
Foreign journalists covering AWE 2017 in Shanghai, China
China Household Electrical Appliances Association (CHEAA), organizer of AWE, expects to gather more than 250,000 visitors including foreigners. "AWE 2018" has secured over 800 exhibitors from China and the rest of the world. They includes Haier, Midea, BSH, Whirlpool, Sony, Panasonic, Sharp, Philips. From South Korea such global electronics giants as Samsung and LG are participating. CHEAA also said that the annual exhibition is expected to attracts numerous corporate representatives from both home and overseas.AWE 2017 received a total of 220,000 visitors from nearly 80 countries and regions. Over 10 percent of the visitors were from overseas. On the sideline a number of related events are also taking place at the AWE 2018 venue. They include the 8th China Household Electrical Appliance Development Summit, 2018 China Environment & Health Household Electrical Appliance Summit, 2018 Global Technology AI Chip Innovation Conference, 2018 China Electrical Appliance Supply Chain Summit, 2018 China Real Estate Fine Decoration Forum, "AWE Award" Ceremony, China New Retail Summit 2018, and AWE 2018 Global Media Day.For Asia's No. 1 trade show for appliance industry hundreds of journalists from all over China were invited. Also scores of foreign journalists were invited as well for the press tour and intensive interviews with CEOs and representatives from top 20 enterprises in electronics and appliance industry including Haier (GE), and Huawei.According to CHEAA, over 32 overseas media will participate in "AWE 2018," in addition to 91 Chinese media partners.
About CHEAA
Established in 1988 the China Household Electrical Appliances Association (CHEAA) is the host and organizer of "The Appliance & Electronics World Expo" or for its acronym "AWE."Operating under the direction of the governmental National Light Industrial Bureau, CHEAA serves the interests of its member enterprises and protects their legal rights by fostering the development of the household electrical appliances industry.The association serves as a bridge between the government and enterprises or amongst enterprises, managing its industry. It boasts of over 220 members from 24 provinces and municipalities throughout China.